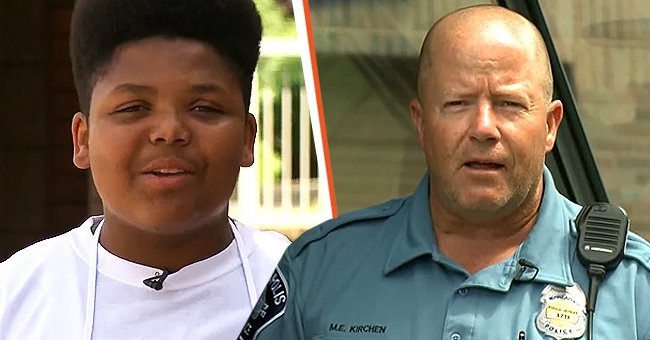 youtube.com/KARE 11
Neighbors Call Authorities to Shut Down a Boy Selling Hot Dogs and Officials Help Him Instead
One young boy was close to having his dreams crushed by adults seemingly determined to break down his beloved entrepreneurial endeavor.
Teenager Jaequan Faulkner re-opened a fast-food stand, complete with hot dogs, soda, and chips in 2018 in front of his house in Minnesota. It was initially opened in 2016.
His objective was to raise money for school clothes. However, as with all entrepreneurial endeavors, he ran into a roadblock.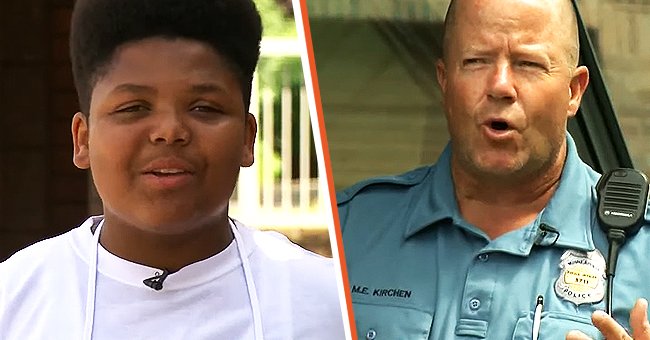 Jaequan Faulkner [left]; Bike Cops for Kids officer [right]. │Source: youtube.com/KARE 11
THE JIG IS UP
This young boy's stand was almost closed down in 2018 -- all thanks to an email. The Minneapolis Health Department received communication that the then-13-year-old's business was unlicensed.
It looked like Jaequan had to close his doors shut once and for all. Nevertheless, he was about to receive the surprise of a lifetime.
AN UNEXPECTED RESPONSE
The Environmental Health Director of the Minneapolis Health Department, Dan Huff, was just one individual in the community who wanted to help the budding business boy. He stated:
"Before responding to the complaint, what we did was put on hold our response until we could figure out how to help him."
You May Also Like: Boy Gets a Puppy as Birthday Gift from His Father Who Died of Cancer and Breaks into Tears
Health inspectors, along with the nonprofit NEON, chose to assist him in getting his stand up to code. The inspectors also decided to pay the $87.00 short-term permit legally required to serve food.
LIFTING OUR CHILDREN UP
The support and popularity didn't end there, with Bike Cops for Kids giving him a plug on Facebook. The Minneapolis Promise Zone also assisted the 13-year-old, and he even appeared on "The Steve Harvey Show." Commenting on the business's success, Jaequan's uncle expressed:
"It's been great because I didn't think it would go this far, but he was very serious about getting started."
The television host Steve Harvey himself also complimented the tenacity of the young boy and the community. He praised them for teaching Jaequan a valuable lesson in not giving up.
LOOKING INTO THE FUTURE
Now, with an overall 5-star review on Facebook, Mr. Faulkner's Old-Fashioned Hot Dogs appears to be quite the popular vendor. However, this budding entrepreneur's vision isn't limited to this stand, with him saying:
"What's next for me is, I'm trying to get a little spot, a restaurant or something."
When it comes to Jaequan and his upcoming business ambitions, it would be more of a surprise if he failed. However, if he does, let's hope that, once again, his community is right there behind him.
A LOVING LANDLORD
Many can't say they weren't surprised that those in authority, such as the Health Department, reacted positively and helpfully towards Jaequan.
This shock to the system only increases when one learns that a landlord, another individual in authority, forewent a mother's rent. Not only this, but they left bags of groceries on her porch.
Nathan Nichols not only did this for this mom but gave all renters some relief from their fees. These acts of kindness were due to the many hardships we have all faced during the pandemic.
He implored other landlords to do the same in a Facebook post that went completely viral. What authoritative position do you hold in life? If so, do you use it to empower others?
Please fill in your e-mail so we can share with you our top stories!