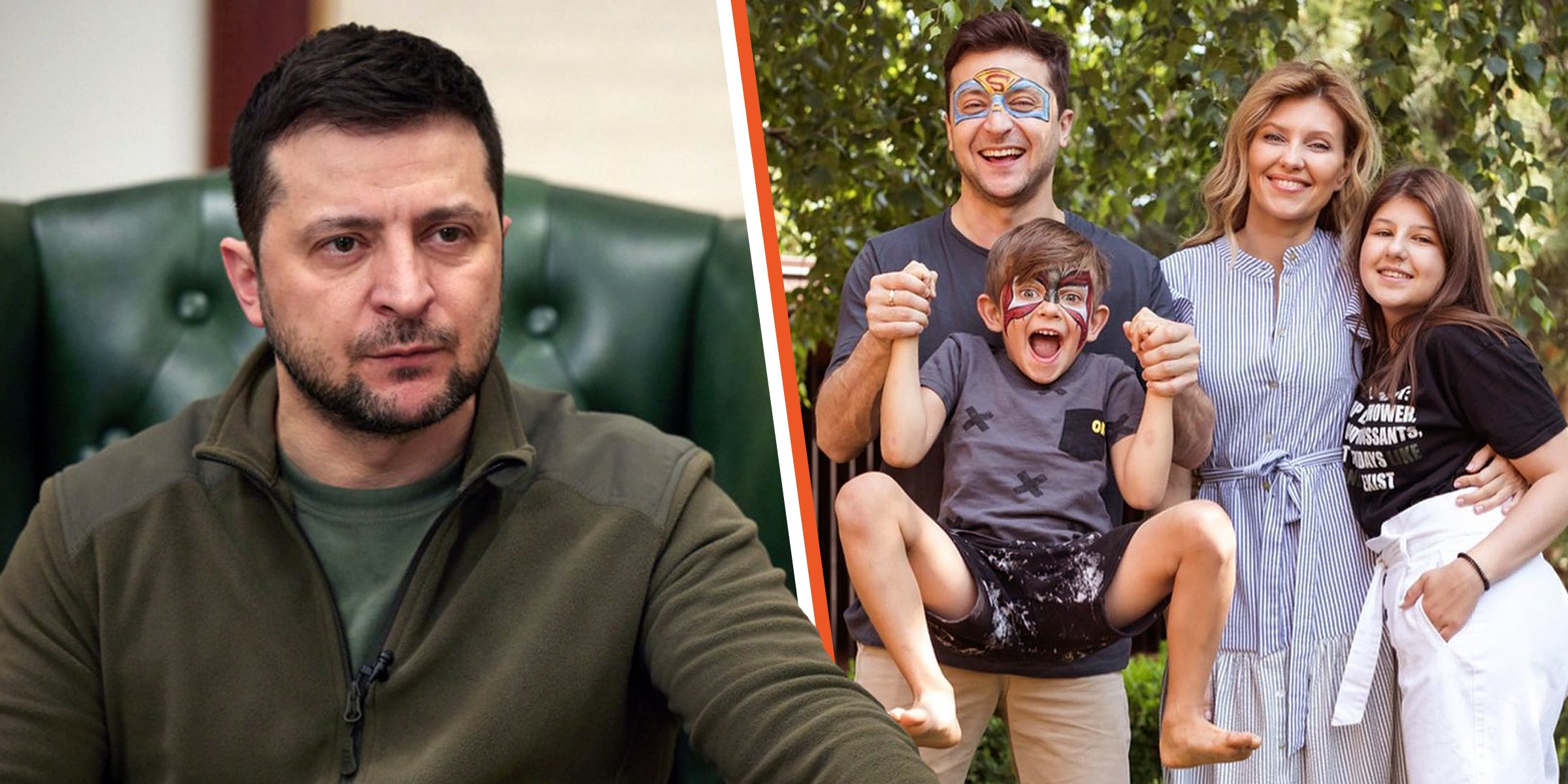 Instagram/olenazelenska_official | Getty Images
Volodymyr Zelenskyy: Children Are 'Pure in Thoughts' & 'Actions' — His Kids Remain in Ukraine amid Invasion
Ukraine President Volodymyr Zelenskyy once shared how he views his relationship with his children, who remain in the country, as he leads his people through the Russian invasion.
Currently, Volodymyr Zelenskyy is one of the most popular figures in the world. He is a former actor, comedian, and most importantly, the present President of Ukraine.
In the past weeks, he frequented news due to the Russia and Ukraine crisis and showed himself to be a great leader in the process. But he is also a dedicated husband and father.
He has been married to his wife, Olena Zelenska, since 2003, and the pair are doting parents for two children, Oleksandra and Kyrylo. Here are some details about Zelenskyy's children's lives and what he thinks of them
OLEKSANDRA ALREADY HAD EXPERIENCE OF PUBLIC APPEARANCE
Oleksandra is the older of Zelenskyy and Zelenska's two children. She was born in 2004 and has grown into a beautiful young woman.
She recently finished her high school education at the elite Novopechersk School. Asides from excelling in her academics, the 17-year-old is also a known face on social media.
She loves updating her followers with lovely images and clips. Currently, her Instagram page is private, but her TikTok page is home to multiple creative videos.
Oleksandra is also no stranger to the spotlight. In 2016, she was a part of her father's show "Comedian Laughs," where she won the prize money. More than anyone, Zelenskyy, who was a judge on the show, was impressed with his daughter's performance.
He was surprised to see Oleksandra participate, and it was more shocking that he had a good laugh. After speaking about his daughter's talent, the Ukraine president also talked about how she spent the prize money.
Zelenskyy revealed that Oleksandra was not greedy with it. Rather than spend it on herself, she gave the money to kids in need of treatment — a gesture that made her parents proud. Even to date, the teenager still makes her parents happy and proud of her decisions.
Last year, she chose to get her University degree in her home country, making her parents, especially Zelenska, jump for joy. During an interview, the president's wife confessed that Oleksandra was not pressured but decided out of her free will.
MEET ZELENSKYY AND ZELENSKA'S SECOND SON, KYRYLO
The former actor and his wife welcomed their second child and son, Kyrylo, in 2013. Not long after his birth, Zelenskyy and Zelenska were spotted at the ancient Church of St. Elijah in Podil for their son's christening.
It was also revealed that Oleksandra, the president's father-in-law and mother-in-law, were present. Now, Kyrylo is nine years old, and in third grade in the same school, his sister attended. His parents prefer to keep him out of the spotlight; however, they celebrate him on special occasions.
For example, when Kyrylo's first day in first grade, Zelenska took to Instagram to celebrate it. In the post, the woman explained that it was a special day for the entire family.
She believed that Kyrylo would not only learn the school curriculum, but he would also learn to live in a country of change. Zelenska was positive that the school would lay the foundations of her son's adult life.
INSIDE ZELENSKYY'S RELATIONSHIP WITH HIS KIDS
Being in the spotlight prevents some children from having a normal childhood and eventually affects their relationships with people. This reason made Zelenskyy's daughter react ambiguously when she heard her father had declared his intentions to run for president.
During an interview, Zelenska revealed that initially, Oleksandra was very worried, especially about her reputation in school and how her classmates would tease her.
She cried, expressing her disapproval of her father's decision, but in the end, only a few jokes were made, and everything went okay. On the other hand, Zelenskyy and his wife decided to protect their son by hiding information about the election from him.
However, they were confident they would inform Kyrylo about the development when the time was right. When it comes to his children, Zelenskyy is very particular about his relationship with them.
He loves being a dad and constantly serenades his kids with kind words during interviews. Once, he recalled an incident between him and Oleksandra.
He explained that he approached his daughter while playing the piano and told her that she would not play well if she did not study the notes.
However, Oleksandra surprised him by playing a beautiful melody from her mind. At that point, Zelenskyy learned that he could learn from his kids. Zelenskyy confessed:
"Children are a unique event in a person's life! I look at them and understand: they are pure in thoughts, actions and sometimes in their native cunning, which is much less than we adults. They want to be free."
Regarding his son, the politician relayed after Kyrylo's christening that the boy is not capricious, although agile and cheerful. Zelenskyy also added that the little boy is like him.
Despite being candid about his kids, the president and his wife prefer to raise Oleksandra and Kyrylo privately. Unfortunately, their daughter is already in the spotlight, but their son still has a chance at a normal and quiet childhood.
WHERE ARE THE COUPLE'S KIDS NOW, DURING THE WAR IN UKRAINE
During difficult times, it is very important to have family around, and Zelenskyy is lucky to have his wife and kids with him during the current Ukraine crisis.
However, before Russia invaded Ukraine, there were rumors that Zelenska and her kids had left the country. But Zelenskyy debunked all rumors, noting that his family was in the country and by his side. He further declared:
"It is not necessary for everyone else, but it is a fundamental thing, very important for the state, for society - to support Ukraine because you are Ukrainian. The citizen is not the one who has a passport, but the one who is in Ukraine today."
It is great to see Zelenskyy's family by his side, encouraging him while he tries to embrace peace and put an end to the crisis.
Please fill in your e-mail so we can share with you our top stories!