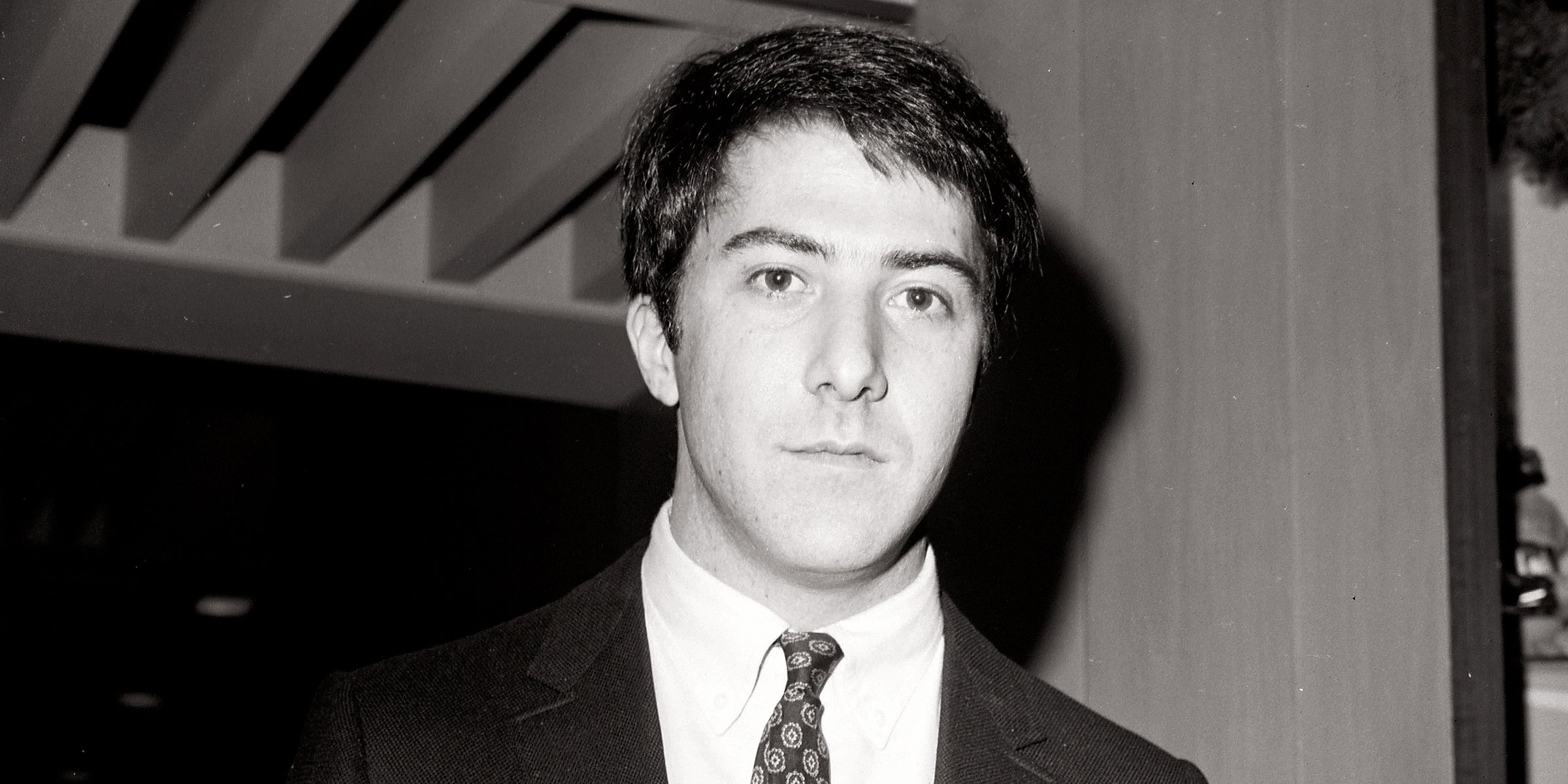 Getty Images
Dustin Hoffman Once Cleaned Toilets to Make Money — At 85, the Actor's Main Focus is His Grandchildren

"Hero" actor Dustin Hoffman had to find his way into the industry doing odd jobs, but once he started landing roles, he hit the ground running to become one of Hollywood's most recognized movie icons. Today he is a hands-on grandad and loves spending time with his grandchildren.
Dustin Hoffman is a fixture on the silver screens. With a career spanning over six decades, the actor takes pride in being a part of some of Hollywood's most iconic films.
Fans recognize him for his versatile portrayals of antiheroes and emotionally vulnerable characters in a catalog of era-defining movies, including "All the President's Men," "The Graduate," "Tootsie," "Lenny," and "Straw Dogs."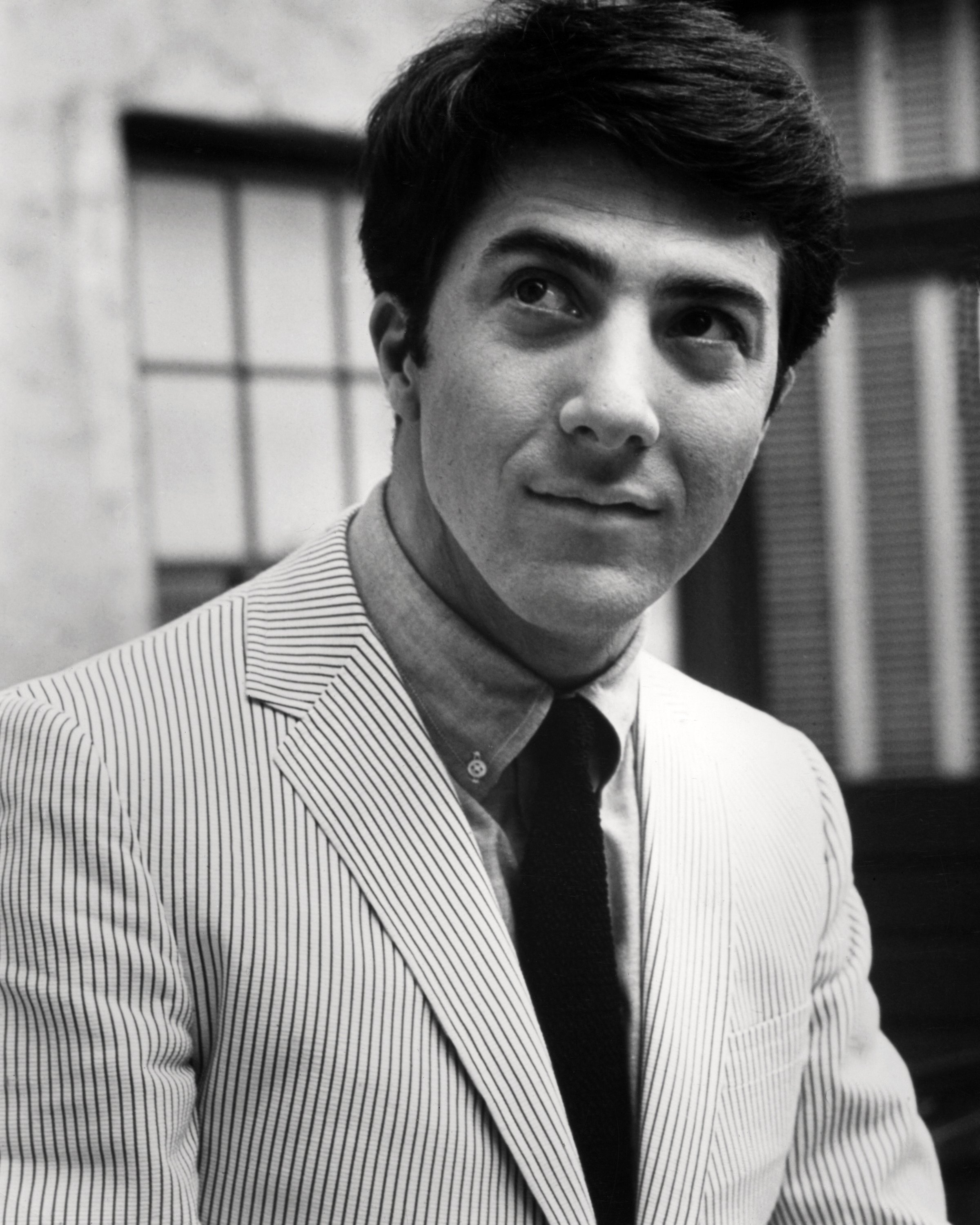 American actor Dustin Hoffman, as Benjamin Braddock, in "The Graduate," directed by Mike Nichols, 1967. | Source: Getty Images
His numerous roles have won him many accolades, and with it, Hollywood prestige that not many actors achieve throughout their careers. However, his life was not always a walk in the park.
Born and raised in Los Angeles, an acting dream always seemed far and out of reach. His looks were less than ideal for the perfect Hollywood actor. By his admission, he was short and odd-looking.
Despite the odds against him, at 20, he set foot in New York City, a city he thought was a little more assimilated than Los Angeles, to jumpstart a career in film. As soon as he got off the bus, he knew he was in the right place.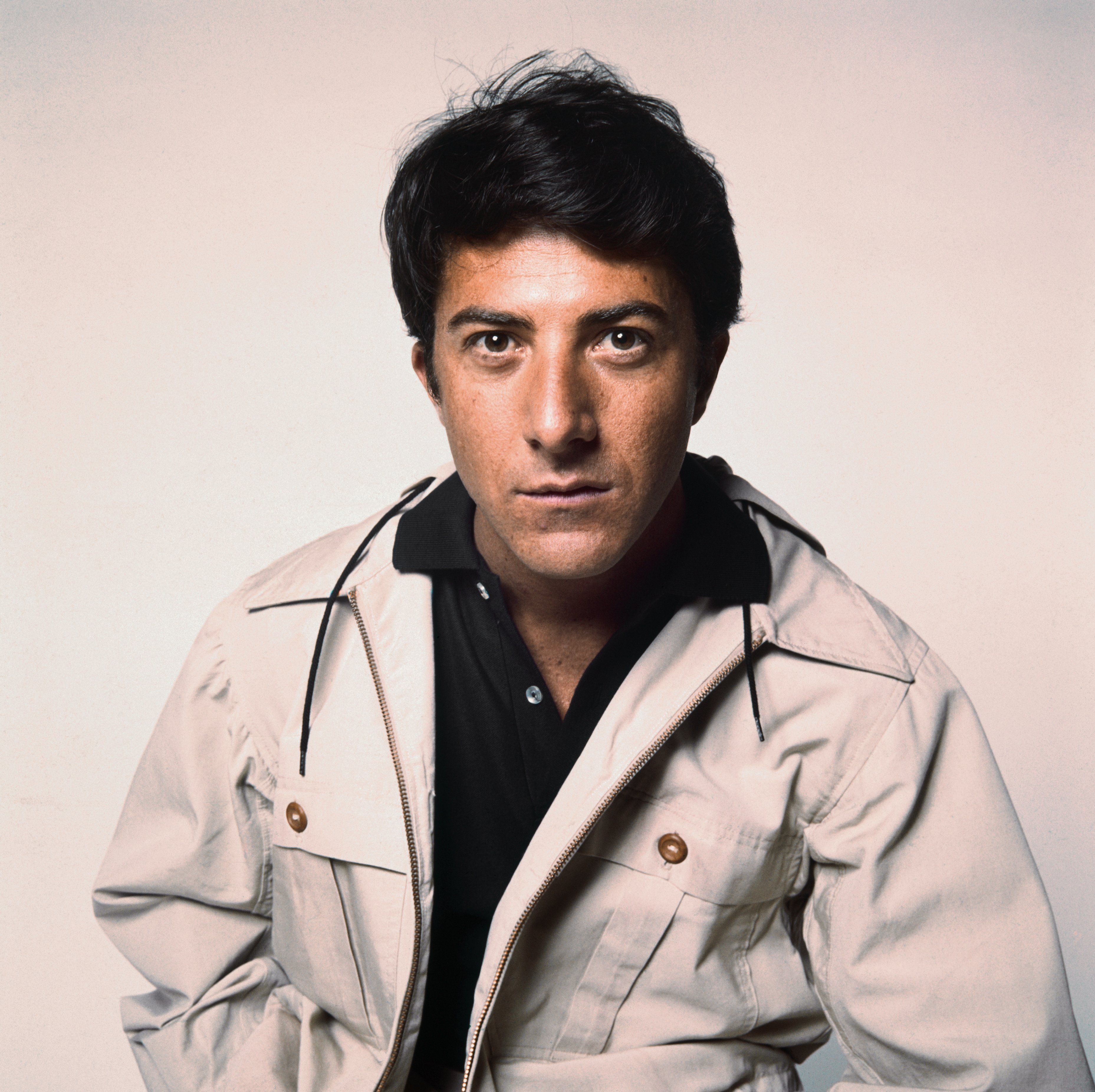 A shot of actor Dustin Hoffman as he appeared in "The Graduate." | Source: Getty Images
However, his excitement did not last long. He soon realized life was not as smooth as he had imagined. The next decade was tough on him, and he had to work a roster of penniless jobs if only to stay afloat as he attempted to get accepted into Lee Strasberg's Actors Studio.
He recalls working in a psychiatrist's hospital and elsewhere as a sales assistant in Macy's toy department and weaver of Hawaiian garlands. Luckily, at 30, he got lucky when Mike Nichols signed him for a part as Benjamin Braddock in "The Graduate," which propelled him to unprecedented fame.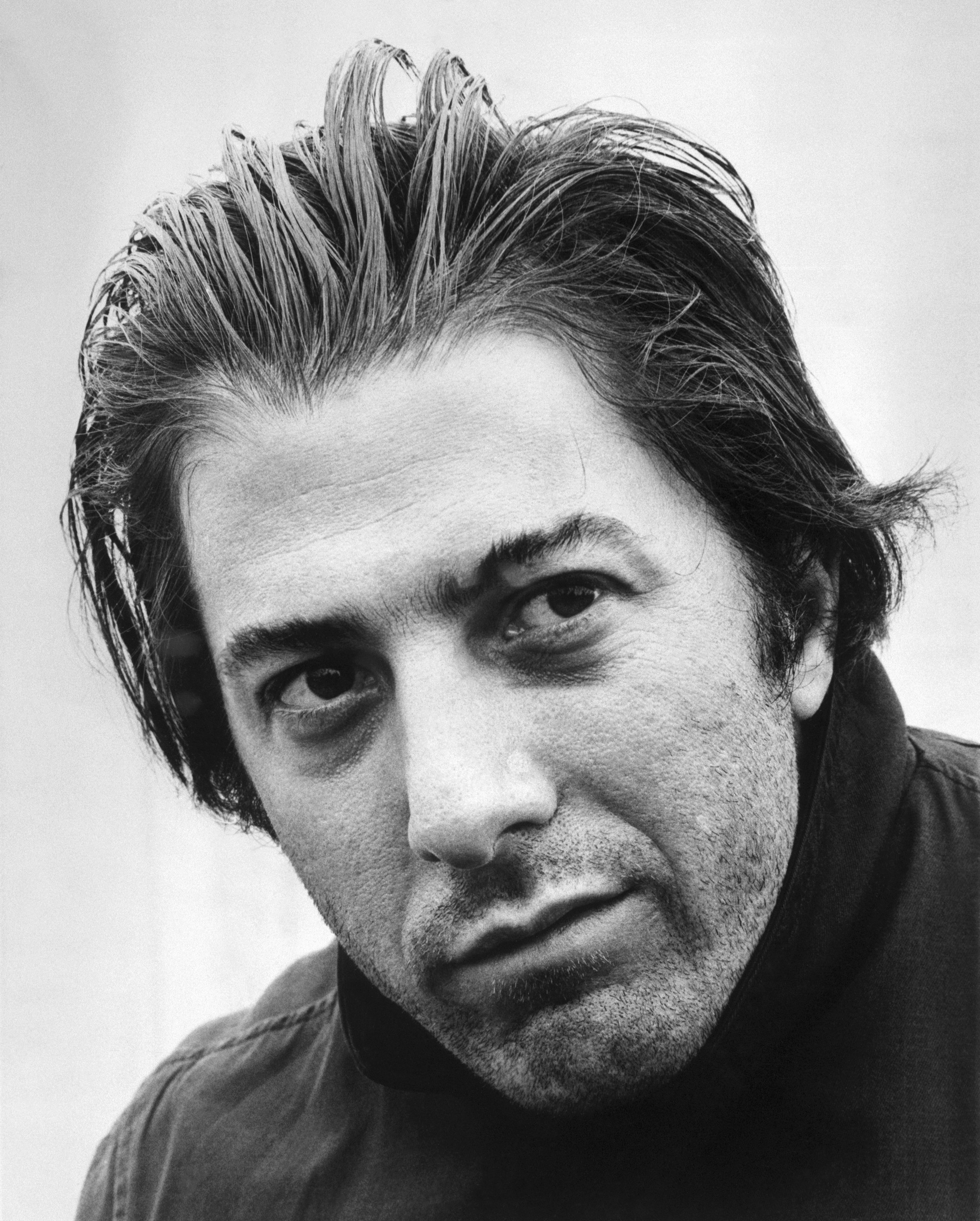 Dustin Hoffman starring as Ratso, a Bronx-born petty con man with a game leg in"Midnight Cowboy" in 1968 | Source: Getty Images
After his first film, he could not land any more famous roles, and he waited a whole year before taking his next part as Ratso Rizzo in "Midnight Cowboy."
"I was closer to Ratso Rizzo when I was going to school – that's what I felt like. I was an outsider, on the periphery looking in." He confessed, "And when I came to New York, I did all those odd jobs, and if you're cleaning toilets for a living, you're not that far from being Ratso, so it wasn't that difficult a part."
HOFFMAN IS A FAMILY MAN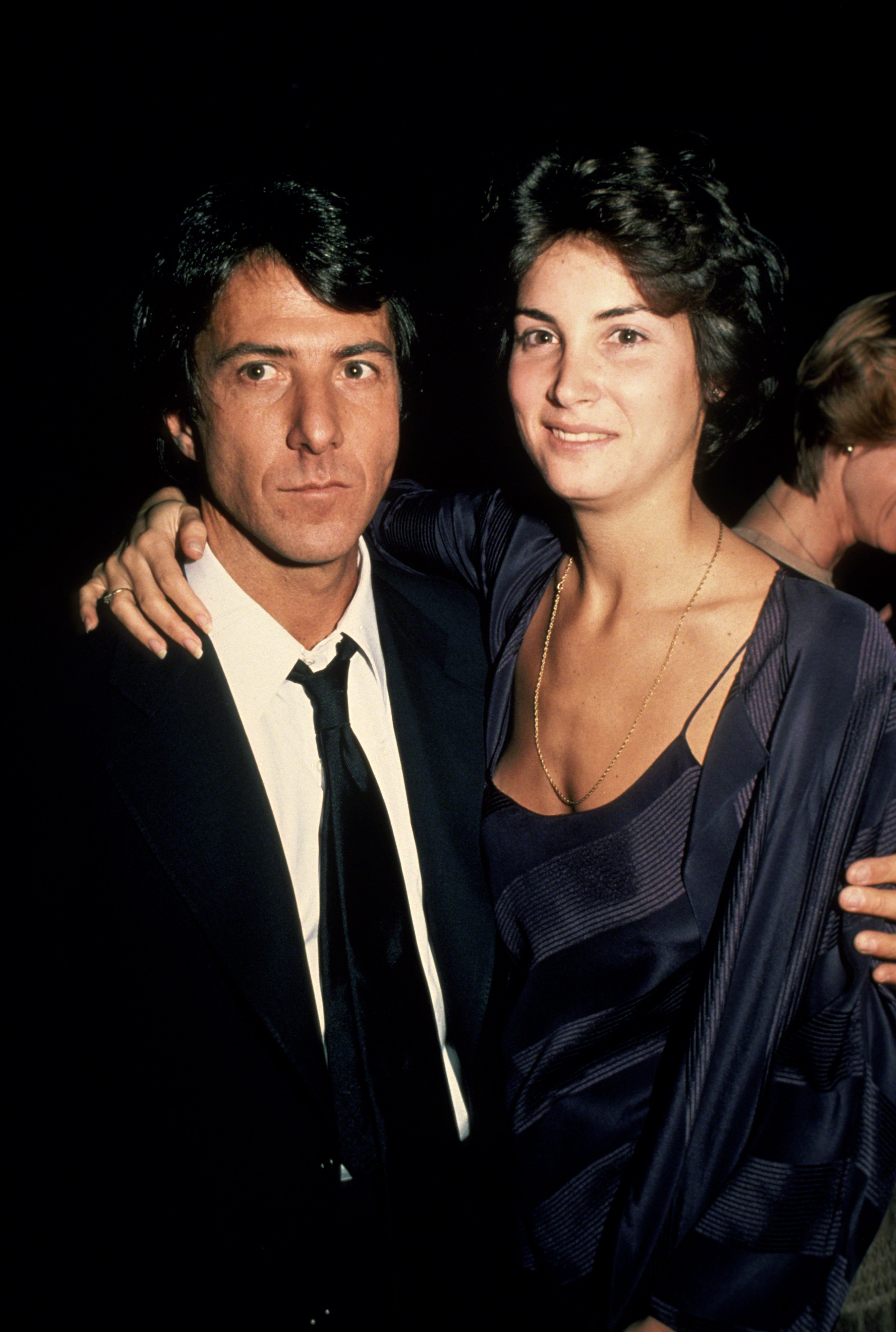 Dustin Hoffman and Lisa Gottsegen circa 1979 in New York City. | Source: Getty Images
Besides his career, Hoffman is a family man, married to his wife Lisa Hoffman for over four decades. But unlike other Hollywood love stories, where lovebirds often meet on set, Lisa and Hoffman's romance is unique.
The two met years before they got married. They often joke that they met before Lisa was born. Hoffman's mother and Lisa's grandmother were friends, and when Hoffman was 16, he played the piano and Lisa's parents' wedding, which happened when Lisa's mother was pregnant with her.
The couple often jokes that she must have fallen in love with Hoffman while still a baby in her mother's womb after hearing him play the piano. Ten years later, Hoffman visited his family in Los Angeles, and Lisa was also there.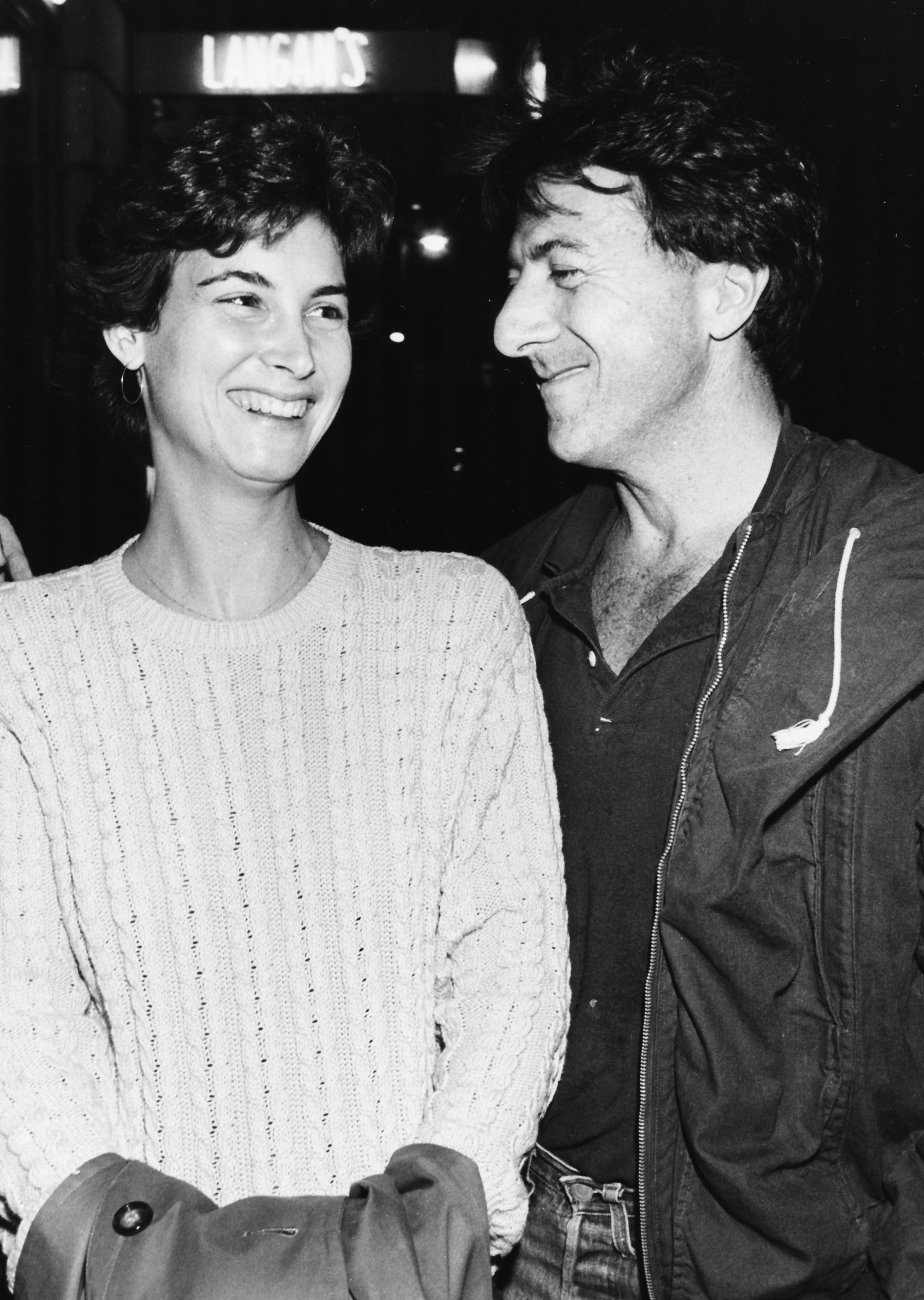 Actor Dustin Hoffman and his wife Lisa laughing together as they leave Langan's Brasserie in London, October 20th 1983. | Source: Getty Images
She recalls how he encouraged her to dance around the sitting room as he played the piano. She recalls telling her grandmother that day that she wished Hoffman would wait for her because she wanted them to marry one day. She shared, as Women Working disclosed:
"After we got together, my grandmother reminded me that later that day, I had said, 'I hope he waits for me because I want to marry him.'"
And he did wait for her. Twelve years later, her wish came true when they got together. Hoffman, then 38, had just divorced his first wife, Anne Byrne, and was single. They quickly fell in love, married in October 1980, and have been going strong for decades.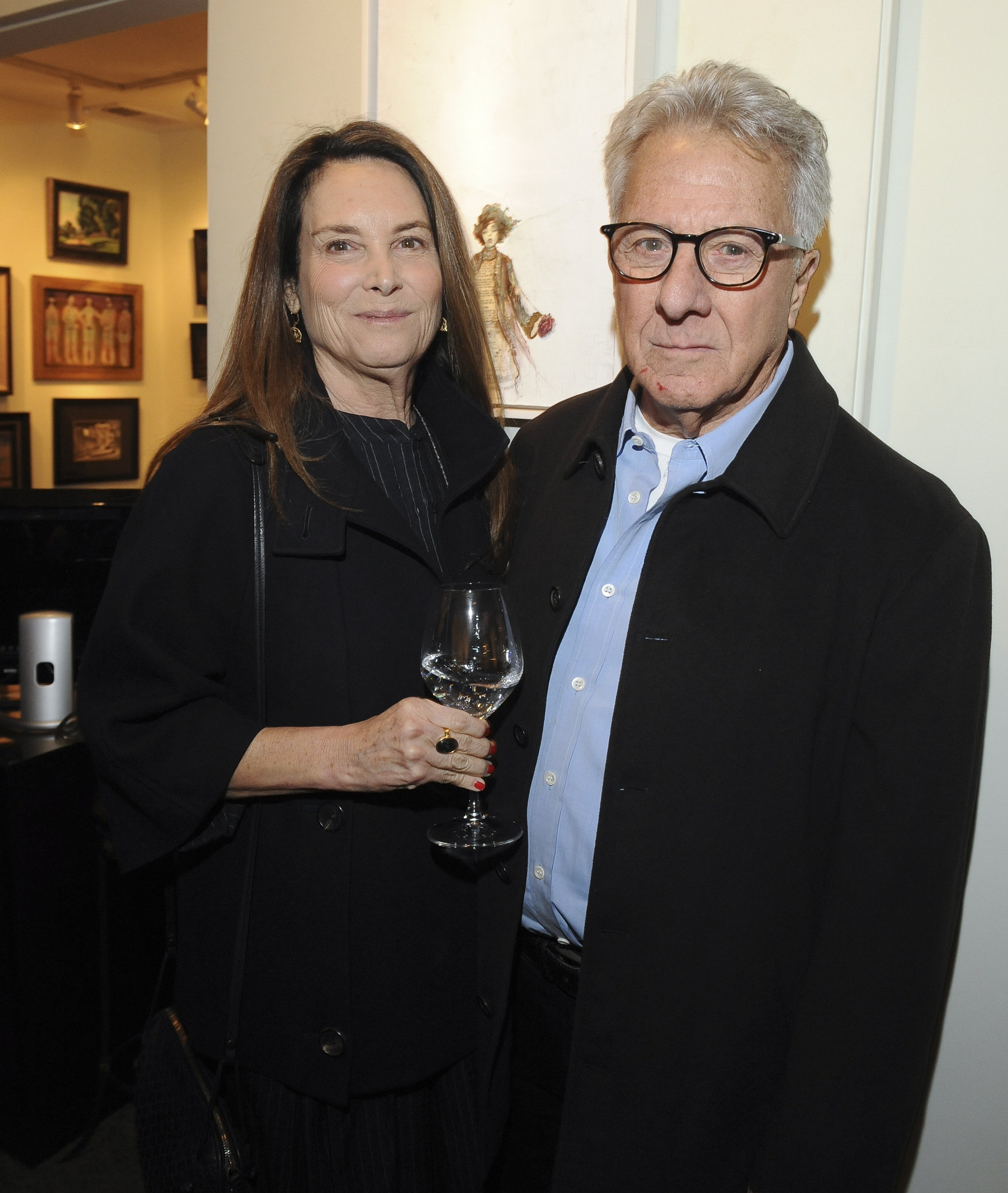 Lisa Hoffman and Dustin Hoffman attend the Trigg Ison Fine Art event on January 10, 2020 in West Hollywood, California. | Source: Getty Images
Unlike the infamous Hollywood romances riddled with scandal and divorce, their love has stood the test of time. But it hasn't been all roses and rainbows. Lisa shared that a successful marriage takes time and work.
Besides a successful marriage, the Oscar-winning actor also takes pride in being a father to his six children. His first two, Karina and Jenna, are from his first marriage to actress Ann Byrne, while the other four, Jacob, Rebecca, Maxwell, and Ali, are with his second and current wife, Lisa.
HEALTH PROBLEMS AND BEING A DOTING GRANDFATHER
Actor Dustin Hoffman attends the 20th Anniversary screening of "Wag The Dog" at 92nd Street Y on December 4, 2017 in New York City | Source: Getty Images
Hoffman has lived quite a fulfilling life, both professionally and personally, facing the ups and downs of life the best way he knew how. He has, however, suffered some grave health problems.
While it remains unclear when the "Luck" actor was diagnosed with cancer, People reported in 2013 that he had successfully been treated and was free of the disease.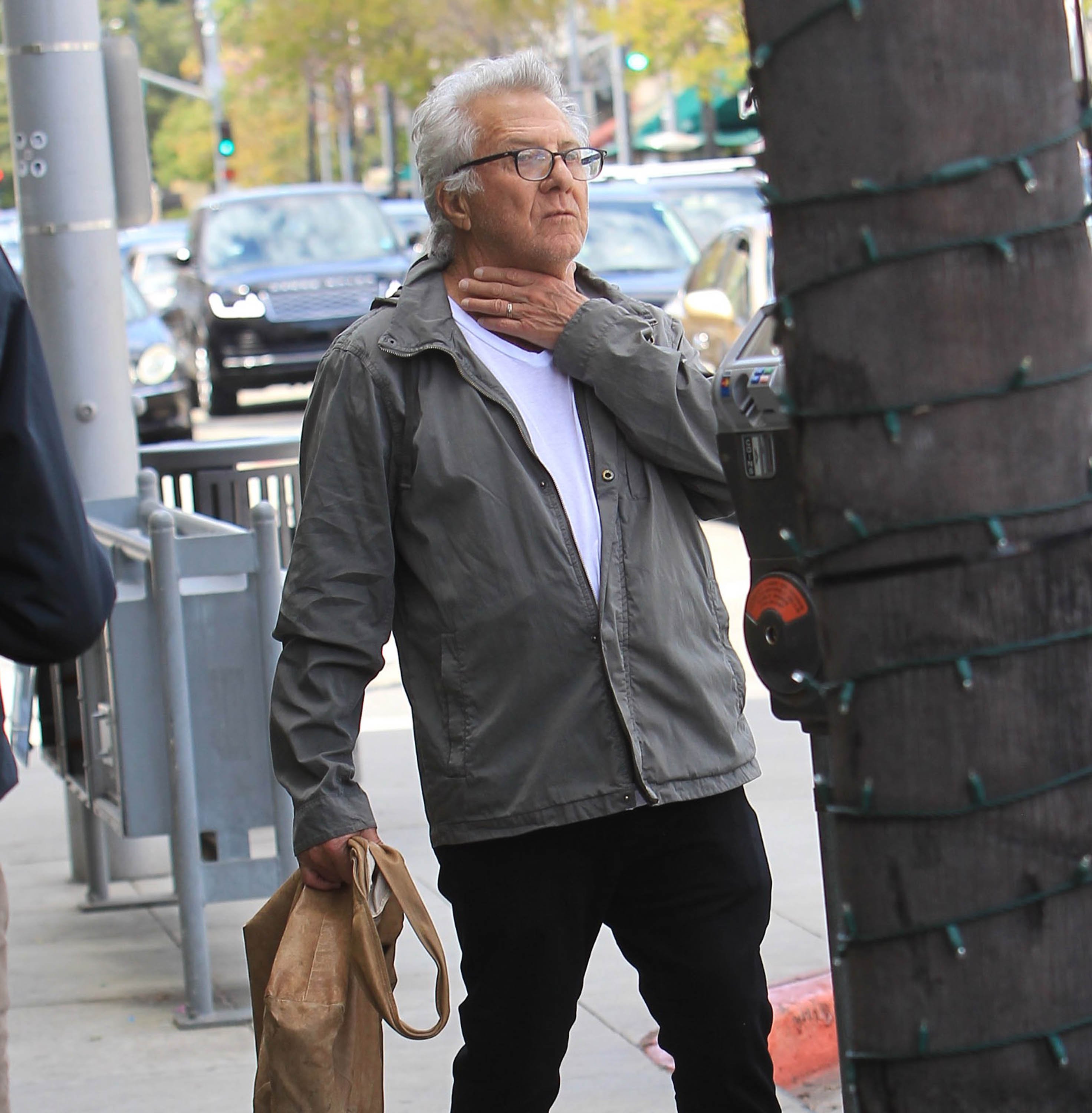 Dustin Hoffman is seen on April 30, 2019 in Los Angeles, California. | Source: Getty Images
A report by his Publicist Jodi Gottlieb indicated that the doctors had detected the illness early enough, and he was "feeling great and in good health" after a successful surgical procedure.
Having had a fulfilling film career and successfully raised his children, the actor, at 85, loves spending his time doting on his grandchildren. In 2015, Hoffman was spotted in London pushing his grandson Augustus' pram as he and his wife headed into UK stationers.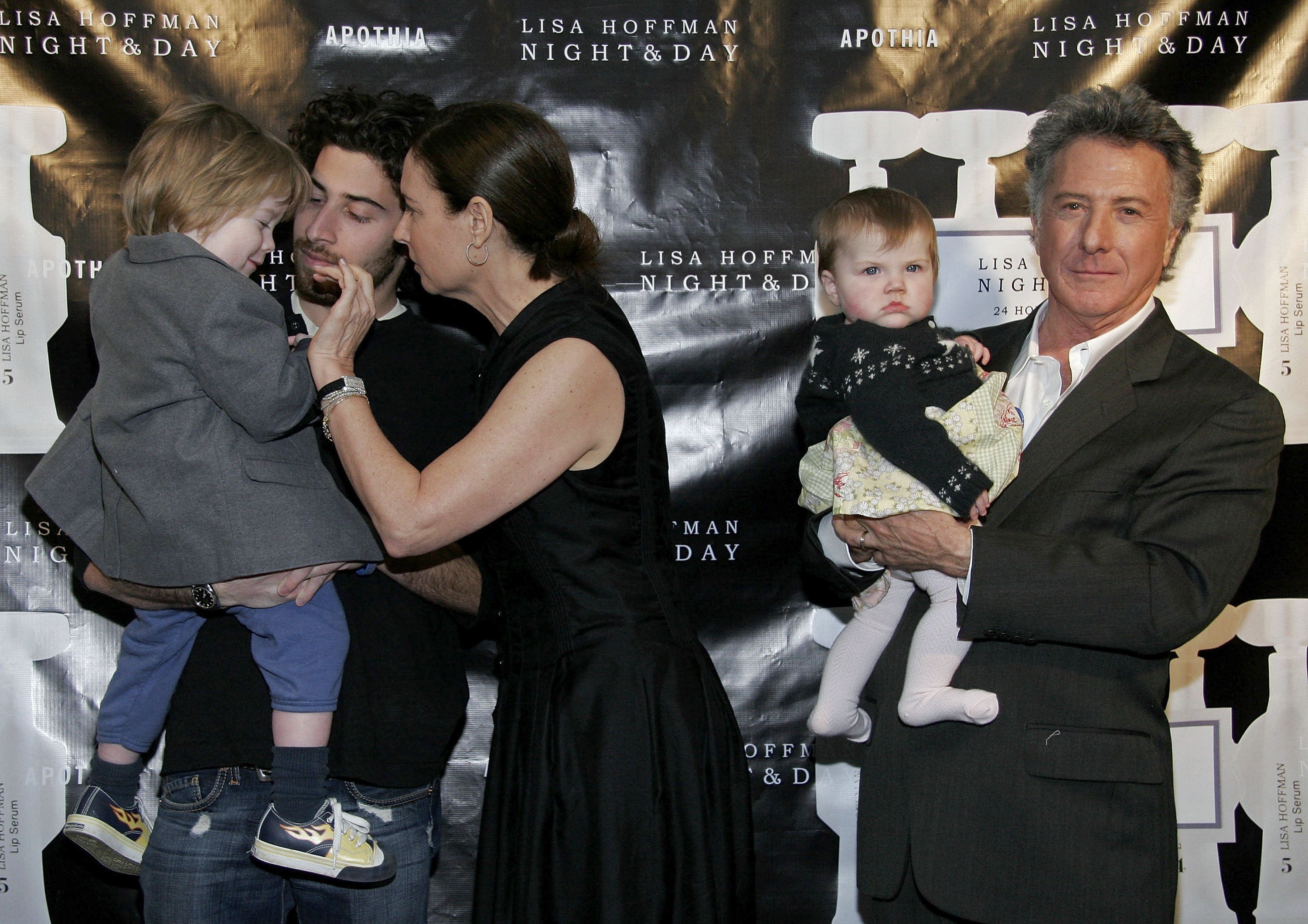 Grandson Gus, actor Jake Hoffman, founder Lisa Hoffman of Night & Day 24 hour Skincare, granddaughter Daisy Jo, and actor Dustin Hoffman at APOTHIA at Fred Segal Melrose on February 21, 2007 in Los Angeles, California. | Source: Getty Images
The actor also told how his granddaughter Daisy Jo got envious of him when she learned that he had landed the part of narrating the audiobook of "Appleblossom the Possum." He told People:
"When she found out I was going to do the voices, she says, 'But I'm the perfect Appleblossom'. She wanted to do Appleblossom, so when she was told that I was doing it, she said, 'Oh, he always gets the best parts.'"
It appears that even though Hoffman shielded his children from movie life and avoided pressuring his kids into following after him careerwise, he is an inspiration to his grandchildren and who knows? They might grow up to be entertainers like himself.
Please fill in your e-mail so we can share with you our top stories!