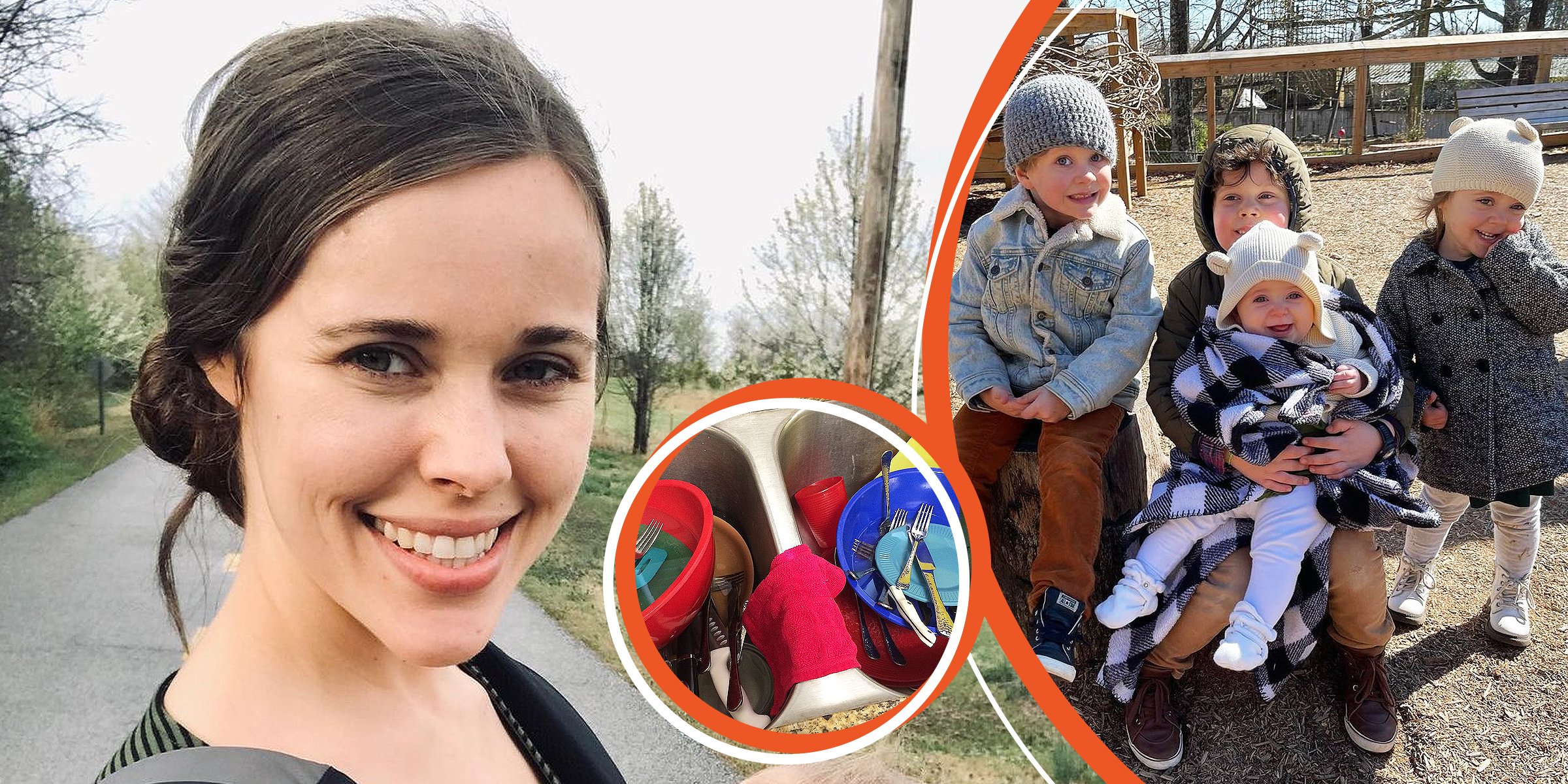 Instagram.com/ben_seewald - Instagram.com/jessaseewald
Jessa Duggar, Mom of 4, Showed 'Real Life' Pics of Her 'Messy' Home & Sparked Controversy among Fans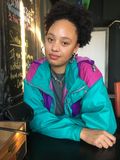 Jessa Duggar is married to Ben Seewald, and the couple has four children together. Duggar opened up about her struggles with motherhood and kept it real with pictures showing the state of her house on Instagram, and it sparked a bit of controversy.
Jessa Duggar is one of the daughters of the Duggar family, famously known for their TLC series "12 Children and Counting."
A recently resurfaced clip from the TV series shows Duggar's then-boyfriend Ben Seewald asking her parents for permission to date her.
The video showed Duggar and her siblings anxiously waiting around the table. At the time, Jessa did not know why Seewald had set up a meeting with her parents.
Seewald gathered his courage and politely asked, "I was wondering if we could make it official if I could ask her to make an official courtship?"
Duggar's father, Jim Bob, was taken aback and did not have much to say besides "wow" before he looked at his wife. However, it only took a bit of time for the parents to agree to Seewald dating their daughter.
Duggar revealed that she and Seewald had been friends for five months before deciding to take their relationship to the next level.
Seewald also asked Duggar out in front of her parents. He said, "We've been praying and talking for a while. I was just wondering if you wanted to make it official and if you wanted to court me officially?"
Duggar agreed before her parents could even weigh in, but Duggar's mother gave the new couple a side hug to commemorate their relationship.
Not much is known about Seewald, but multiple sources know him as a handyman and a preacher. After the TLC show ended, Duggar continued her relationship, and they tied the knot in November 2014
JESSA DUGGAR OPENS UP ABOUT HER MOTHERHOOD STRUGGLES
Duggar and Seewald expanded their family and welcomed four children. Their first son, Spurgeon Elliot, arrived in 2015, and their second son, Henry Wilberforce, came along in 2017.
Two years later, the couple welcomed their first daughter Ivy Jane in 2019 and their second daughter, Fern Elliana, in July 2021.
Fern came a year after Seewald and Duggar experienced a miscarriage. The pair were excited to welcome their last-born after a heartbreaking period.
The former reality TV star admitted that it was not easy coming up with a name for her last child. Duggar said the more children she had, the more difficult it was because she had used up all her favorite names.
Duggar said they were happy with the name Fern but struggled with a middle name, but the mother of four also admitted to changing her mind about baby names a lot. She even confessed that her first two children did not have names until they were five days old.
As a mother of four, Duggar has opened up about some of her parenting struggles. However, the reality star said she gets most of her advice from her mother.
Duggar's mother has 19 children; she knows a thing or two about patience. When asked how she "keeps her cool," Jessa said that it is still something she tries to work on but seeing her mother's patience has inspired her thus far.
The second photo showed a side table that Duggar said had not been dusted in months.
Additionally, Duggar expressed the stress she faced when it came to the development of her son. She said Henry had a speech delay and admitted it was stressful. But the "19 And Counting" alum knows she always has her family to count on.
JESSA DUGGAR GETS CRITICISED FOR A REAL-LIFE MOTHERHOOD POST ON INSTAGRAM
Duggar kept it real with her Instagram followers. Duggar posted the reality of raising four children and how her house looks in the chaos.
The post was a series of pictures; one had a bed pilled with laundry, which Jessa was proud was clean.
The second photo showed a side table that Duggar said had not been dusted in months, and white sheets with a yellow stain that Duggar confessed was dried-out spit from her son.
Furthermore, Duggar posted a mirror filled with tiny fingerprints and drawings on the stand, and the one that really got people talking was the pile of diapers that Duggar said had accumulated in 12 hours.
The reality star's realistic Instagram post was met with a mixture of emotions; some people felt it was unsanitary for small children.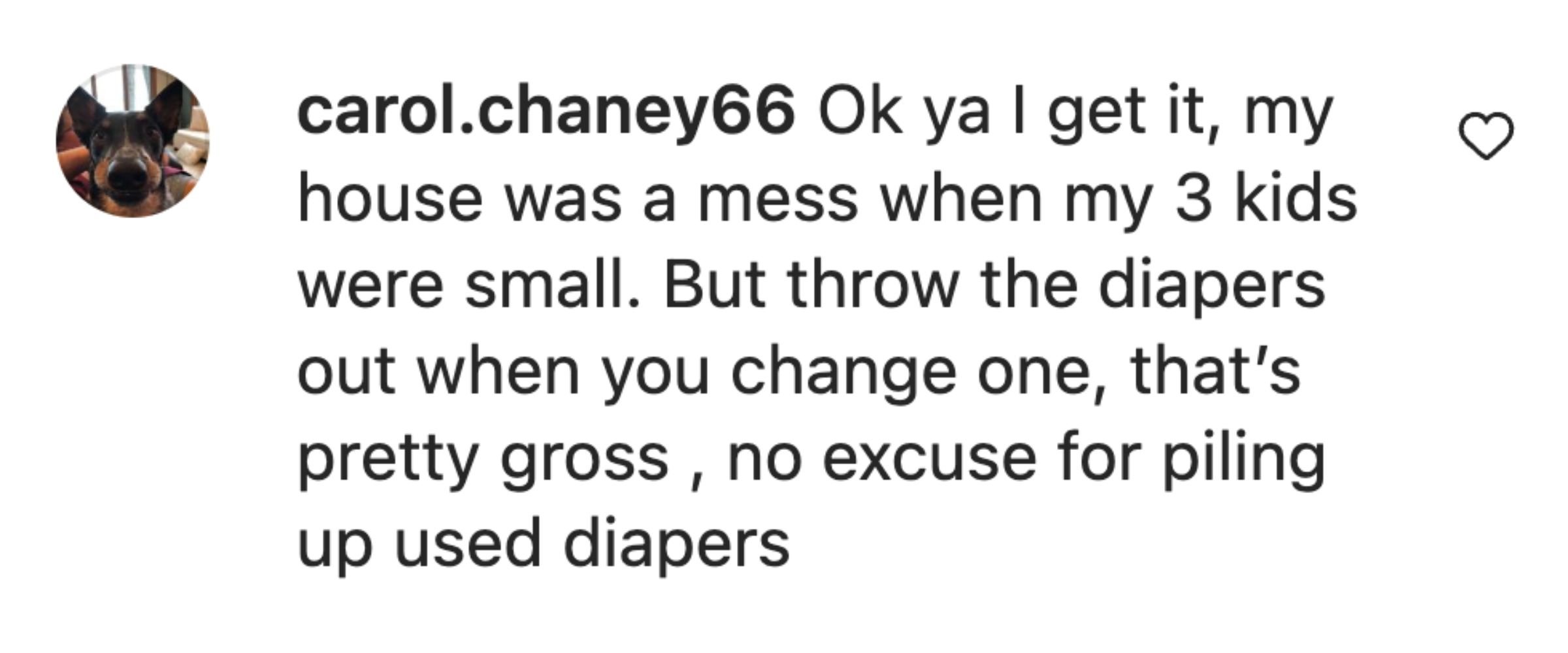 Comments from Jessa Duggar instgram post. | Source: Instagram.com/JassaSeewald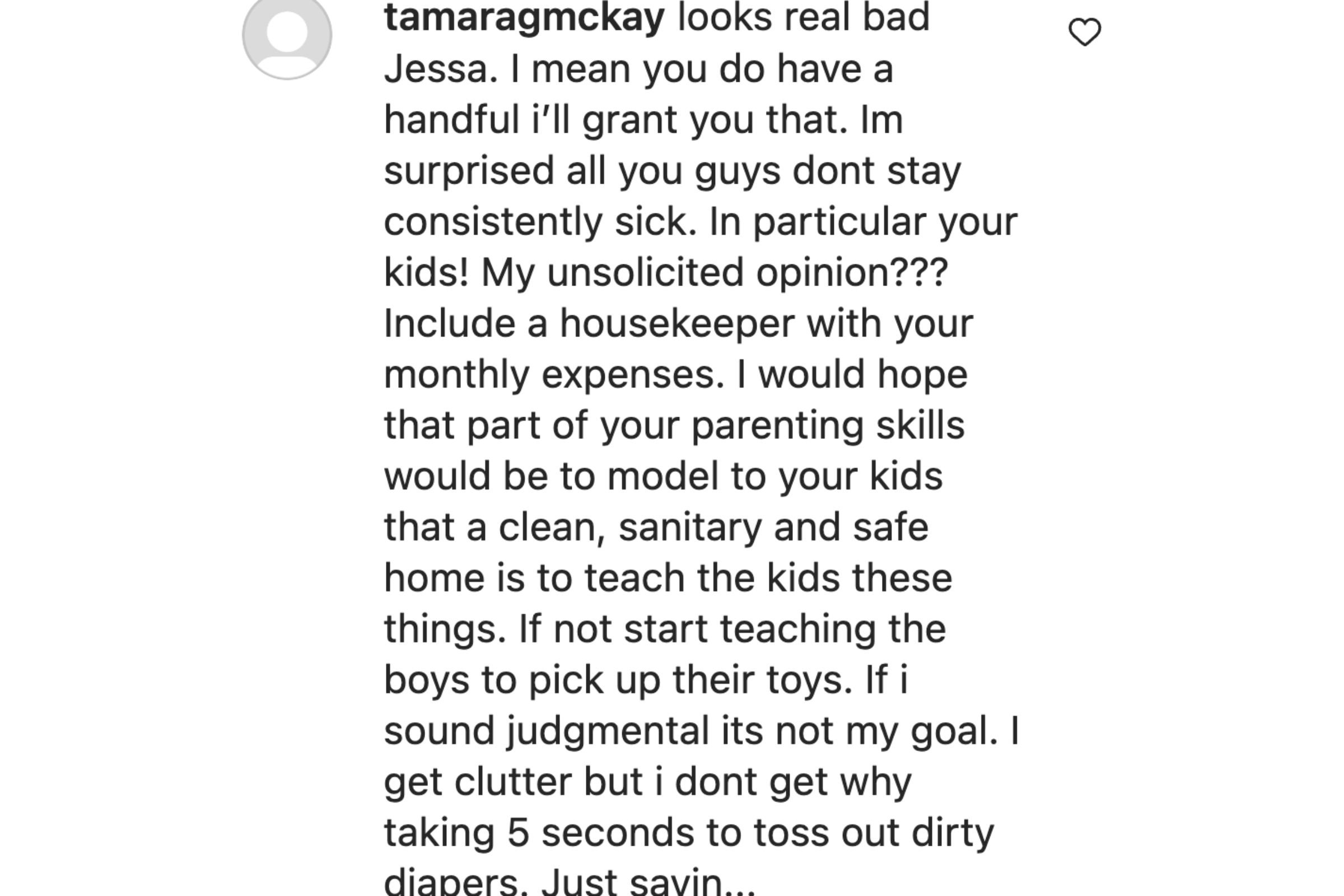 Comments from Jessa Duggar instgram post. | Source: Instagram.com/JassaSeewald
On the contrary, some people understood the struggle of running a household with four small children and how messy the house can get. As long as the children were happy and healthy, some followers felt Duggar should not be ridiculed for it.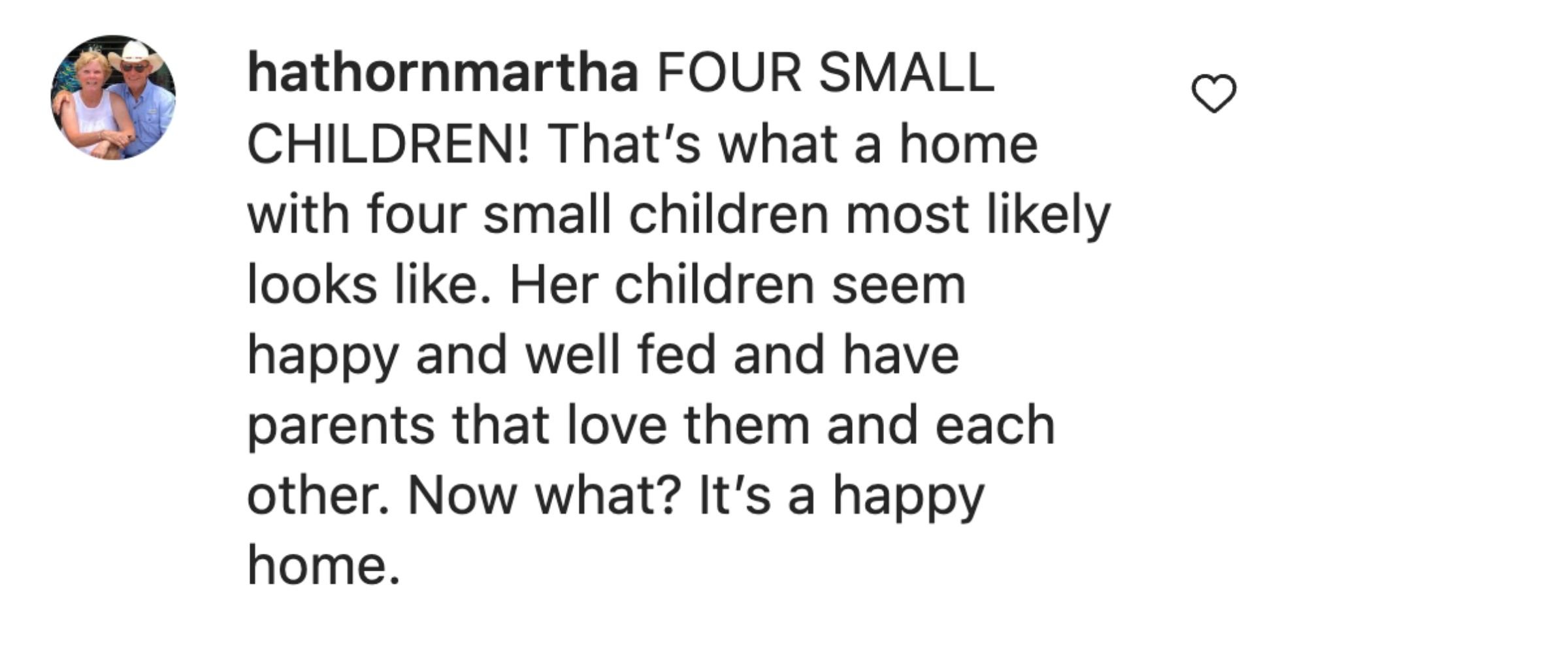 Comments from Jessa Duggar instgram post. | Source: Instagram.com/JassaSeewald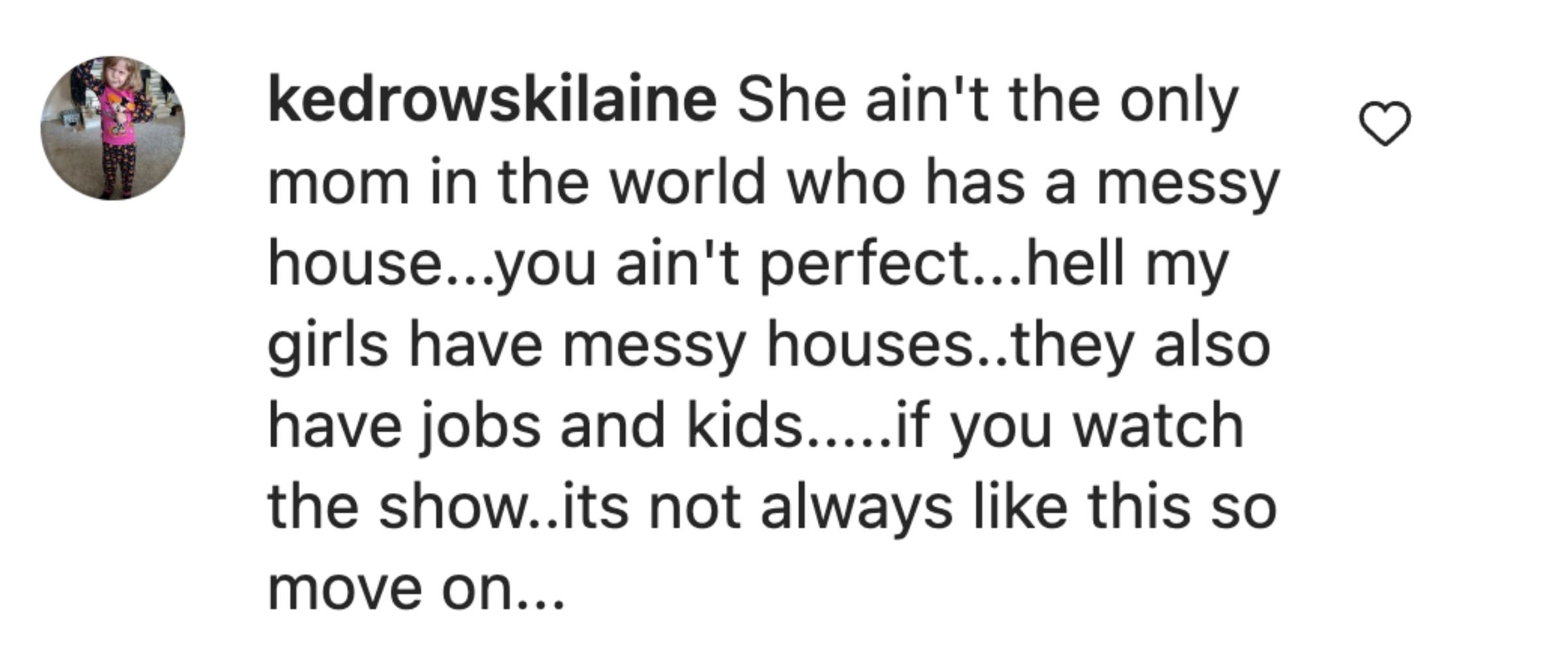 Comments from Jessa Duggar instgram post. | Source: Instagram.com/JassaSeewald
Above all else, Jessa is a devoted mother to her four children, and her Instagram post was to share the reality of moms and make anyone feeling alone feel seen.
Please fill in your e-mail so we can share with you our top stories!