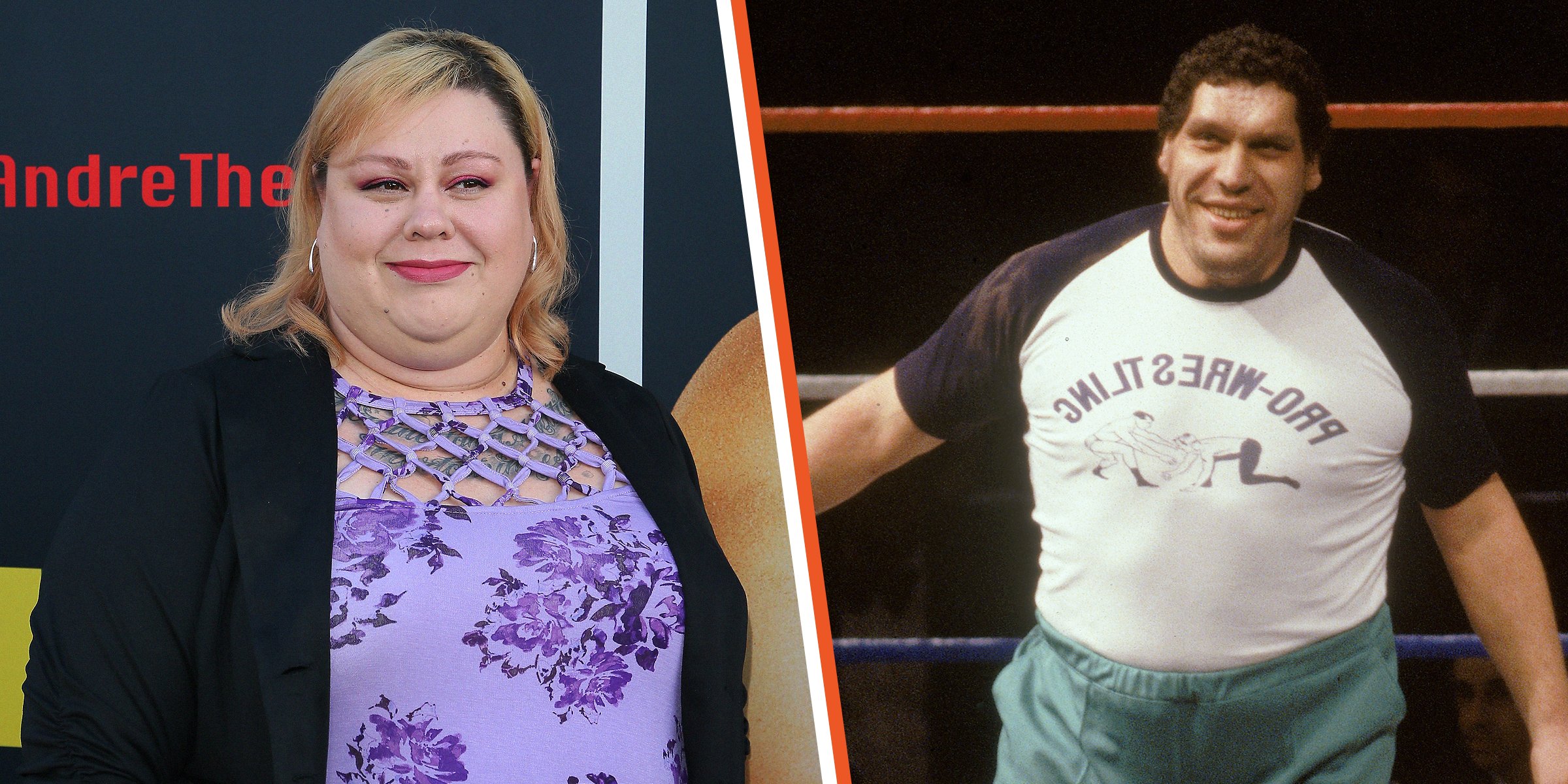 Robin Christensen-Roussimoff / Andre "The Giant" Rene Roussimoff | Source: Getty Images
Robin Christensen-Roussimoff Is André the Giant's Daughter: Facts about Her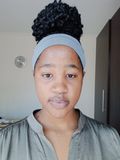 André Rene Roussimoff was an internationally recognized wrestler whose name, André the Giant, and career preceded him. Although his career took up most of his time, Roussimoff is survived by his one and only daughter Robin Christensen-Roussimoff.
French native Robin Christensen-Rousimoff was born in 1979 to the former professional wrestler and her mother, Jean Christensen. Her dad debuted his wrestling profession in his teens, and joining WWE earned him global fame. André the Giant also dabbled successfully in the entertainment industry.
Robin's mother, Jean, met Roussimoff in the wrestling business during the early 1970s. However, their relationship became strained over time, and they barely stayed in contact. Although her parents struggled to keep on good terms, Robin desired a proper bond with her dad.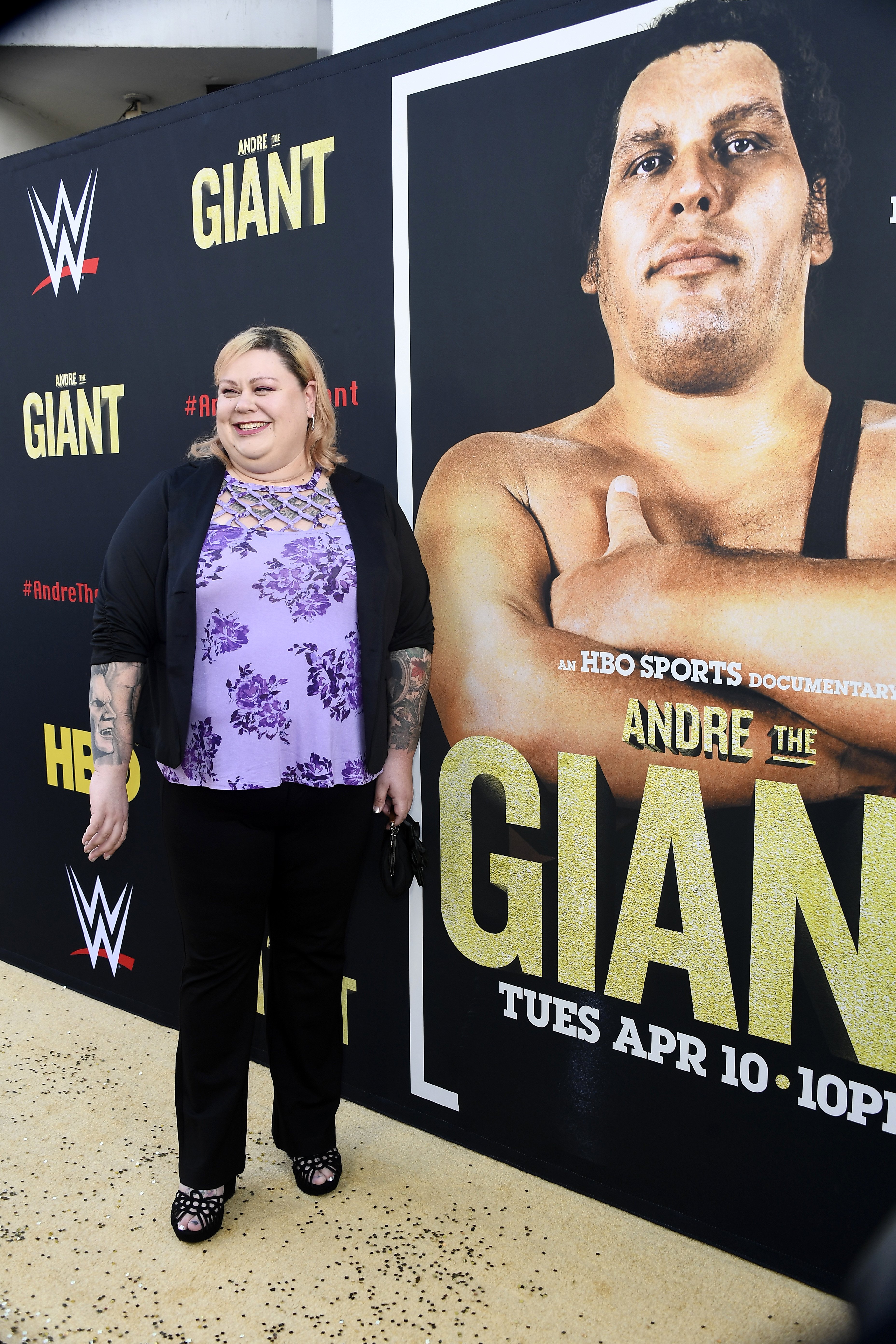 Robin Christensen, daughter of Andre the Giant, on red carpet at the Premiere Of HBO's "Andre The Giant" at The Cinerama Dome on March 29, 2018, in Los Angeles | Source: Getty Images
Robin Christensen-Roussimoff Is André The Giant's Daughter
Robin Christensen-Roussimoff may be the daughter of a well-remembered wrestling legend, but despite having a social media presence, she prefers to keep her personal life private. Per The Cinemaholic, Christensen-Roussimoff currently lives a stable life in Seattle, Washington.
Since her father's passing, Christensen-Roussimoff has occasionally been invited to share details about her relationship with him. According to Grunge, the late wrestler harbored deep regrets about the lack of a relationship between himself and his daughter. However, he did maintain contact with her through phone calls.
Moreover, André the Giant was self-conscious about a public appearance with his daughter, fearing his build would draw too much-unwanted attention. Hence, he invited her to his retirement ranch in Ellerbe, North Carolina, but Christensen-Roussimoff never made the trip.
She explained that she was too afraid to go alone, and her mother wasn't keen on accompanying her. Regardless, her parent's strained relationship didn't influence how she viewed her dad. Jean, a former public relations employee for WWE, encouraged her daughter to decide how she felt about her dad for herself.
After having only a handful of in-person quality time sessions, André the Giant won over his daughter's heart. Christensen-Roussimoff often paints a warm picture of the late wrestler during interviews and appearances. However, André the Giant's demanding career meant his daughter only took up a fraction of his life.
According to Grunge, Christensen-Rousimoff heard of her father's death through a voicemail after missing the call. She remembered the overwhelming web of emotion that swarmed her and decided to visit her best friend for a few hours, leaving a teary-eyed Jean.
Andre the Giant poses for the camera in Montreal, Canada on 25 Aug 1980 | Source: Getty Images
Although Christen-Roussimoff didn't attend her father's memorial services, she still wanted to strengthen her memory of him. She tried contacting his former colleagues but struggled as she hadn't yet entered the wrestling industry.
Since her father was also an accomplished actor, particularly remembered for his role as Fezzik in "Princess Bride," she managed to get a hold of one of his co-stars, Cary Elwes, with whom Christensen-Roussimof reportedly stayed in touch.
Telling Her Father's Story in the Documentary
HBO Sports released the documentary "André The Giant," which featured Christensen-Roussimoff in 2018. Although it received a decent rating on Rotten Tomatoes, Oliver Staley, a Quartz editor, stated that Christensen-Roussimoff barely received screen time, and details about her mother were omitted.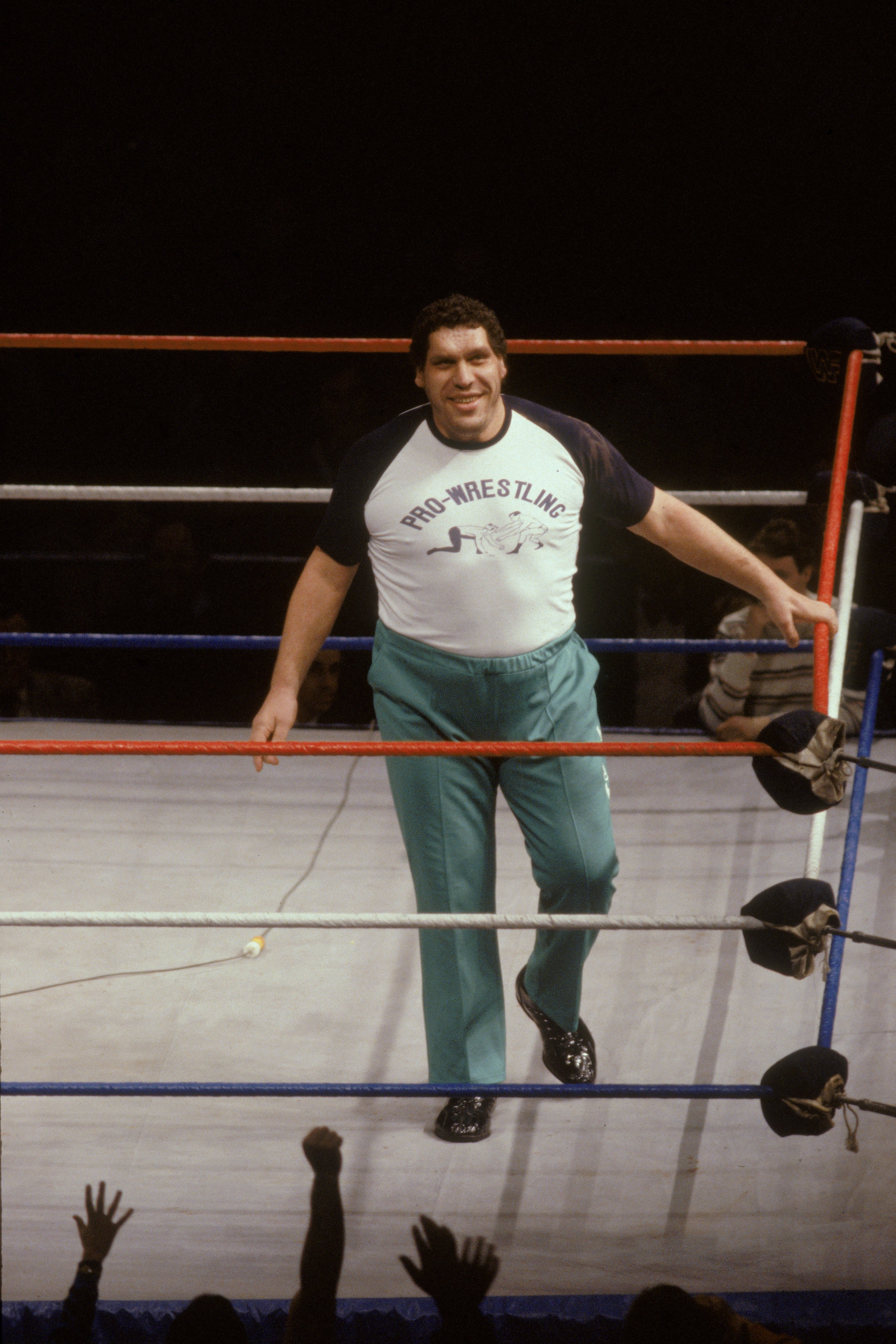 Andre the Giant (1946 - 1993) is photographed smiling as he walks around in the ring, as a special guest referee for the match with Rowdy Roddy Piper and Adrian Adonis on January 30, 1987 | Source: Getty Images
Staley added that the film lacked depth regarding details about André the Giant's career and death and felt the directors could have done more to portray his life more meaningfully. When André the Giant passed, he left his daughter in charge of issuing the rights for any appearances in which the former wrestler stars or features.
Christensen-Roussimoff is reportedly in talks about issuing those rights for a future biopic about her dad, where her memory of him, among others, is honored. She explained that she never watched his matches and felt no connection to the brute persona he often displayed in the ring.
Christen-Roussimoff never felt intimidated by her dad's towering stature. To her, he was indeed a cheerful person and a "gentle giant." She recalled how proud he was of his performance in "The Princess Bride." She found his character, Fezzik, "very lovable" and saw that her father enjoyed playing someone who was much like himself.
Like André the Giant, Christen-Roussimoff also has a strong build and is six feet tall. She eventually decided to join the wrestling industry; however, it was only a short stint before pursuing a career in another of her dad's passions: acting.
Facts about Her Famous Father
Although André Rene Roussimoff was famously known to be 7'4 tall, reports alleged that the former actor was 6'11. Rousimoff also grew up with the well-known playwright Samuel Becket, who won a Nobel Prize. At twelve years old, Roussimoff had already reached 6'3, which meant he couldn't fit on the school bus.
After his father built a cottage for Beckett, the playwright offered to take Roussimoff on his truck to school. However, the late actor admitted that the pair mostly spoke about cricket. Another fun fact about Roussimoff was that he once chugged over 110 beers within six hours.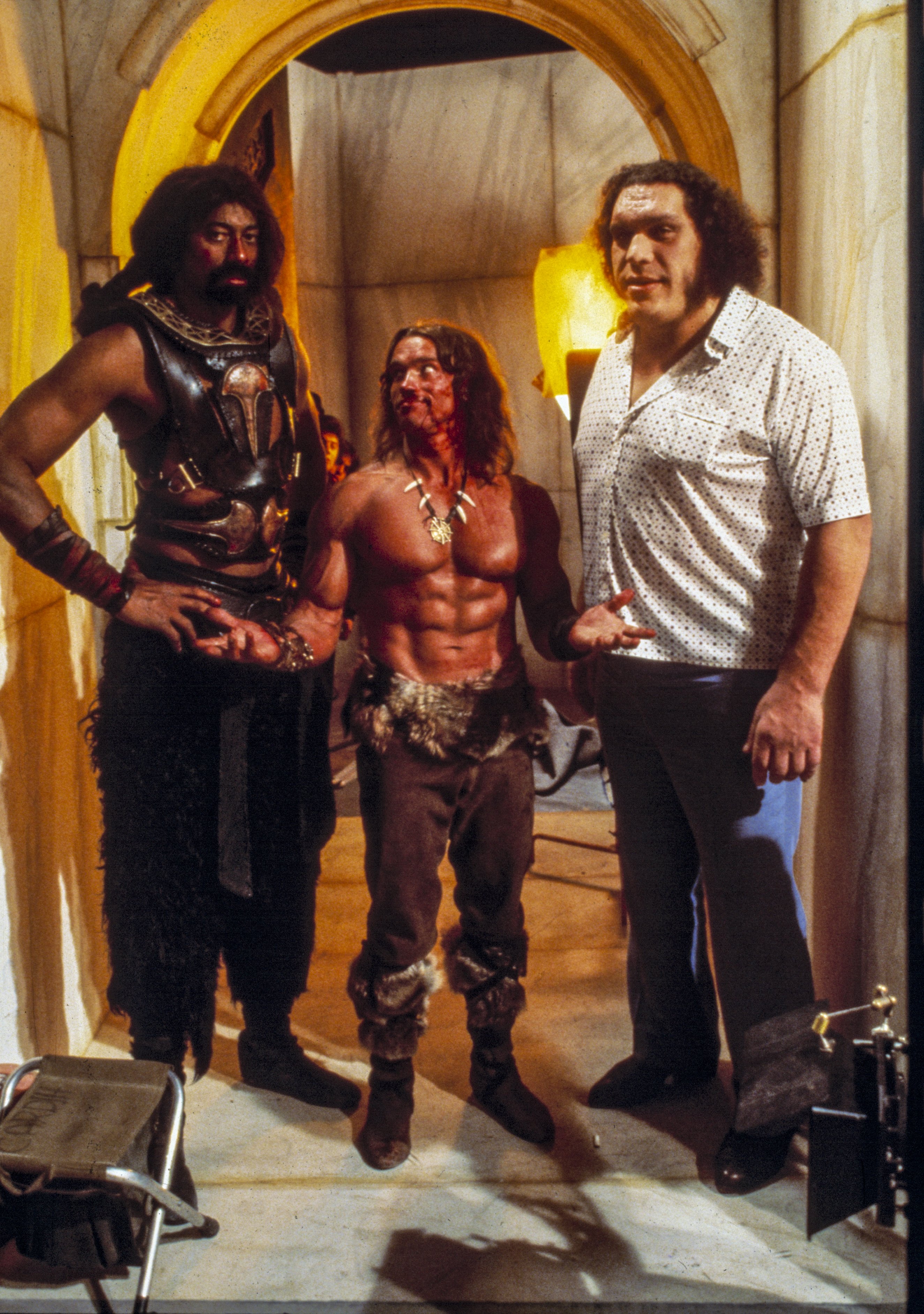 Arnold Schwarzenegger between Andre the Giant and Wilt Chamberlain on the set of "Conan the Destroyer" in Mexico City, 1983 | Source: Getty Images
Rousimoff may have been chiefly known for his role in "The Princess Bride" but made several other appearances in TV shows and films, including "The Six Million Dollar Man," "BJ and the Bear," and "Conan The Destroyer."
Finally, Roussimoff was the source of inspiration for the 2001 established clothing brand OBEY. Shepard Fairey, the founder of OBEY, distributed a sticker series in 1989 that included a stencil art sticker depicting Roussimoff with the text "André the Giant Has A Posse."
Fairey recalled how the design was born during an interview in 2008. The founder was teaching his friend to make a stencil when he saw a newspaper ad for André the Giant and instructed him to use it for reference. Fairey took the design his friend created and made it a consistent motif for his brand.
Please fill in your e-mail so we can share with you our top stories!