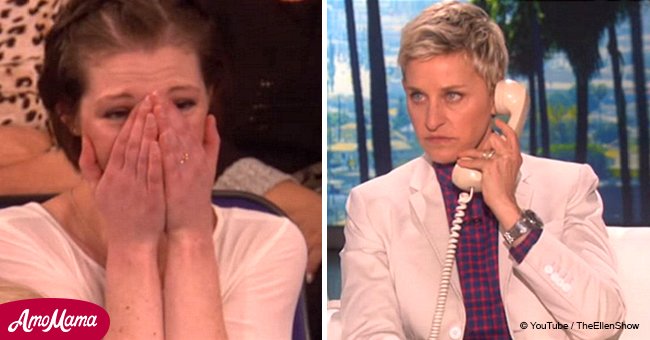 Unexpected phone call interrupts Ellen. Suddenly woman in audience realizes that it's for her
A cancer survivor wrote a moving letter to Ellen DeGeneres, but she never imagined that Ellen would call her onto the stage during her daytime talk show.
The writer, Kim, is a 30-year-old cancer survivor and was in the audience during one of Ellen's shows when a phone on stage suddenly rang. Pretending to be surprised, Ellen answered.
It was her receptionist, Janie, who wanted to read the letter to Ellen because she suspected the writer might be in the audience. The camera then shifts to Kim and her mother.
In the letter, Kim describes how much she loves the show, and added that she was going through a rough patch because she found a new lump in her breast and was awaiting the test results.
'I am a strong person, but right now I'm scared,' she wrote and added that her treatment, just a year ago, spanned five months of chemotherapy and she had to receive multiple surgeries.
Her mother had also battled breast cancer the year before, and it was an emotional time for Kim and her family. To stay motivated, she watched Ellen's shows.
"I do my very best to stay positive, and today your show keeps me going. I eagerly await for the part when I know you will bring me smiles and happiness. Thank you for being there for me."
When the rehearsed phone call was over, Ellen invited Kim and her mother Becky to the stage. They shared their stories and revealed that they received the MRI test results. The cancer cells hadn't returned!
Kim also shared that she was planning her wedding, and was stunned when Ellen said she had gifts for the young couple. For the 'something old' part, Ellen gave her a wedding dress.
A garter belt was the 'something new.' Ellen then called her gardener Nick onto the stage for 'something borrowed.' He handed a bouquet of flowers to Kim.
The last gift was 'something blue,' and while Ellen admitted that it was her favorite color, she wanted to give 'something green' instead because "weddings are expensive." The 'something green' was $10,000 in cash.
The Ellen DeGeneres Show airs every weekday on NBC.
Please fill in your e-mail so we can share with you our top stories!