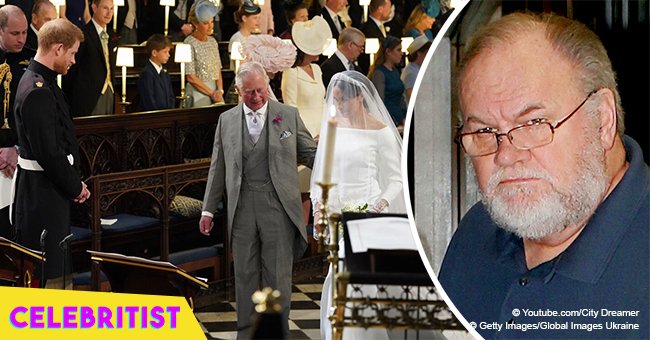 Meghan Markle's father emotionally reveals regret at not giving daughter away
Even though Thomas Markle's relationship with his daughter Duchess Meghan Markle has been rocky over the past years, he regrets not being at the wedding with her.
During an interview Thomas had with Good Morning Britain, he revealed the conversation he, his daughter, and Prince Harry had only days before the ceremony took place, when Thomas said he wouldn't walk Meghan down the aisle.
According to Thomas, Meghan cried and the couple was disappointed. However, they understood what he was going through and told him to take care of himself as they were 'really worried.' Meghan and Harry finally said that the important thing was that he got better.
TMZ reported that the reason Thomas couldn't attend the wedding was that he underwent a surgery when doctors cleared some blockage, repaired damage, and put a stent where it was needed.
All of that happened almost a week after Thomas had a heart attack. Even though he really wanted to walk his daughter down the aisle on such a wonderful day for her, his health condition didn't let him do so.
During the interview, Thomas added that he had to hide at a B&B place for a couple of days because the press was surrounding the hospital waiting for him.
Once he was in the little apartment, he watched the wedding. Thomas confessed that Meghan was 'beautiful, proud, and gorgeous' walking down the aisle.
Thomas himself was proud of his daughter as he added that he couldn't have seen a better moment in his life. He later confessed to being upset about the fact that he couldn't walk Meghan down the aisle.
However, he pointed out that the whole world was watching his daughter, which made him feel absolutely happy.
Finally, Thomas said that the most unfortunate thing for him is that he is only a footnote in one of the 'greatest moments in history' rather than the father who walked his daughter down the aisle.
As Celebritist previously reported, Thomas also talked about a few other aspects during the interview he had with Good Morning Britain.
Among the aspects he addressed, there were: the only condition on he gave Harry his permission to marry Meghan and how she told him she was dating the Duke of Sussex.
Please fill in your e-mail so we can share with you our top stories!