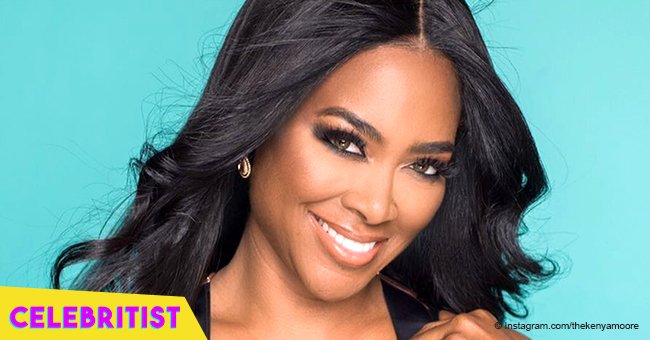 Kenya Moore excitedly shares 3-D ultrasound of unborn baby who already 'looks like' Marc Daly
Kenya Moore, the reality star known for "Real Housewives of Atlanta," took to Instagram to share a 3-D ultrasound photo of her unborn baby, comparing them with husband, Marc Daly.
The first part of the slideshow portrayed the face of the baby, whose gender has not been revealed. According to Moore's caption, it looked like if they made it with "play-doh or [Claymation]."
She also revealed that the black spot above the baby was not hair but just the way the image was taken. Finally, Moore pointed out that the child had Daly's lips already, uploading a side-to-side image of the baby and Daly's lips.
PEOPLE'S REACTION
As soon as she uploaded that slideshow, her followers took to the comment section to share their thoughts. Some of them pointed out that not only their lips but also their noses were very similar. Others just sent Moore and her baby their blessings, wishing that everything kept going well.
A FAKE PREGNANCY?
One of the aspects about that post that attracted more attention was that several people had been claiming that Moore was faking her pregnancy for previous activities she was recorded doing that pregnant women shouldn't.
In late-September, Kandi Burruss uploaded a slideshow showing several videos of a party they had in her restaurant wherein Moore was invited. One of them showed her doing the basic step in breakdancing.
CLEARING UP RUMORS
Apart from that, she made everyone believe that she would make some other acrobatic move. Thankfully, this recent post showing the 3-D image of her upcoming baby set clear that she is actually expecting a baby and that all those claims were nothing but rumors.
A PREVIOUS ULTRASOUND
It is not the first post related to her baby that Moore has shared, though, as she uploaded a video of an ultrasound in early-June.
For the caption, she revealed that her heart was overwhelmed by all the kindness and well wishes that several people had sent to her and her family.
HER REACTION ON THE ULTRASOUND
"I felt compelled to share this video of one of our early ultrasounds when I saw my baby's heart beating for the first time. I cried like a baby myself! I couldn't believe this miracle was growing inside me. And its heart was beating so fast!" added Moore.
One of the things the couple has shared about the baby is that they have picked a unisex moniker with a special meaning because they plan to wait up until the baby is born to know their gender.
Even though they have not revealed the exact due date, people consider that she will give birth sooner rather than later. They cannot wait for her to share the big news.
Please fill in your e-mail so we can share with you our top stories!