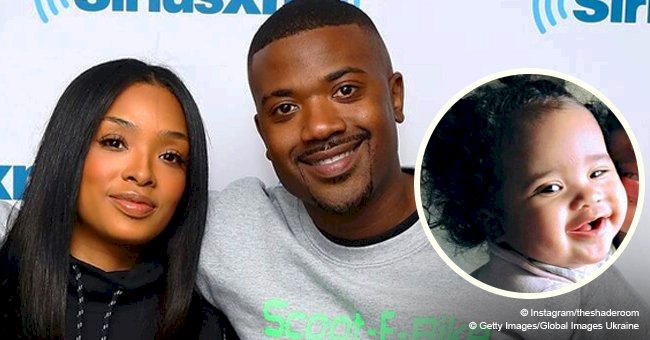 Ray J & Princess Love's baby daughter steals hearts with her cute smile in recent selfie with mom
Ray J and Princess Love's gorgeous daughter, Melody Love Norwood was recently pictured in a selfie with her mom. Check out the oh-so-adorable photo below.
The Shade Room posted a mommy-and-me photo of Melody and Princess Love some hours ago, and fans are swooning over the adorable tot.
In the picture, Love held Melody to her chest and smiled at the camera. Miss Melody, on the other hand, looked more excited than her mama. With her curly hair in a messy bun, the almost-six-month-old showed off a wide grin.
"#PrincessLove is all smiles with her adorable baby girl #Melody," the page wrote.
Fans of the "Love and Hip Hop: Hollywood" star and her baby are already showing up in the comment section to gush over Melody.
"Happiest baby ever, always smiling for the camera..love it!!" said one person.
Another chimed in: "It's ridiculous how beautiful this tootie wootie scootie is! I'm so in love with this gorgeous baby!"
"Her baby is so happy all the time. I love it! A happy baby is a healthy baby," said a third fan.
GENIUS BABY
Melody is no stranger to getting love from netizens. Thanks to her mama and papa who share the most adorable pictures and videos on social media, the baby girl already has fans of her own.
A few months ago, Love shared a series of videos where Melody was getting ahead on her baby talk. In one clip, she said something that sounded very much like "I Love You."
Even more shocking is the fact that she repeated it. Another clip also showed Melody appearing to sing along the "ABC" song with her mom.
MAMA'S GOT THIS COVERED
Before the arrival of her daughter, Love had assured reporters that she wouldn't need any nanny, so it's safe to say the mother and daughter are together always.
After her husband said, "No nanny, wife is the nanny. She don't want no nanny," Love backed him up by explaining just how ready she is.
"I'm so ready," she insisted. "We have six dogs, two rabbits, and a bird."
RAY J FINDS OUT HE'S A CRYBABY
Love and Ray J welcomed their daughter on May 22, and three weeks later, the "Raycon" Tech company owner told The Source that the birth experience was an eye-opener for him.
"I didn't know I was a crybaby. I didn't know I could cry that much. I was in that room, but I couldn't stop crying. It was very unfamiliar territory. …The feeling I had when I saw my baby was an emotional feeling from God that I've never felt before."
FAMILY FEUD, ANYONE?
Melody was previously reported to be at loggerheads with Ray's sister, singer Brandy, and their mom, Sonja Norwood. Recently, however, Brandy shared an Instagram post in which she praised Love for being a good mom, suggesting that the family is getting along again.
Please fill in your e-mail so we can share with you our top stories!