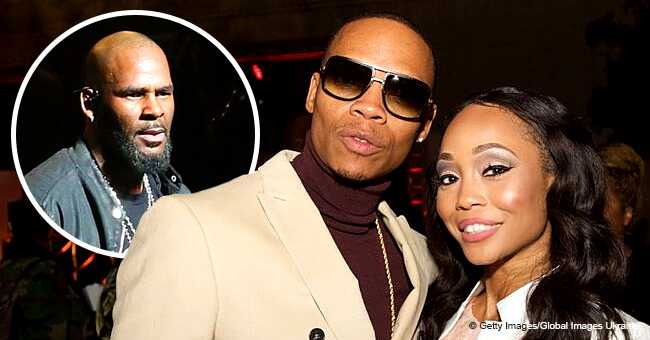 'He needs to pay for what he's done,' Ronnie DeVoe's wife Shamari says R. Kelly has to go to jail
"Real Housewives Of Atlanta" star Shamari DeVoe did not mince words about alleged sexual abuser R. Kelly during a recent interview. The former Blaque singer insisted that the disgraced artist should be locked up.
Shamari and her husband, New Edition/Bell Biv DeVoe singer Ronnie DeVoe, were recently on ESSENCE's "Yes, Girl!" podcast where they got talking about "Surviving R. Kelly," the explosive documentary detailing the singer's alleged sexual abuse of several women and underage girls.
Shamari, who first met Kelly when she was 19 with her singing group, Blaque, quickly admitted she was one of the lucky ones.
"I was a young girl. We got our first record deal when I was 17, and then R. Kelly actually produced and wrote our first single 808. So I met him when I was 19," she said.
Shamari continued:
"Thank God he didn't try anything with me, but I feel really sorry for the women that have been his victims, like have been sexually harassed and it's really sad. He needs to be put under the jail. He needs to pay for what he's done."
Ronnie echoed his wife's opinion, emphasizing the effect of such abuse on Kelly's alleged victims. "He has to be held accountable," he said, adding:
"Ultimately God is gonna put something on him so that he has to face what he's put people through…like he's not only tearing families down and apart, but just think about these young women that are gonna be broken and in a place that they're changed forever…"
The "Poison" singer also recalled how watching the docu-series with his wife helped him think about their twin sons.
Ronnie and Shamari welcomed their boys, Ronald and Roman, in 2017 after 11 years of marriage and pregnancy complications, and if all that did not make Ronnie super-protective, watching the R. Kelly documentary did.
"I thought about my sons as well. I can't just put them in anybody's hands," he said. "Like you have to be aware of who you're allowing your kids to be around."
Shamari and Ronnie join an increasing list of celebrities who have spoken out against Kelly since the three-part Lifetime documentary began airing on January 3.
John Legend, Chance the Rapper, Lady Gaga, and Jada Pinkett-Smith, are other prominent names on that list.
About two months ago, the DeVoe's were in the news for another sex-related story. Shamari revealed in an episode of "RHOA" that she and her husband once had an open marriage based off her suggestion.
"I slept with two different women during that time. He probably slept with about 10," she told the other ladies on the show after admitting she was "bi-curious."
But just as she brought up the idea, it was also Shamari who shut it down:
"I started the open relationship and I stopped the open relationship. I realized that the grass wasn't greener on the other side."
Please fill in your e-mail so we can share with you our top stories!