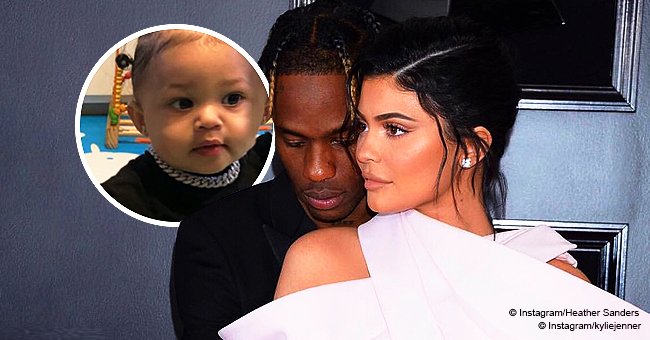 Kylie Jenner and Travis Scott gift 1 year-old daughter Stormi a diamond lightning bolt necklace
Despite the previous backlash, Travis Scott has given him, and Kylie Jenner's daughter another lavish gift and the reality star wasted no time showing it off.
Scott, 26, and Jenner, 21, came under fire recently after throwing their daughter, Stormi Webster, an over-the-top party, but that hasn't stopped the "Astroworld" rapper from doing more, this time with diamonds.
On Saturday, the "Keeping Up With The Kardashians" star took to her Instagram Stories with a video of Stormi dressed in a weather-inspired tee and skinny black jeans, but what was too shiny to be ignored was a diamond necklace hanging around the one-year-old's neck.
The chunky accessory features a lightning bolt design, most likely in reference to Stormi's name, and looked like it cost a fortune.
DJ Khaled, one of the celebrities in attendance at StormiWorld, was not left out of the dragging.
"Look at what your daddy got you, girl," Jenner cooed off-camera as her daughter played around with furniture, seemingly oblivious of the costly piece she carried. "You're just too cute."
The weekend before, Jenner and Scott (birth name Jacques Webster II) went all out with a "StormiWorld" park-themed birthday bash that had everything from a giant, inflatable head fashioned after Stormi's face, to games, food, drinks, and even Stormi merchandise.
The "Kylie Cosmetics" mogul received a lot of heat for spending so much money on a little girl's party and even more when she showed off the pile of designer gifts Stormi received.
"Most ridiculous party of the year, but the Kardashian know exactly how to break the internet. This is how you become rich and famous," a Twitter user wrote.
Another social media user implied that Jenner was only using her daughter for publicity:
"If I had Kylie Jenner's money I absolutely would not throw a party for my baby on the same scale. Infants don't understand the concept of money, they didn't do it for Stormi they did it so she would be the talk of social media - & it worked."
DJ Khaled, one of the celebrities in attendance at StormiWorld, was not left out of the dragging. The record executive gave Stormi her first Chanel purse, and even though Kylie seemed thrilled at the gift, the internet wasn't.
"Look how clueless she is. She don't need that Chanel," tweeted one person in response.
"What she's really saying is who's this clown and where's my toys?" echoed another.
Stormi may be too young to appreciate all her expensive gifts now, but she sure has a lot of catching up to do when she gets older, including the now-infamous $1200 Louis Vuitton bag she got from her aunt, Kim Kardashian last Christmas.
Please fill in your e-mail so we can share with you our top stories!