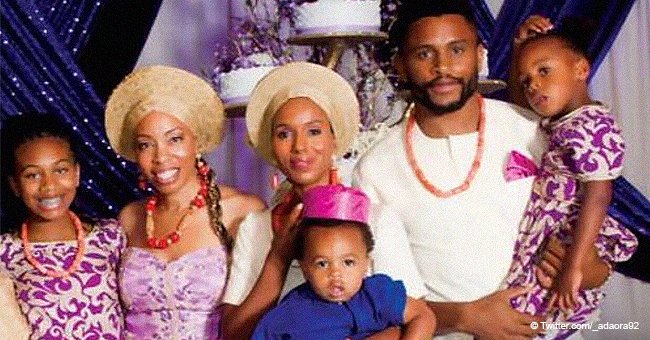 First Photo of Kerry Washington's Kids Surfaced after Keeping Her Family Private for Years

Kerry Washington is known for being unapologetically secretive about her personal life, but a rare photo of her family made it to social media recently, and fans are getting more than they asked for.
Despite being a famous Hollywood actress, Washington has so far managed to keep her private business private and even succeeded in pulling off a secret wedding to footballer-turned-actor Nnamdi Asomugha.
Last month, however, that privacy was threatened when a Twitter user posted photos of the actress's family to the platform.
The images, taken from a Nigerian magazine, showed the actress in a photo-shoot with not only her husband and children but also extended family members of Asomugha.
FAMILY AFFAIR
The occasion was the 70th birthday of her mother-in-law Lilian Asomugha and the entire family was photographed for the society magazine, "Life & Times." Asomugha is from the Igbo tribe in Nigeria, and the "Scandal" star blended right in with her traditional attire, complete with coral beads and a regal Gele.
In one of the photos, Asomugha held on to the couple's daughter Isabelle while Washington balanced their son, Caleb, on her hip as they all smiled for the camera. According to the Twitter user who shared the pics, Washington's stepdaughter was also pictured (in the purple attire & wearing braces).
STRICT PRIVACY POLICY
The "Olivia Pope" actress tied the knot with her beau on June 24, 2013, and many did not know the fact until much later. We also know that the couple shares two kids, but Washington makes no apologies for wanting to keep her family away from the cameras.
In 2016, she made her stand known while addressing rumors that she and her husband were headed for divorce.
"If I don't talk about my personal life, it means I don't talk about my personal life," said Washington. "That means not only did I not tell you when I was getting married, it also means if somebody has rumors about what's going on in my marriage, I don't refute them, because I don't talk about my personal life."
COMMENTS ABOUT HER KIDS
Washington and Asomugha's daughter Isabelle was born in 2014 and their son, Caleb in 2016, but the actress also co-parents her husband's 12-year-old daughter from a previous relationship.
Although the "Django Unchained" star rarely speaks of her children, she makes exceptions once in a while, like in 2016 when she told Oprah Winfrey that she sees herself as more of "an ambassador" for her daughter to the world. "I'm not her headmistress," she added.
RUMORS OF THE 3RD CHILD
Late last year, Washington, 42, also spoke up to correct Craig Melvin on NBC's "Today" when the latter referred to her as a mother of two.
"I am a mother of three," she corrected.
That statement led to widespread speculation that the actress and her husband had welcomed a third biological child, and given Washington's strict privacy policy, the rumors were not hard to imagine. Word eventually got out that the third child, in this case, is the stepdaughter.
STATING WHAT REALLY MATTERS
If anyone has issues with how tight-lipped Washington remains about her kids, the "American Son" actress remains unbothered. Speaking with ESSENCE last year, she emphasized the importance of sticking to what works for each person.
"One always has to make the choices that feel right for you. And then you kind of live with those choices and do your best to make sure that everybody's healthy and happy along the way."
True to her word, Washington continues to keep comments about her family out of the press, even though she does make the occasional couple appearances.
Toward the end of last year, she and Asomugha, 37, made a rare public appearance together in NYC where they attended a special screening of "If Beale Street Could Talk."
Both turned up casual for the event, Washington choosing a loose beige sweater, blue jeans, and brown heels while her spouse wore a simple grey top, navy blue trench coat, and black pants.
Please fill in your e-mail so we can share with you our top stories!