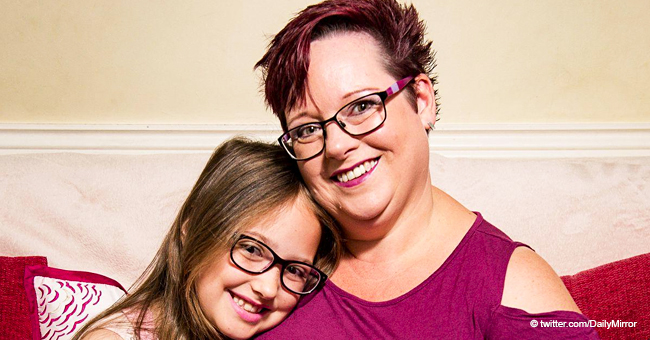 Mom-of-4 Shares that Daughter She Breastfed for over 9 Years Has Made the Decision to Self-Wean
A middle-aged woman has successfully been able to breastfeed her daughter until she was nine-years old.
A woman named Sharon didn't see anything wrong in breastfeeding a child far beyond the conventional age of weaning. She believes it's an effective way of getting a child to be closer and free with you as the mum. She further stated that the health benefits it had on a child were too beneficial that it was worth being prioritized.
Sharon Spink, the mother of four, refused to be bothered by various insults and censures she got till her daughter, Charlotte, got weaned by her own will.
According to Sharon, she had been called names like "pedophile," "child abuser," and so on just to discourage her but she took her stance just to achieve her aim of letting the child say, "No, it's enough!"
Sharon said she scantily breastfed her older siblings and she made it a duty to do much more for Charlotte and the more she saw the difference it made, most especially Charlotte being more immune to illness, she reinforced the act.
Sharon Spink is fifty years old, her eldest child, Kim, thirty, followed by Sarah, twenty-eight, Isabel, twelve and of course, the last of them, the breastmilk beneficiary, nine.
Charlotte said she would stop by ten, but the act was gradually fading in her as she clocked nine. That made her mother conclude that it's a natural occurrence; the child had to stop herself spontaneously.
According to her, it couldn't continue for long, it would reduce and finally end on its own, but it would build a lifelong relationship, trust, and security between the mother and her child.
Sharon asserted that as the child grew with continuous breastfeeding, they would get more comfort from it than nutrition. She was happy and relieved that Charlotte weaned herself even though she had decided to continue that with her. She believed she had gratified her daughter and had helped her stay strong and healthy.
During the period of breastfeeding, Charlotte had refused to tell her friends about it in school. Although Sharon was mauled by many, some people lauded her for this act. She got support from the breastfeeding community as well as from her husband, Paul Spink who is five years younger.
Please fill in your e-mail so we can share with you our top stories!