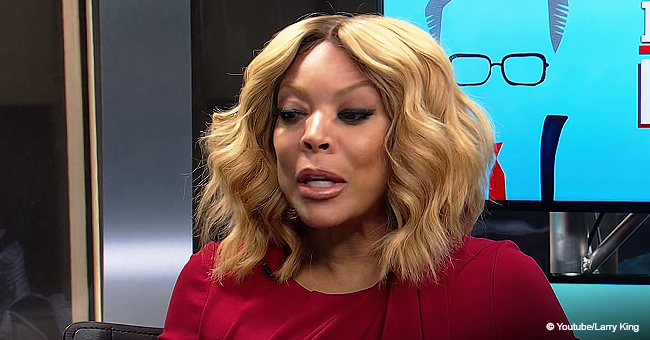 Wendy Williams Spotted Looking like 'She's Going through a Hard Time' Amid Separation Rumors
In the middle of a planned week-long hiatus from "The Wendy Williams Show," the TV host was spotted shopping at Walmart on Thursday. Witnesses said she looked "frantic," and a pic from the sighting left fans worried about Williams.
It's been a rough year for Wendy Williams, and although she manages to look flawless on her daytime talk show, pics from a recent sighting are not flattering for her at all.
The 54-year-old is currently in the middle of a week-long hiatus from her show, which she and the producers said was scheduled. So, making good use of her time, she went for a night run shopping to a Walmart near Ellenville, New York on Thursday.
LOOKING FRANTIC
Some fans were able to catch sight of Williams and snapped a photo and a short video, where Wendy can be seen looking unkempt and bit frail while riding a motorized shopping cart.
She wore a black turtle neck, and her hair looked disheveled. However, her massive diamond wedding ring was perched on her left hand.
Amid countless infidelity rumors that have surrounded Williams and her husband, Kevin Hunter, she has developed an on-again, off-again relationship with the piece of jewelry. Always sporting it on her TV show, but sometimes leaving it behind when she's caught off the set.
A fan that was at Walmart told Radar Online that Williams "walked in and was in the bathroom for 20 minutes. When she came out, she went to get the wheelchair cart. She was walking fine with no limp."
The fan tried to talk to the star, but her team wouldn't allow it. And when asked for a selfie, Williams allegedly replied: "No, not at this time."
"She looked frantic," said the fan. "Once we started taking the pictures, she wanted to get out of there."
MIXED REACTIONS
The photo, shared to The Shade Room, has earned mixed reactions from fans and haters alike.
Although most people seem to sympathize with Wendy and say they're worried about her current situation, others believe karma is just having a field year with her.
"Feel bad for her situation, but that's what happens when put constantly put your mouth and opinion on other people's situation. God will put you to the test, and yours may be tougher than theirs," wrote one user.
Another added,
"Dear Lord, I pray for Wendy. Even though her job is to drag others, I refuse to drag her. It looks like life is already do that. Despite how y'all feel, just go ahead a prayer for her. It costs you nothing to do so. In Jesus name, Amen."
And a third one said, "This is sad but I wonder if it was another celeb would she have ripped on them at Hot Topics?"
A ROUGH YEAR FOR WENDY
Earlier this year, Wendy had to take a two-month break from her TV show due to health issues esteemed from her Graves' disease and a fractured shoulder.
However, people started to speculate that the real reason for her absence was tied to her husband's alleged affair with Sharina Hudson and the fact that she was pregnant with his child.
At her return on March 3, Williams addressed those rumors, showing off her wedding ring and giving a shout out to Hunter, while assuring her audience that after two decades of marriage, her ring was not going anywhere.
She said:
"Believe me you, when you've been with somebody for 28 years, married for 25 years … we know each other. I know what you've been seeing, but I'm still very much in love with my husband and anyone who's been married, you know."
"Marriages have ebbs and flows; marriage isn't easy. And don't ask me about mine until you see this gone," she added, gesturing to her wedding ring. "And it ain't going anywhere, not in this lifetime."
BATTLING PAST ADDICTIONS
A few weeks later, Williams surprised her audience by revealing she's been living in a sober house for the past months, as she seeks treatment for her past cocaine addiction.
Then, after reports of Hunter's mistress giving birth came to light, Williams allegedly checked out of the sober house and was found drunk and taken to the hospital to sober up.
Williams was able to take on her hosting responsibilities the next day and never addressed the situation.
On the other hand, Hunter told E! News that he and Wendy are doing "fine." "We are focused on her health and sobriety, and that is it," he added.
On Thursday, Wendy also released a PSA for the Hunter Foundation's 1-888-5HUNTER hotline, encouraging people that are battling addiction, or know someone that does, to ask for help.
"If you're an addict or a substance abuser, don't be ashamed — help is here for you or a family member or a loved one. Call. Don't be ashamed. There is hope. I'm living proof," she stated in the video.
Williams is expected to return to her show next week.
Please fill in your e-mail so we can share with you our top stories!