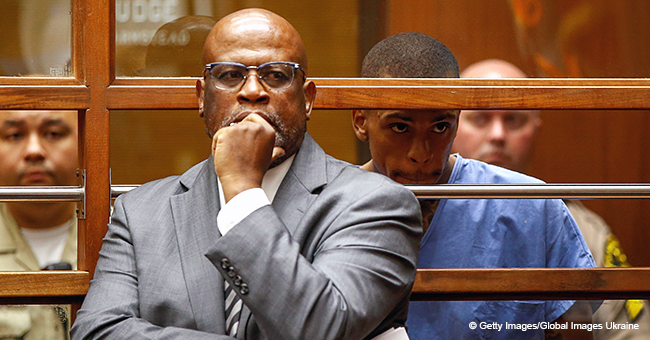 O.J. Simpson Prosecutor Chris Darden Is Now Representing Nipsey Hussle's Suspected Murderer
Prosecutor turned defense attorney Chris Darden pleads not guilty as he represents the man accused of killing NIpsey Hussle. Darden previously prosecuted O.J. Simpson during his murder trial where he was acquitted.
He was a prosecutor during O.J. Simpson's trial and now Chris Darden is defending the man suspected to have murdered Nipsey Hussle.
Darden appeared in court on Thursday with a not guilty plea in behalf of his client, Eric Holder, who's been arrested under the assumption that he murdered rapper Hussle on Sunday.
MURDER DETAILS
Hussle was standing outside his clothing store in Los Angeles when Holder approached him and shot him several times. He even fired at Hussle's two friends who survived the incident with injuries.
Holder, who was believed to have had an altercation with Hussle earlier in the day fled the scene in a waiting vehicle driven by a woman. The woman turned herself in to authorities the following day and has been cooperating with detectives. She has not been charged or arrested.
THE INITIAL HEARING
Darden made a short appearance in court claiming he had a plane to catch. He avoided questions from reporters and made an attempt to ban TV cameras during the hearing due to an "issue of identity." However, prosecutor John McKinley argued that Holder's photo is already all over the media so an identity issue is irrelevant.
Holder was charged with one count of murder and two counts of attempted murder. His lawyer who he reportedly retains privately entered a not guilty plea. If convicted, he is expected to face life in prison.
DARDEN ON O.J. SIMPSON'S CASE
Darden famously served as a prosecutor in the murder trial involving the accused Simpson. He was charged with murdering his ex-wife Nicole Brown and her boyfriend and was acquitted. Since then, Darden shifted to becoming a defense lawyer. In hindsight, he told "Ask Me Anything" on Reddit, "I would have done lots of things differently," with the Simpson case. He also said he would not have had a problem if he defended the former football player instead.
Darden is expected to return to court on May 10. Meanwhile, his client remains in custody after the judge set his bail at $5 million.
Please fill in your e-mail so we can share with you our top stories!