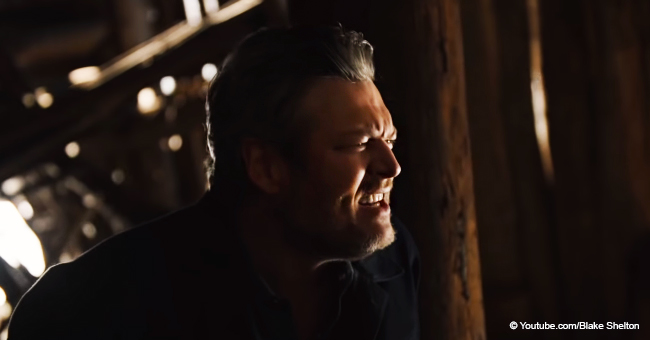 Blake Shelton Releases New 'God's Country' Video Full of Fire and Love for His Hometown
The country superstar said the song has a strong and deep meaningful lyric, but at the same time, it leaves it up to the listeners' interpretation.
The video begins with a view of Blake Shelton's back while he's standing amidst acres of grass and land. Parts of the video are interspersed with black and white scenes of barren land and natural disasters. Oklahoma was where it was shot, Shelton's home state, and where he lives today.
Shelton says about the song, "But no matter where you are from or where you're standing it is my belief that you're standing in God's Country. It's really about a state of mind. Wherever you're from and how you feel about that place. For me, it's about being from Oklahoma—where I was born, raised and still live today."
He adds, "We spent four days shooting there, in and around Tishomingo, getting connected to the land, the environment and the spirit of the music. As I've said before, I was born in Oklahoma and I'll be buried there."
The song was written by Devin Dawson, HARDY, and Jordan Schmidt—but they never imagined that one of their musical heroes would record the song just days after writing it.
Dawson said, "We wrote it on a Thursday. Blake heard it, and by Monday he had recorded it."
He added, "I'm so proud of the song and so excited that he wanted to sing it."
Dawson also sang background vocals on the track. "God's Country" was directed by Sophie Muller, who had also directed most of Shelton's girlfriend, Gwen Stefani's videos.
Country songs that speak of patriotism are many and some have become well-known through the years. "Some Gave All" was a song once sung by Billy Ray Cyrus for troops on a battleship in Norfolk, Virginia. He considers this one of his career highlights. Chely Wright was inspired to write a song after a woman flipped her off in traffic while cursing the singer for having a U.S. bumper sticker. The lyrics of "Bumper of My SUV" say, ""Yes, I do have questions / I get to ask them because I'm free / That's why I've got a sticker for the U.S. Marines / On the bumper of my SUV."
Please fill in your e-mail so we can share with you our top stories!