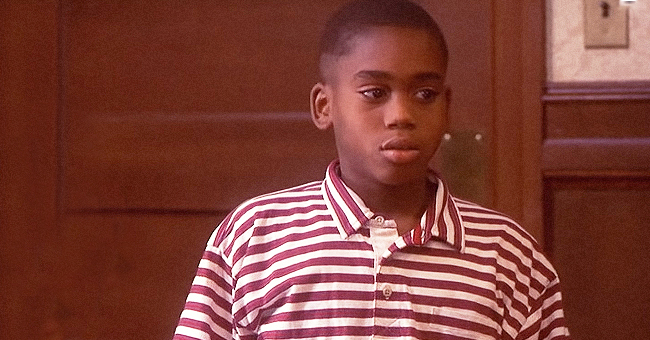 Youtube/Movieclips
'Soul Food' Child Actor Brandon Hammond Is Now 35 & Looks Very Different
Long gone are the days when Brandon Hammond stole hearts as young Ahmad in the film "Soul Food." Now at 35, he's sporting a full beard, has a budding relationship, and has taken a different path in the entertainment industry.
It's been more than a decade since Brandon Hammond reached the peak of his popularity after giving life to 11-year-old Ahmad Chadway, the son of Vivica Fox's character, and Big Mama favorite grandson, in the George Tillman, Jr film "Soul Food."
Hammond's role was essential for the film because the story was told through his eyes, and he did such a great job that to this day, people still recognize him and praise him for it.
AHMAD'S IMPACT
He even gets comments from the young generation, as they are re-discovering the film. "You would think that it came out a year ago," he told Essence a few years ago. "I still have a pretty young face. A lot of people recognize me as Ahmad."
Brandon also has credits in films like "Menace II Society," "Strange Days," "Waiting to Exhale," "The Fan," and "Mars Attacks!," usually bringing to life the son of one of the characters. He also appeared on "Space Jam" as 10-year-old Michael Jordan.
Still, Hammond admits that there's no point in denying "Soul Food" was his most hailed work.
"I would say obviously it's my most recognizable role. I do get recognized for other things I did. Whenever I see someone, that's the first thing they say. I think it's very flattering," he said.
He went on to reveal that he was once approached to join the cast of the TV series based on the film, but he declined because it would only have gotten him "pigeonholed."
Sadly, Hammond's transition from child star to adulthood hasn't been all that smooth...
"They approached me to do Soul Food the TV show, but for whatever reason, it didn't work out. I think that if I had done the show, it would have made things a little worse in terms of being pigeonholed," Hammond said.
IMAGINING AHMAD'S LIFE
Now a film-graduate and creative writer, Hammond couldn't help but imagine what young Ahmad must have grown to become.
"Ahmad played basketball and played sports. If he wasn't playing ball or something like that he would be honoring Big Momma or his mom in some way," the former actor reflected. And continued:
"He might be doing what I'm doing. He might be a writer or doing something creative. But if he wasn't playing basketball, he would definitely have his degree and make his mom proud and Big Momma proud."
WORKING BEHIND THE SCENES
Hammond's love for the film industry grew and developed into something else, making him find his true passion behind the camera. His last appearance in a film was in 2002.
"I've done a lot of things behind the scenes — writing and directing. I've done a few short films as a writer and director," he revealed.
Two years ago, Hammond was working with his friends on the project for a new TV show for which he wrote the script. It was a 30-minute half-hour show called "The Biz" that was part of the official selection of the 2015 Capital City Black Film Festival. You can watch the pilot here.
HIS PERSONAL LIFE
Still, Hammond hasn't stopped working, and aside from his job, he's also focused on his blossoming love life, as he has a girlfriend named Jenesis who is also an artist and filmmaker.
Sadly, Hammond's transition from child star to adulthood hasn't been all that smooth.
He lost his mother a few years ago, while she was still on her forties.
Last December, Brandon took to Instagram to remember her on what would have been her birthday with a heartwarming post that read in part:
"There's not a day that goes by that I don't think about you. I feel your spirit all around me and still, frequently dream about you and the love that we share [...] You would've been 55 today, and I can't help that I'll always feel like you were taken much too soon. Making you proud is still my greatest motivation, and it's one of the things that allows me to get through the hardest days when I think about you most — like today."
Although many fans keep asking Hammond if there's the possibility of a "Soul Food" sequel on the works—now that so many '90s films are being revived—he has kept mum about it.
However, the fact that he keeps in touch with Vivica A. Fox gives fans hope of seeing Hammond acting again in the future.
Please fill in your e-mail so we can share with you our top stories!