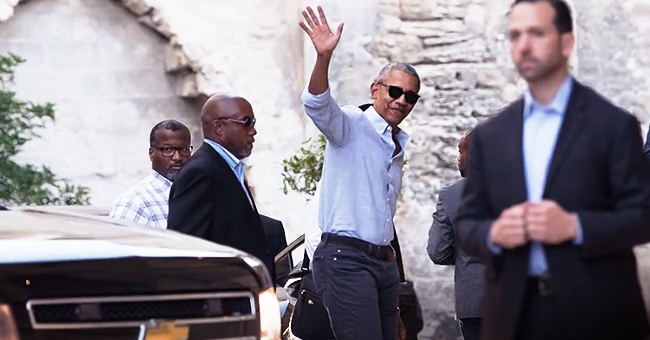 YouTube/TMZ
Barack Obama's Happy Face While Dining with Michelle & Pals during France Vacation
The Obama family is living their best lives while vacationing for the summer in the south of France, and Barack's delight and comfortability are visible on his face.
The former president is enjoying the warm weather and sunny days in the beautiful historic town of Avignon in Provence, and he couldn't ask for greater company, as he has his wife Michelle Obama, their daughters Sasha and Malia, and some other friends and family members by his side.
The group is reportedly staying at Le Mas des Poiriers, a luxurious 18th-century farmhouse on Bathelasse island which rents for about $60,000 a week, the time the family is staying according to reports from French news.
Although the farmhouse comes with two chefs, two waiters, and a housekeeper, the Obamas have preferred to explore the local cuisine around town, making their way to some of the most expensive restaurants in the area.
On Tuesday night, for example, Obama and his encouraged had dinner at the high-end restaurant L'Oustau de Baumanière in Provence, where Michelle was seen enjoying a glass with red wine while sitting across her husband.
Photos of the evening snapped from a distance and shared by TMZ show Barack's face going through different states of happiness and delight while making a toast, talking to his friends, snapping some pictures of the group on a cellphone, and intently listening to his wife.
Since arriving in the Provençal city last Friday, the Obamas have been enjoying the art and history the city has to offer, all while surrounded by Secret Service Agents for protection.
They visited the massive medieval fortress called the Palace of the Popes, the biggest gothic palace in the world built by popes in the 1300s and later enjoyed a Father's Day dinner at La Mirande in Avignon.
Michelle, Malia and some of the teenager's friends were also spotted touring a vineyard in the famous village Châteauneuf-du-Pape. And later, Malia and Sasha were spotted showing off their best summery looks while visiting the L'Isle-sur-la-Sorgue Market.
On Tuesday morning, Barack and Malia joined friends in a hiking trip to the mountains near Gordes, a commune in the country's scenic Provence-Alpes-Côte d'Azur region, according to the Daily Mail.
The vacation comes just a few days after Malia graduated from one of America's elite high schools, Sidwell Friends, in Washington, DC.
Sasha just finished her second year at Harvard, and her sister is rumored to be headed to the University of Michigan.
Please fill in your e-mail so we can share with you our top stories!