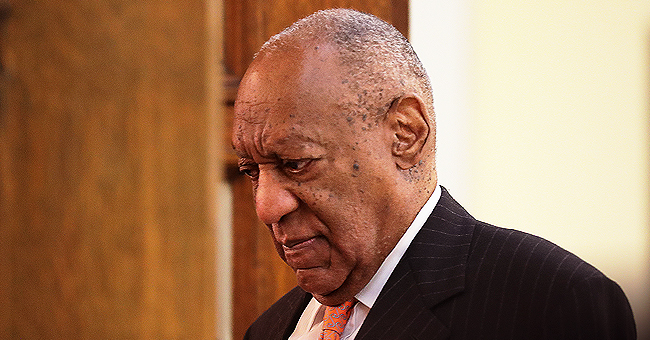 Getty images
Bill Cosby Files Appeal for Sexual Assault Conviction over Accusers Testimony
In an attempt to have his conviction overthrown, Bill Cosby filed an appeal in Pennsylvania Superior Court.
It seems as if the Bill Cosby debacle is far from over as the comedian's lawyers filed an appeal with the Pennsylvania Superior Court to have his guilty verdict set aside.
Cosby's lawyers claim that the testimony of five other accusers was detrimental to their client's case and should not have been presented as part of the trial.
BILL COSBY CLAIMS INNOCENCE
Cosby was found guilty of drugging and sexually assaulting Andrea Constand in his home in January 2004 and is currently serving a three to 10-year sentence in Pennsylvania.
During the trial, the prosecution presented the testimony of 5 women who alleged to have been assaulted by Cosby in a similar manner.
WHY THE JUDGE ALLOWED THE TESTIMONY
The judge who presided over Cosby's case, Steven O'Neill, explained why he admitted the women's testimony to be heard by the jury.
"In each instance, (Cosby) met a substantially younger woman, gained her trust, invited her to a place where he was alone with her, provided her with a drink or drug, and sexually assaulted her once she was rendered incapacitated. These chilling similarities rendered (their) testimony admissible," Judge O'Neil said.
BILL COSBY'S LAWYER'S ARGUMENTS FOR APPEAL
In complete contrast to the judge's ruling, Cosby's lawyers claim that the testimony was inadmissible because it was "strikingly dissimilar" to the charges in the Constand case.
"This evidence was used to strip Cosby of his presumption of innocence and to try to establish that Cosby had the propensity to sexually assault women. This evidence never should have been admitted at trial," they wrote in the appeal brief.
BILL COSBY ACCUSED JUDGE OF RACIAL BIAS
Cosby's lawyers also contend that a deposition in which Cosby admitted to giving the young women Quaaludes to facilitate sexual contact should have been excluded from the trial.
The comedian has claimed that his contact with Constand was consensual and accused Judge O'Neil of holding a racial bias against him.
Cosby maintains his innocence and has compared himself to unjustly imprisoned civil rights figures such as Martin Luther King Jr., Malcolm X, and Nelson Mandela.
TWITTER REJECTS BILL COSBY'S CLAIM TO BE "AMERICA'S DAD"
The man who becomes America's Dad as Dr. Cliff Huxtable in "The Bill Cosby Show" was revealed to be anything but virtuous, with dozens of women accusing him of sexual misconduct.
On Father's Day, Cosby, who is serving a 3-to-10-year prison sentence for the sexual assault of Andrea Constand, placed a post on Twitter in which he claims that he is still "America's dad."
The response of the Twitter community was prompt and angry at a convicted sex offender laying claim to being "America's Dad."
It is telling that Cosby's wife and children have never visited him in prison, not even for Father's Day.
Please fill in your e-mail so we can share with you our top stories!