Glamour Model Martina Big Plans to Get the 'Biggest Breasts in the World' that Weigh 676 Ounces
Martina Big shocked viewers on British television by announcing plans to increase the size of her boobs to make it into the largest in the world. 
Martina Big, 31, already made headlines two years ago when she received tanning treatment that immensely darkened her skin. Her claim to be a black woman, though, is what caused an uproar from viewers. 
Big joined hosts Phillip Schofield and Holly Willoughby on "This Morning" and said she identified as black despite being born German and white. Her latest clip is found below.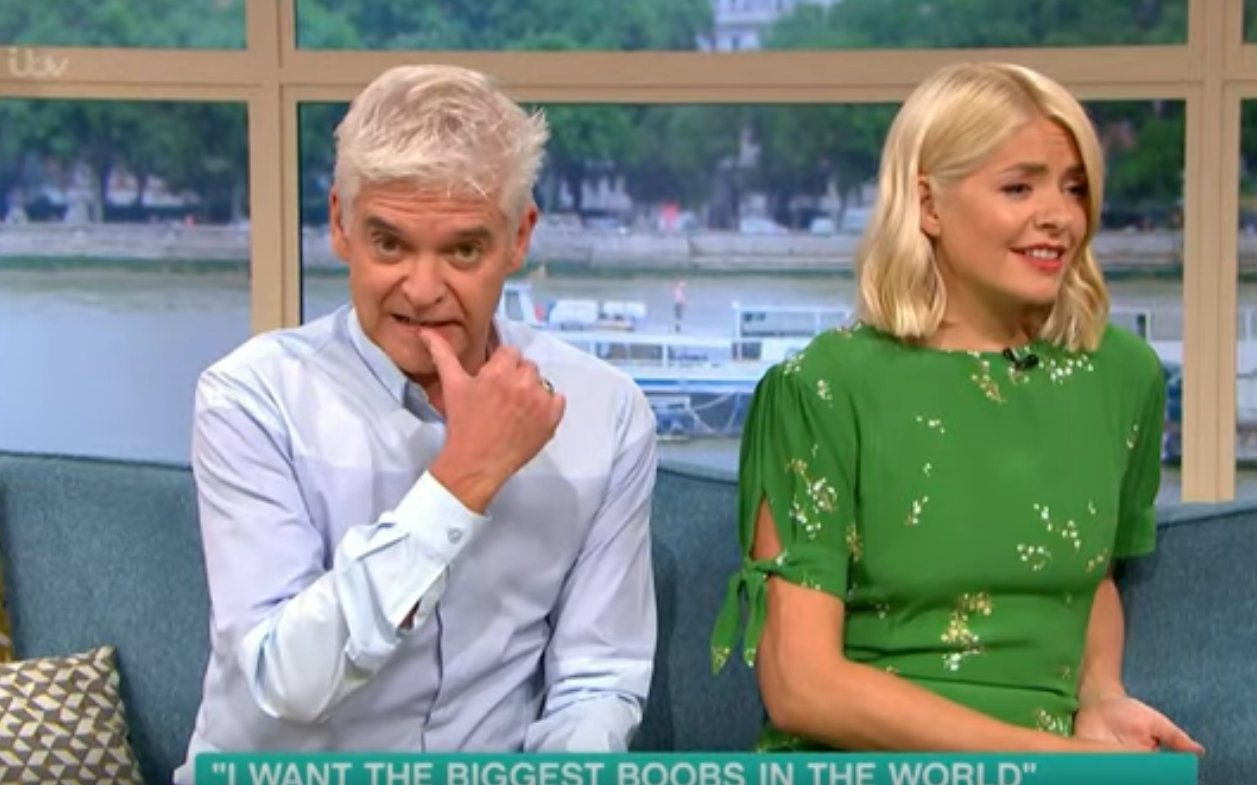 Big, who also received breast enhancement to alter her looks, returned again earlier this week to announce more mind-blowing news. She said that she's no longer satisfied with her 32S chest size. 
As Schofield and Willoughby listened in awe, Big unveiled plans to get 18.9 liters, equivalent to 676 ounces of saline pumped into her boobs. She explained how her body was able to handle it and that she would train to carry the weight. 
For the benefit of viewers, the amazed hosts were provided with two containers with 639 ounces of water in them so that they could illustrate Big's drastic plans. 
Martina Big who 'changed race' stuns This Morning by revealing she is getting 'world's biggest breasts' https://t.co/WyjSLiJSWd

— Birmingham Live (@birmingham_live) July 3, 2019
Schofield went up to them and lifted the bottles with some effort. Then, an energetic Big also took her turn and was able to haul the large bottles off the ground. 
At one point she explained that she does "sports every day to train all the muscles. We're going step by step. It actually works very fast." Schofield and Willoughby's concerns were all addressed by Big in some fashion. 
She even showed them exactly where the insertion is typically made near her armpits and said she can "see [her boobs] and feel them [growing]." Of course, as to why she wanted to do all this, Big had a simple answer.
Martina Big is set for more surgery. #ThisMorninghttps://t.co/rYFElRDVzG

— Jak Ball (@Jakfirst) July 3, 2019
"I like big breasts! When I got started I liked 2,000cc and then I wanted more and more," Big answered. Regarding the challenges that will come up in her day to day life, she said her husband, Michael Eurwen, would assist as needed. 
When confronted with the possibility of back pain as experienced by many women with large breasts, Big did say that when she got older she may reduce her breast size to avoid the challenges. 
Big is lucky that so far she's avoided the risks that could occur with such surgeries. She should also be thankful that she has the support of her husband Eurwen, 31. 
Not many people would encourage her behavior due to the possible dangers to her health. Eurwen and Big got married just last year at a private ceremony held on a Hawaiian beach. 
At the time, Big claimed that she enlarged her breasts even more just for the wedding. She also got fillers inserted into her lips for the occasion. Big wore a curly wig to complete her African look.