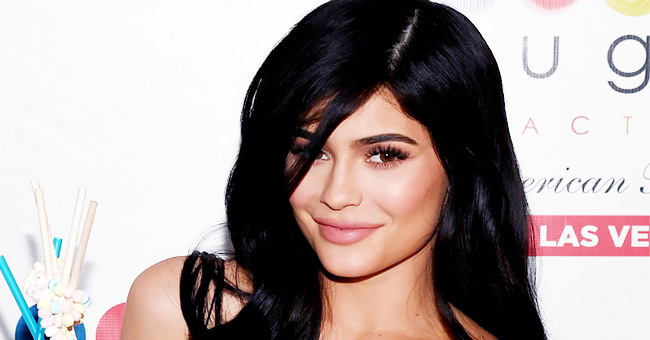 GettyImages
Kylie Jenner Kisses Travis Scott While Holding Baby Stormi outside Custom Private Jet
Travis Scott bid farewell to his girlfriend, Kylie Jenner, and their daughter Stormi, as the pair jetted off the country for an exclusive girls' trip vacation in Turks & Caicos. Jenner is celebrating the launch of her Kylie Skin Summer collection, and she even hired a private plane for her guests.
Kylie Jenner is currently enjoying her summer in Turks & Caicos alongside her 1-year-old daughter and some of her closest friends, including Sofia Richie, Anastasia (Stassie) Karanikola, makeup artist Ariel Tejada and her assistant Victoria Villarroel.
THE START OF THE TRIP
On Saturday, Jenner shared a series of pics on Instagram of her entourage rocking matching pink tracksuit and posing in front of a personalized white, and pink airplane with Kylie Skin inscribed on it.
"Let the adventures begin!! #KylieSkinSummerTrip," the makeup mogul captioned the post.
Kylie also shared a pic posing with her baby daddy, Travis Scott, on the stairs of the plane. The Astro World rapper wore a black sweater and a cap and can be seen standing behind Kylie and sweetly kissing her as she held Stormi in her arms, making for the perfect family picture.
Scott didn't join the girls, so he was probably dropping them off ahead of the trip.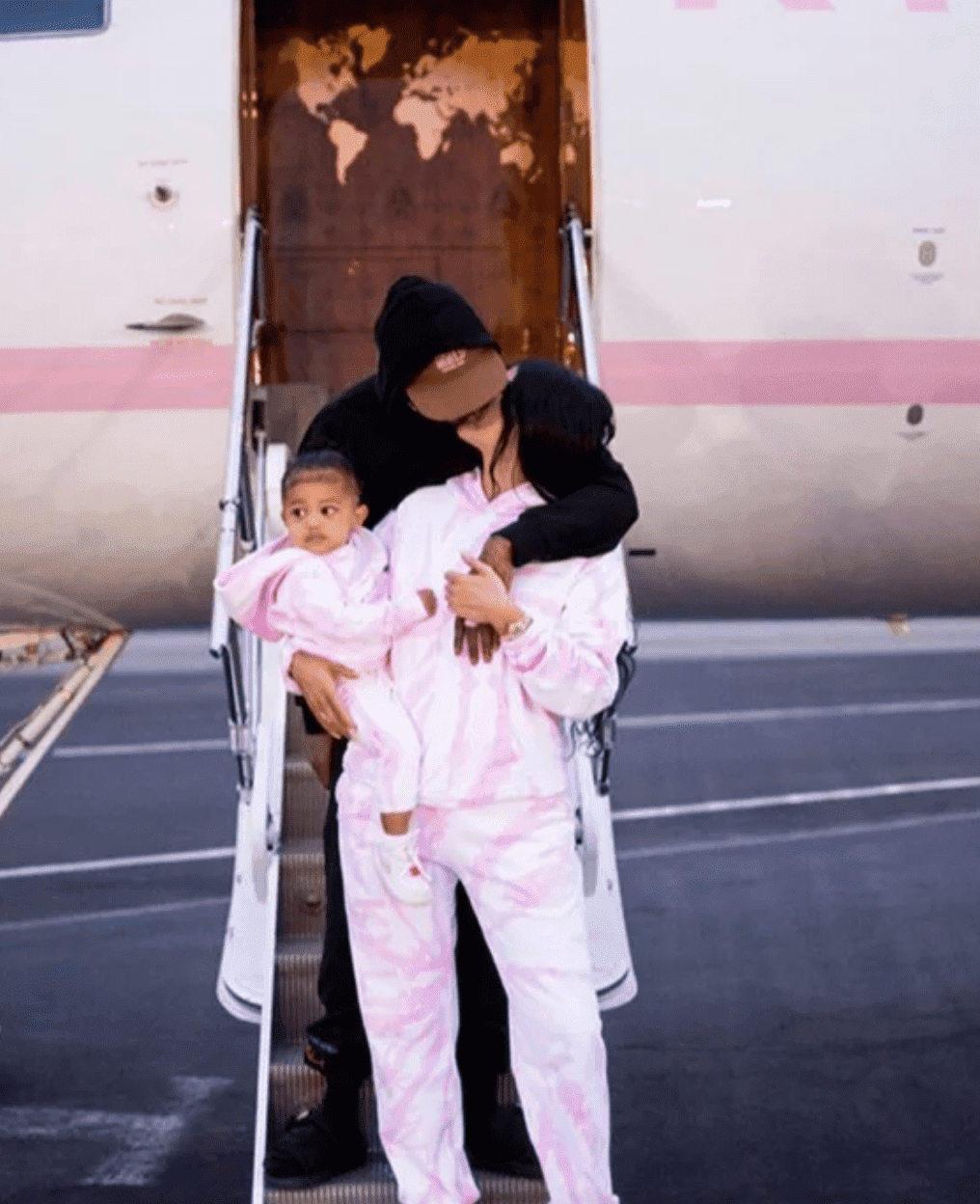 Travis Scott, Kylie Jenner and Stormi Webster. | Source: Instagram/kyliejenner
Aboard the private plane, Kylie made sure to treat her guests to sprinkled donuts and beverages, and they also had Kylie Skin airplane kits, which included a sleeping mask, a pillow, and a scrunchie.
A LAVISH GETAWAY
Once at their tropical destination, Kylie made sure to give fans a tour of the lavish place where she and the girls are staying, showing off a huge marble stair, a big pool, and spacious rooms for everyone that included a personalized kit of the new Kylie Skin Summer collection and pink clothes to wear during the trip.
Jenner also showed off her toned figure in different swimsuit pics aboard a yacht and also left fans gawking by posing nude and only wearing a huge hat by the side of an interior pool.
"vacation mode," she captioned the photo.
REFLECTING ON LIFE AFTER STORMI
Kylie's vacation trip comes just a few weeks after she, Stormi and mom Kris Jenner graced the cover of Harper's Bazaar magazine in Arabia, making it the first ever magazine cover for the toddler.
On the interview, Kylie reflected about her life as a mom, explaining that she understands Kris a bit more now.
"When I became a mother, my perspective on life completely changed, and so did how I look at my own mum and appreciate all the things that she's done for me," the 21-year-old self billionaire said. "Now I can understand the way that she feels about me, the way that she loves me, and how strong her love is for all her kids, because of how obsessed I am with Stormi."
Jenner, who was only 9 when "Keeping Up with the Kardashians" started, revealed that she'd never felt like she had privacy in her life. However, as she grew up, she managed to find a way of living that is comfortable for her and her family.
"But there are definitely moments when I get stressed out. I'll take the week off and spend more time with Stormi, or I like to go on trips when I'm feeling overwhelmed," she admitted. And continued:
"I just have my little message in life. I feel that we all do, even if you're not famous. As human beings, we get stressed out, and we all have our little way of coming back together."
Earlier this year, Jenner had to go through one of the hardest situations in her life when her best friend, Jordyn Woods, got caught kissing Tristan Thompson, Khloé Kardashian's baby daddy.
The situation led Jenner to cut her friendship with Woods, but it seems like she might have found a new BFF in Stassie Karanikola, who has been appearing on most of Kylie's photos in the past months.
Please fill in your e-mail so we can share with you our top stories!