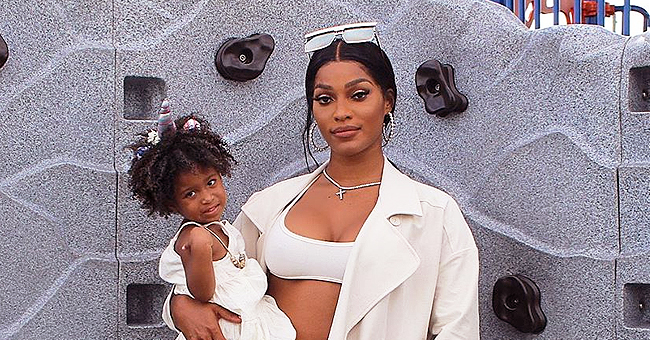 Instagram/joseline
Joseline Hernandez Shares Photo of Boyfriend & Daughter Amid Custody Battle with Stevie J
The battle for Bonnie Bella continues as Joseline Hernandez posts a photo of her daughter with DJ Ballistic.
Just as Stevie J. finally got to spend some quality time with his daughter Bonnie Bella, Joseline Hernandez posted a photo of her daughter with her boyfriend DJ Ballistic
The two are embroiled in a custody dispute triggered by Joseline's constant claims that Stevie J was a "dead beat dad" and neglected his daughter.
STEVIE J ASKS JUDGE FOR TIME WITH BONNIE BELLE
In the ongoing court case in which both parties exchanged heated accusations, Stevie J. told the judge that Joseline had been preventing him from spending time with his daughter, and asked for his intervention.
His appeal was obviously successful, and Stevie J. posted photos of himself with Bonnie Bella and daughter Eva on Instagram - and Joseline retaliated.
JOSELINE HERNANDEZ POSTS "DADDY-AND-ME" PHOTO
In what looks like a fit of pure spite, Joseline posted a photo of Bonnie Bella and her boyfriend DJ Ballistic together, looking as relaxed and happy as any daughter and dad should.
JOSELINE HERNANDEZ CLAIMS STEVIE J. "NOT A REAL DAD"
This is not the first time that Joseline has insinuated that DJ Ballistic was doing Stevie J.'s job as a "real dad" to Bonnie Bella, and has posted other photos in which she refers to her boyfriend as her daughter's daddy.
STEVIE J WON ACCESS TO BONNIE BELLA
After asking the judge to consider Joseline in contempt of court and asking him to have her put in jail for custodial interference, Stevie J. has finally had the opportunity to spend quality time with his two-year-old daughter.
BONNIE BELLA SPENDS TIME WITH HER SISTER AND HER DAD
The happy rapper shared photos and video clips of himself with Bonnie Bella and his daughter by Mimi Faust, Eva, who is 9-years-old.
"'Prayer of the righteous availeth much. Eva set her alarm for 6 AM to take her sister Bonnie to school. It rang for 17 minutes before I came and woke her up. Had to drive an hour; she's my lil trooper. First photo in over a year for these girls and I'm grateful to God they had a chance to share this precious moment," he wrote.
Hopefully, this is a sign that a resolution is at hand and that little Bonnie Bella will be able to have a tranquil life, with all the love and security she deserves.
Please fill in your e-mail so we can share with you our top stories!