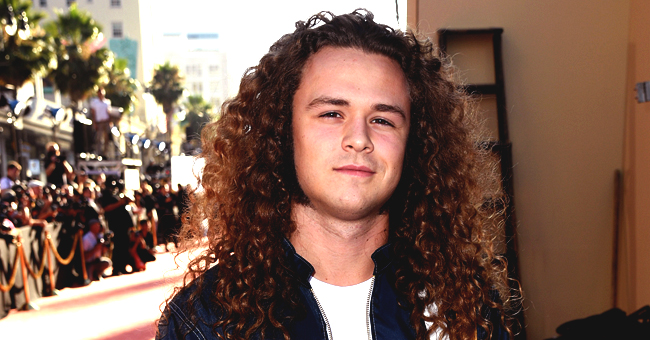 Getty images
Luke Perry's Son Jack, 22, Reveals a Wrestling Video Captured the Night before His Dad's Death

Luke Perry's son shared a video of himself performing in the wrestling ring the night before he lost his father for good. He said that at that moment, "everything felt ok."
Jack Perry, 22, is continuously remembering the moments before he lost his father to a massive stroke on March 4. Nonetheless, he shared a video of a fight he partook in the very night before. The clip can be found below.
Jack and Sister Sophie,19, are the only children Luke shared with his ex-wife Rachel "Minnie" Sharp, who was also present during the tragedy. Sharp and Luke were married for 10 years from 1993.
In the video, Jack fought against another wrestler named Rich Swann. He showed off several cartwheels and even a synchronized somersault at the end.
Jack explained in the caption that he had not shared the video earlier "because of the circumstances at the time." His father Luke was on life support a few days before his official death.
Jack continued:
"The morning after this match was the worst of my life, but for a minute here with Rich, everything felt ok. Thank you @gottagetswann, for everything. @gamechangerwrestling returns to LA this Friday. It'll feel good to be home. #GCW."
Jack, who goes by the name "Jungle Boy" Nate Coy in wrestling, is known in the ring for his Tarzan-like appearance. He wears his hair long, sports cloth-like bottoms, leafy boots, and animal print cuffs.
Luke had always supported his son's passion for wrestling, publicly attending matches in the past to see Jack fight. Recently, All Elite Wrestling signed Jack on to their company.
According to Hollywood Life, Jack will be making his wrestling television debut very soon, and he wishes his dad could be here to see it. He spoke to the outlet in late July about his future AEW appearances.
"For me, this is the first time it has happened for me and that I will be on TV wrestling and this is it and this is the moment where I have succeeded," he said.
The 22-year-old said the tv debut was something he "dreamed about [his] whole life" and now that it's here, he described it as "surreal and kind of crazy," but said it's the right time and the right people.
During the interview, Jack didn't rule out acting in the future, saying he has many interests but that "wrestling has taken over [his] life." Still, he's been making time to honor his father in all ways he can.
Last month, he attended the premiere of Luke's last film, "Once Upon A Time in Hollywood" to represent his father, who died at just 52. Looking just like dad, he wore a blue jacket over a white t-shirt and wore his locks loose.
He was joined by his mother for the film which also stars big names including Leonardo DiCaprio and Brad Pitt. Set in 1969, the film shares the story of the Charles Manson followers who killed, among others, actress Sharon Tate.
Luke, who played Wayne Maunder in the film, also left behind a legacy on television. Best known for his role on the 90s show "Beverly Hills 90210," his most recent series acting credit was on the show "Riverdale."
However, nothing is as important as what he passed down to his own children. In May, Jack revealed that his father's biggest lesson was "to be as nice as you can to everyone you can."
Reflecting the sentiments of several close friends and family, Jack said that Luke "never really lost touch with who he was. He was always just a really good guy above everything else."
Please fill in your e-mail so we can share with you our top stories!