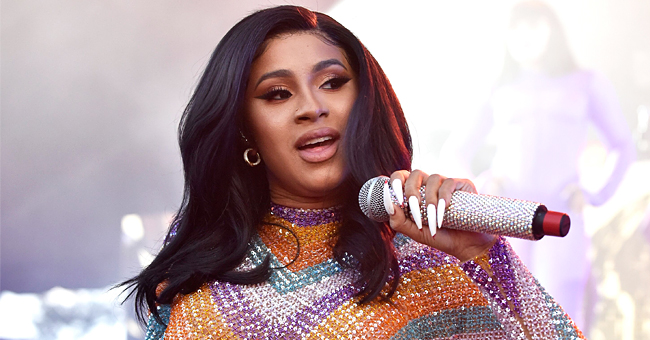 Getty Images
Watch Cardi B's Husband Offset Lay Baby Kulture's Edges with a Toothbrush
Cardi B's husband, Offset, is a hands-on father. In a new video shared by the rapper on Instagram, the Migos member was caught brushing daughter Kulture's hair, and the moment left fans gushing about how the family is.
Over the weekend, Cardi B took to Instagram to share an adorable father-daughter bonding moment between her husband, Offset, and their 1-year-old daughter, Kulture Kiari.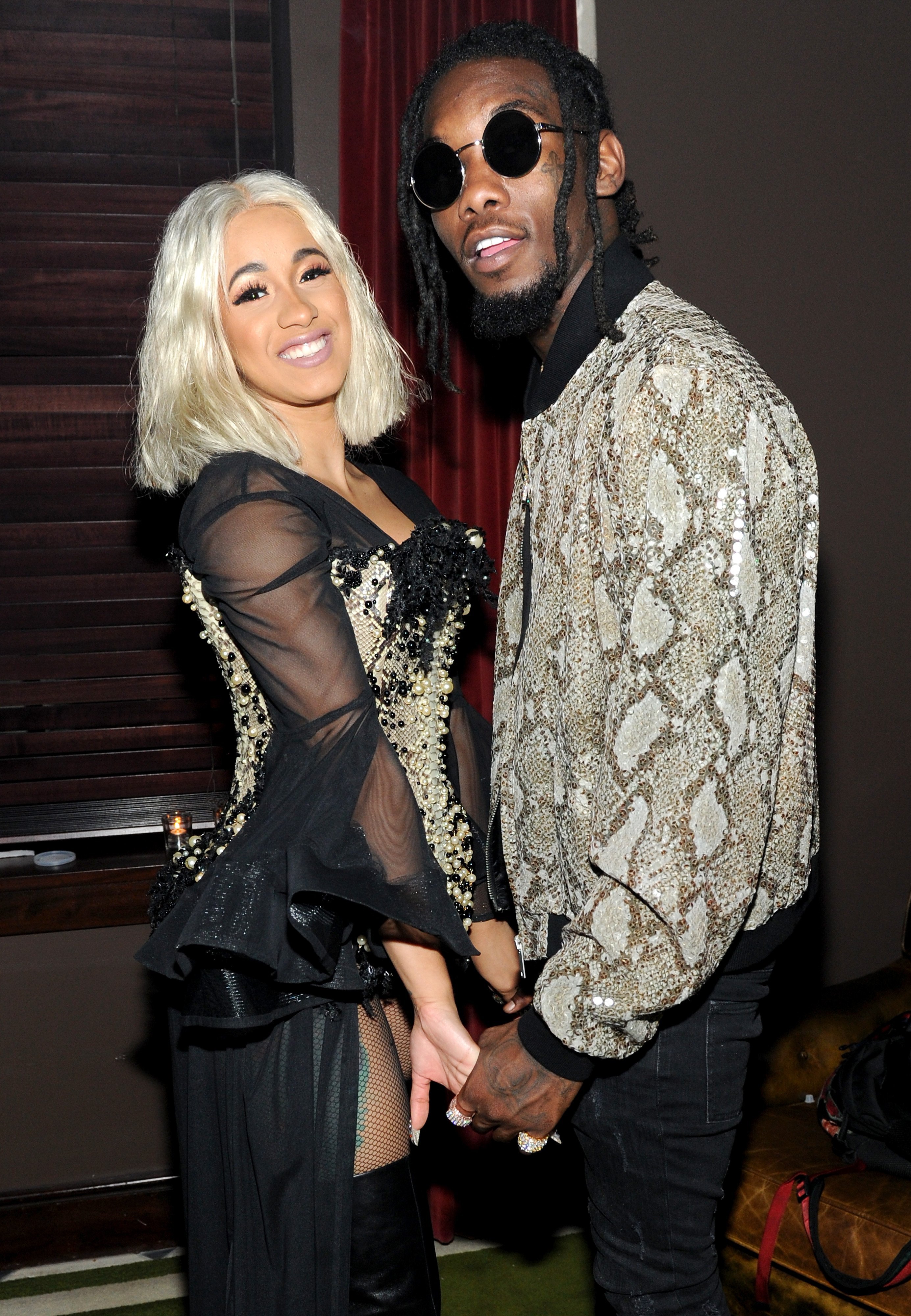 Cardi B (L) and Offset attend NYLON's Rebel Fashion Party, powered by Land Rover on September 12, 2017. | Photo: GettyImages
In the video, the "Clout" rapper can be seen holding Kulture in one arm while trying to brush her baby hairs with a toothbrush.
He looked focused with the task at hand, trying to swoop his daughter's edges in the perfect shape, but Kulture tried to get away from him while happily munching on a snack.
"I think it's because I left too much hair out," Cardi says while recording. Still, Offset managed to do a pretty good job, and he looked proud of himself as his wife praised his work.
Kulture, on the other hand, ended the clip with a big smile on her face.
"Well at least I did the ponytails," Cardi captioned the clip, letting the world know that Kulture's final look was the product of teamwork.
SOCIAL MEDIA REACTIONS
Fans and friends of the power couple took over the comment section gushing about the adorable moment. "Something special about a daddy bonding with his daughter while doing her hair," wrote one user.
Another added, "Daddy working those edges. Too cute. Real talk this video brings me joy blessings to you and the family, baby."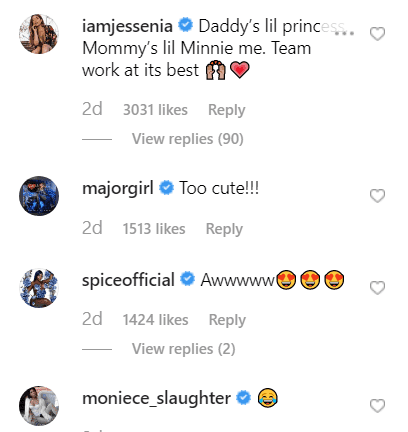 Celebrities' comments on Cardi's post. | Source: Instagram/iamcardib
And a third one pointed out,
"I love how she doubted herself a bit saying she left too much hair out but then offset told her it's alright & stayed focus, #reallove #realcare."
CARDI AND OFFSET'S FAMILY LIFE
Cardi B and Offset, real name Kiari Cephus, married in September 2017 and welcomed baby Kulture in July 2018. However, they faced some marital troubles, and Cardi announced their split in December of that same year.
But Offset was not ready to give up on his wife.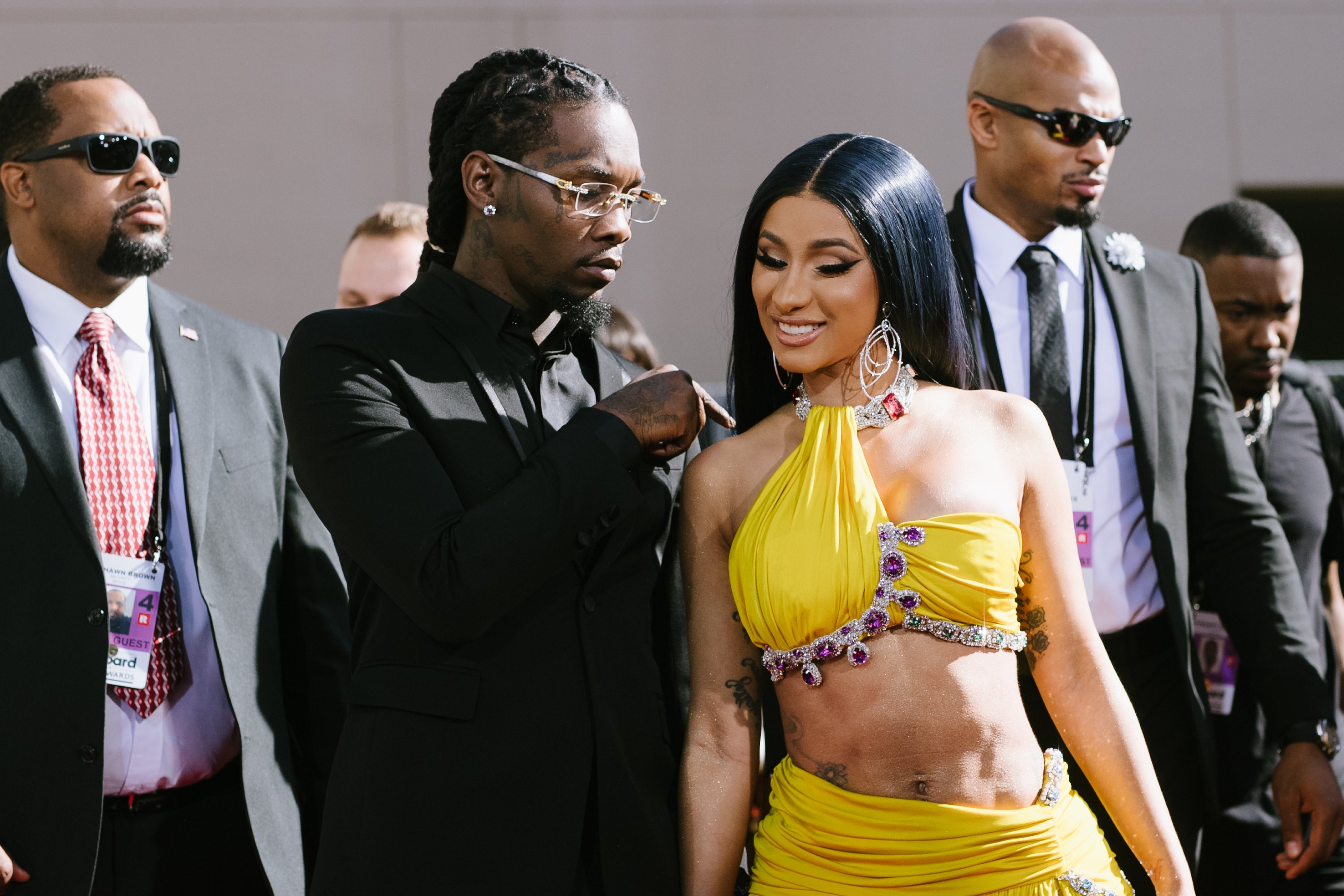 Offset and Cardi B arrive at the 2019 Billboard Music Awards at MGM Grand Garden Arena on May 01, 2019. | Photo: GettyImages
"I wasn't a perfect father. Now, I can apologize, we can move forward in life. We can have a better, stronger relationship."
He apologized publicly for his mistakes — he allegedly cheated — and even stormed Cardi's performance at the Rolling Out festival with a massive arrangement of roses that read "Take Me Back Cardi."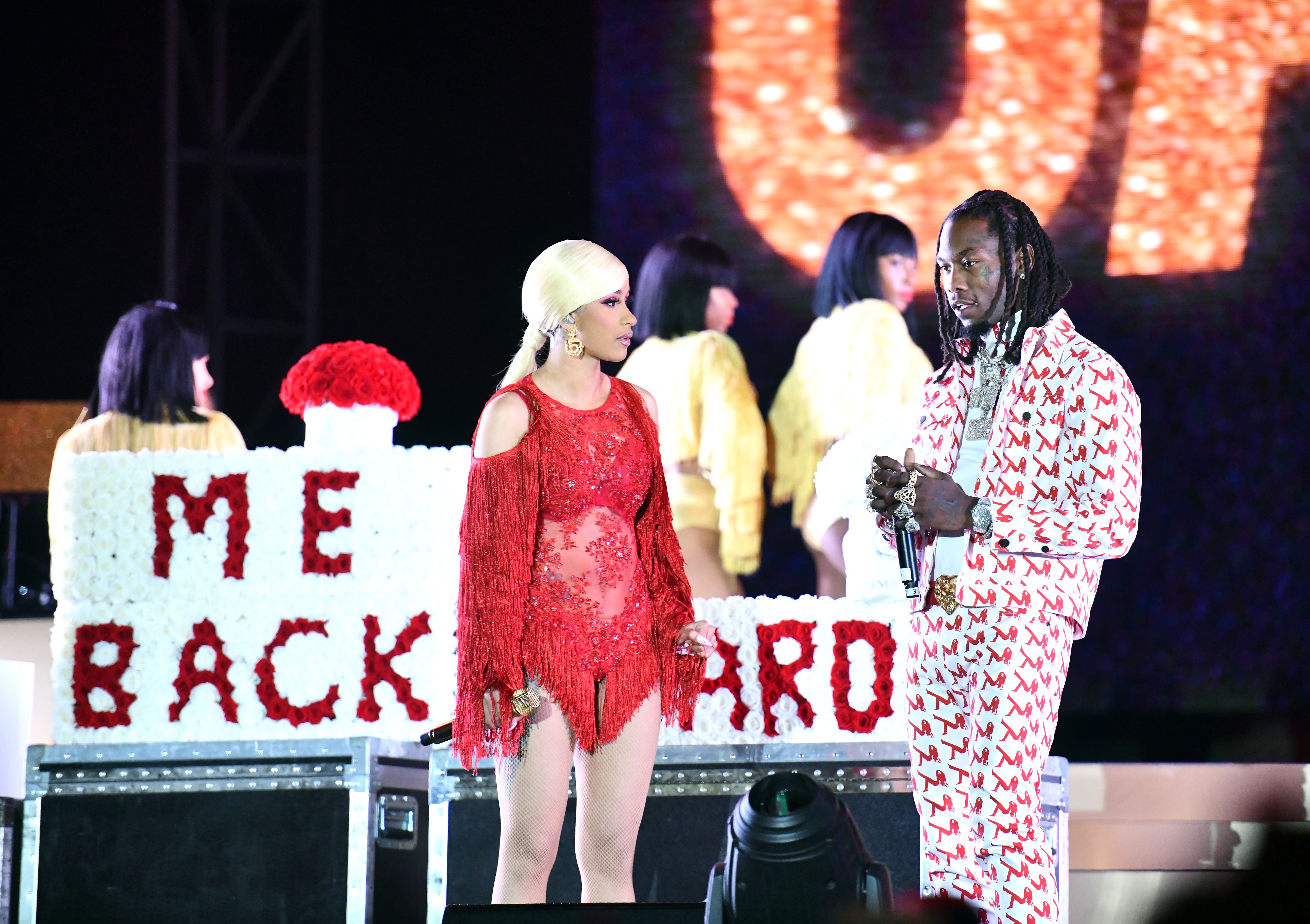 Cardi B is presented a 'Take Me Back' card onstage by Offset during the Rolling Loud Festival at Banc of California Stadium on December 15, 2018. | Photo: GettyImages
"I'd jump out the window trying to get her back, with a parachute on my back," he told Billboard at the time of his desperate attempts to win Cardi back. And continued:
"You gotta fight for what you believe in and what you love. It ain't no joke and it ain't social media fun. You might have looked at me as being selfish on stage, but I'm just trying to get what's mine. I'm ready to look stupid. I'm ready to take this shot in the back."
Eventually, his efforts paid off, and Cardi decided to give him a second opportunity. Since then, the couple has been inseparable, basking in the joy that their daughter radiates and sharing it with the world.
FATHER OF FOUR
Offset is also the father of three more kids: Jordan, Kody, and Kalea. They are he says, the reason what he works so hard.
The kids, including Kulture, were featured on the cover of "Father of Four," Offset's last album.
"Everything was my idea," he said of the album art. "I wanted to be on some king [expletive]. I just wanted to show I'm raising kings and queens."
The 27-year-old described the album as a letter to his kids, as he told GQ: "I wasn't a perfect father. Now, I can apologize, we can move forward in life. We can have a better, stronger relationship."
He looks forward to his kids growing up and listening to the album so they can understand more about his life. he said:
"It's gonna be great when they get older like damn, my daddy really did that."
For now, Offset prides in having a beautiful brood, and he hopes to have with them the relationship he never had with his dad.
Please fill in your e-mail so we can share with you our top stories!