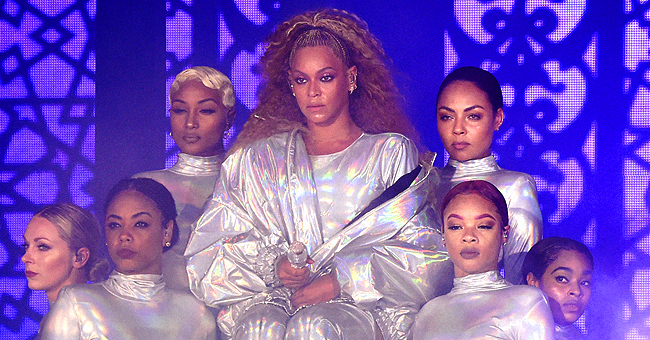 Getty images
Beyoncé's Dance Captain Ashley Everett on Why She Ended Engagement after 'Formation' Tour Proposal

Beyoncé's dance captain Ashley Everett opened about why she ended her engagement.
On September 10, 2016, in St. Louis, Missouri, Beyoncé was on stage performing her mega-hit Single Ladies (Put a Ring on It) with her dance group led by her dance captain Ashley Everett when something extraordinary happened.
Queen Bey stopped the music to allow Ashley's boyfriend John Silver on stage to propose to her, and of course, she said yes. Now she opens up about what led her to call off the most famous engagement on social media.
"For me, it was never an option for dance not to be a career. I didn't see anything else in my future." Ashley Everett
THE PUBLIC PROPOSAL WAS A SHOCK TO ASHLEY EVERETT
Ashley revealed that in her "real" life is a low key person, far from the bold and sultry characters she depicts on stage, and for her, the public proposal was a shock.
"I was definitely surprised and taken out of my performance element. When I'm on stage, I'm a different character than I am in my everyday life. I felt vulnerable, and all the attention and cameras were on me. I was like a turtle wanting to crawl in my shell. I'm low key, so I was shocked completely," she said.
THE BEST OF TIMES, THE WORSE OF TIMES
Ashley remembers 2016 as a year of mixed emotions. On the one hand, she was proposed to by the man she'd loved since she was 21, but on the other hand, she was dealing with the stress and the horror of identity theft that left her financial life in shambles.
"Looking back on it now, I feel like, had we been more connected, that timing probably would not have happened then. I wasn't in the mindset to be planning a wedding. I'm over here dealing with fraud!" she said.
ASHLEY EVERETT: "DO I WANT TO GET MARRIED?"
But when the time came to start planning for the wedding, Ashley found herself putting off the task, making excuses for delaying the big day.
"Eventually, I had to look in the mirror and ask myself why. 'Do I really want to be married, or do I even want to marry him? Am I really happy?" she confessed.
ASHLEY EVERETT: "OUR FRIENDSHIP WAS FADING AWAY"
Ashley explained that after 8 years together, she and John were comfortable together, but that the spark was gone.
She realised that they had drifted apart, their life-goals and ambitions had changed
"I just felt like we weren't on the same page anymore. We had different goals and dreams workwise, and our friendship was kind of fading away," she said.
John and Ashley decided on a break, which eventually let to a break-up. For Ashley, her engagement to John was a positive learning experience and one which she will never regret.
BEYONCÉ AND JAY-Z RENEWED THEIR VOWS
On their 10th year anniversary, Jay-Z and Beyoncé renewed their vows in the presence of their family and friends, and their three children: Blue Ivy, Rumi, and Sir.
The couple shared images from their renewal ceremony for the first time in Cardiff Wales, during a performance of the "On The Run II."
In the clip, Beyoncé can be seen wearing a lovely white bridal gown, while Jay-Z wore a dark suit. The couple stood before each other with their heads down, as they confirmed their commitment to each other and to their marriage.
Beyoncé and Jay-Z seem to have come through the dark storm that threatened their marriage when his infidelity was revealed.
Please fill in your e-mail so we can share with you our top stories!