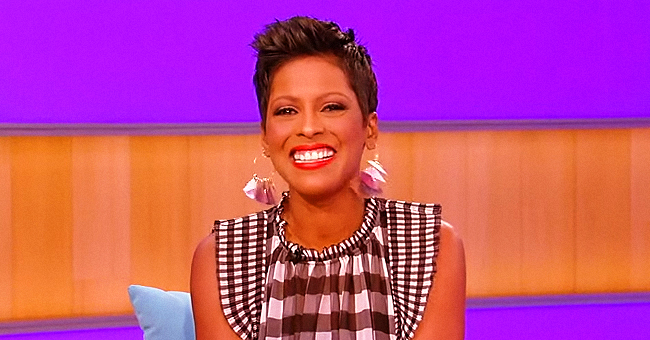 Youtube/Tamron Hall Show
Tamron Hall's 4-Month-Old Son Moses Makes TV Debut on 'Tamron Hall Show' on Mom's 49th Birthday
Tamron Hall turned 49, and had a surprise visit on set: her super-cute son Moses.
Tameron Hall celebrated her 49th birthday on the set of her new talk-show, and as a special guest star, she had her adorable 4-month-old son Moses.
This was Moses first public appearance, but Tamron revealed that her son is already owning the camera.
MOSES IS COMPLETELY AT EASE WITH AN AUDIENCE
The baby was brought out to his mom and looked completely relaxed and at ease. The audience burst into applause, but Moses was as cool as a cucumber.
Moses was wearing a little bowtie with a badge that said "Happy Birthday" and his black and white check pants matched Tamron's stunning checked dress.
"We brought him into the studio for his first visit when they were building the set and I am not kidding you, my child saw that camera and locked in and just owned it. I'm like, 'I need to get you a little suit and a tie,'" she revealed.
The former co-host of "Today's Take" was visibly excited to be starting this new venture.
THE BEST BIRTHDAY PRESENT EVER
Tamron called Moses her best birthday present ever in an episode which was dedicated to discussing the pros and cons of In Vitro fertilization - which is how her baby was conceived.
"You're not alone. There's a stigma that relates the to IVF and infertility, that people feel if they share it they will be judged or stereotyped," Tamron said.
GIVING SENSITIVE TOPICS A VOICE
Tamron is determined to use her show to give people a voice on sensitive topics that are seldom explored, just like IV.
"It's important to take topics like that and break them down. A show like ours has the unique ability to do that," she said.
HAPPY BIRTHDAY TAMERON HALL
Tamron didn't just address a sensitive topic, but she also showed thousands of couples that the end of their hard journey to parenthood may just hold a bundle of joy like Moses.
We join Moses and all her fans and friends and wish Tamron Hall many happy returns, and may she keep on giving us all a voice.
TAMERON HALL'S NEW SHOW DEBUTS
Tamron Hall debuted her brand new talk show on ABC on September 9, which she is hosting with the help and support of Bill Geddie, the co-founder of "The View."
The former co-host of "Today's Take" was visibly excited to be starting this new venture.
"It is my first day. It is crazy exciting," she said.
Tamron, who is a new mom and recently married, will be bringing new and challenging topics of discussion to her show and giving voice to women's concerns.
Please fill in your e-mail so we can share with you our top stories!