Dr Dre Lost a Son in 2008 — What Is Known about the Producer's Living Kids
Rapper and producer Dr. Dre, who rose to prominence in the 1980s with the hip-hop group NWA, had eight children. Unfortunately, one of his sons died in 2008.
Dr. Dre, whose real name is Andre Romelle Young Sr., has been involved in the music industry for years, working as a DJ since he was a teenager.
Dr. Dre is also raising Tyler, the son of Nicole and her previous husband.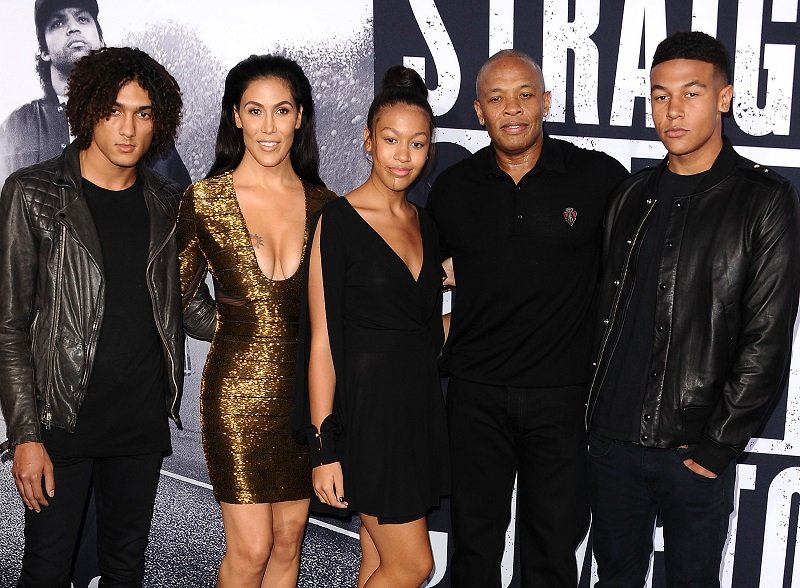 DR. DRE'S CAREER
In 1985, he became a member of the World Class Wreckin' Cru and later joined the rap group NWA. From that point on, Dr. Dre has been recognized as a pioneer in the hip-hop culture, especially in what is now known as the West Coast G-funk.
If that wasn't enough, he created the record label Aftermath Entertainment and co-founded Beats Electronics LLC and Death Row Records.
Dr. Dre also helped launch the careers of several hip-hop artists who are quite successful even nowadays, including Snoop Dogg, Eminem, and 50 Cent.
Sadly, he has been involved in several legal problems, mainly because of his reckless and violent behavior. Singer-songwriter Michel'le, for instance, accused him of domestic violence in 2015.
DR. DRE'S CHILDREN
As per the rapper's love life, he has been romantically involved with several women. Some of them got pregnant, including Michel'le.
In December 1981, when Dr. Dre was in high school, he became a father for the first time. However, he only met his son, Curtis, when the child was 20 years old.
As Hip Hop DX reported, Curtis learned that Dr. Dre was his dad when he was 12 years old. However, he started his quest to meet his biological father when he was around 15 years old after his mother and her then-boyfriend parted ways.
Curtis explained that he did everything he could, including hiring lawyers to meet Dr. Dre and get a DNA test to prove that they were related.
Nowadays, Curtis is a promising actor and rapper who goes by the name of Hood Surgeon. He is expected to portray his dad in the upcoming film "Dogg Pound 4 Life."
Dr. Dre's second child, La Tanya Danielle, was born in 1983 to another high school romance. Unfortunately, there is little-to-no information available about her.
ONE OF DR. DRE'S SONS DIED
In 1988, the rapper and his then-girlfriend Jenita Porter welcomed Andre Romelle Young Jr. Sadly, when he was only 20 years old, Jenita found him dead at their Woodland Hills home in Los Angeles due to a heroin and morphine overdose.
The same year that Andre Jr. was born, Dr. Dre and Michel'le began their romance. Together, they had a son named Marcel. Just like La Tanya, he prefers to live away from the spotlight.
In 1996, Dr. Dre married for the first time. The lucky one was Nicole Young, who had been previously married to NBA player Sedale Threatt. With Nicole, Dr. Dre has two children, son Truice, born in 1997, and daughter Truly, born in 2001.
Judging by Truice's Instagram account, he decided to follow in his father's footsteps and is a music producer, as well.
DR. DRE'S DAUGHTER GOT INTO USC
Truly, on the other hand, made headlines in March last year after getting into the film school of the University of Southern California. Dr. Dre proudly shared the news on his Instagram account, emphasizing that she did it "all on her own" and with "no jail time" involved.
The rapper was making a subtle reference to the 2019 college admissions scandal in which a few celebrities, including Lori Loughlin and Felicity Huffman, were involved.
Dr. Dre has another daughter, Tyra. She is an actress and TV producer known for the show "Take 6" and the short film "Ropes of Silicon."
Apart from the previously mentioned children, Dr. Dre is raising Tyler, the son of Nicole and her previous husband.
Dr. Dre's wife, Nicole, also made headlines in late-June 2020 for filing for divorce after being married to the hip-hip icon for 24 years. As People reported, she cited irreconcilable differences and is seeking spousal support.
The former couple reportedly doesn't have a prenup agreement, which means that approximately $800 million could be split.