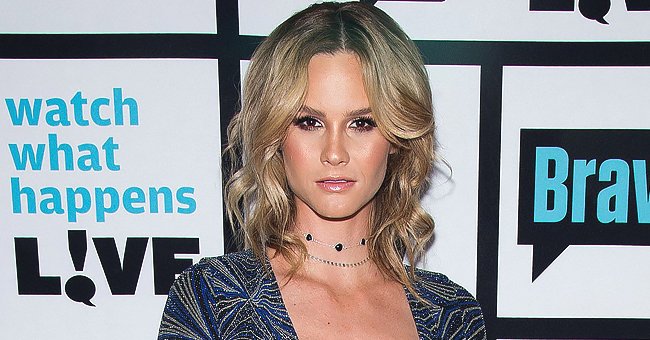 Getty Images
Former RHOC Star Meghan King Drops Her Ex Jim Edmonds' Last Name Amid Their Divorce
"Real Housewives of Orange County" alum Meghan King has restored her official name after divorce proceedings from estranged husband, Jim Edmonds. The tv personality is back to being royalty.
Earlier this week, Meghan King took to her Instagram stories to point out that she had changed her name back from Meghan King Edmonds to just Meghan King following her split from former professional baseball player, Jim Edmonds.
The two are in the process of an official divorce, and both have moved on to other people in their love lives. In case her fans missed it, King blasted the name on social media. A screenshot is found below.
KING ANNOUNCES HERSELF WITHOUT MARRIED NAME
In the slide, King wrote, "Please allow me to reintroduce myself" over a screenshot of the top of her feed. It contains her profile photo, description, and username.
Two large, colorful arrows pointed to King's new username, which lacked the former Edmonds. The name was circled in white and gold. Over her profile photo, King had added a golden crown as if to sit on her head.
Referring to her surname, King wrote, "Damn, it feels good to be back on my throne." She included her social media handle with several exclamation marks behind it and a banner that read "King."
The reality star was with her ex-husband for five years. They share a three-year-old daughter named Aspen, and two-year-old twin boys Hart and Hayes. The pair split up in October 2019.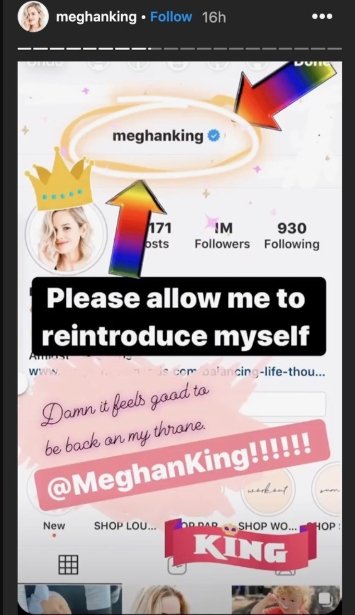 Meghan King's Instagram story slide shared in mid-July 2020 | Photo: Instagram/ Meghan King
MOVING ON TO HER NEW BEAU
By May of this year, King made her new relationship with Christian Schauf Instagram official. In the photo, both King and Schauf wore red plaid outfits as they sat on the floor wearing broad smiles.
Behind them, a cute dog was sleeping on a chair. In her caption, King wrote in part, "I'll just say this: I'm happy and looking forward to writing my next chapter."
Schauf told People that the pair had been dating since March after experiencing "instant chemistry" when they met through a mutual friend. They share a love of podcasting, and each has their own show.
CELEBRATING FOURTH OF JULY IN UTAH
Recently, the couple celebrated the Fourth of July weekend with a trip to Schauf's Utah hometown. It involved lots of water sports and adventure. King shared snapshots from the outing on her Instagram stories.
She showed as she and Schauf visited the latter's family farm. King jokingly described a drive around the area as the "Dad tour." At one point, Schauf's father was seen water skiing with his son.
KING TALKS ABOUT WHAT LED TO HER DIVORCE
Back in January, King opened up about her side of the breakup, claiming that she was scared Edmonds might have gotten physical with her during their relationship. She called the cops on him one day.
She explained: "The police came and at that point, that is when he literally packed a bag and left. He packed up his hard drive from his computer, took the credit card out of my wallet and everything."
King also spoke out last November. She vented frustration at Edmonds' responses to her social media content, saying she was "sick of the abuse" and tired of Edmonds' seemingly talking on her behalf.
EDMONDS BAD-TALKS MARRIAGE AND KING RESPONDS
Coincidentally, Edmonds used the same word to describe his former marriage in a June post. The Instagram post was about Edmonds' new girlfriend Kortnie O'Connor, but it referenced King in the caption.
"If it wasn't for this girl, I don't think I would be here right now," wrote Edmonds. He went on to say he was "going through hell ending a loveless and abusive relationship."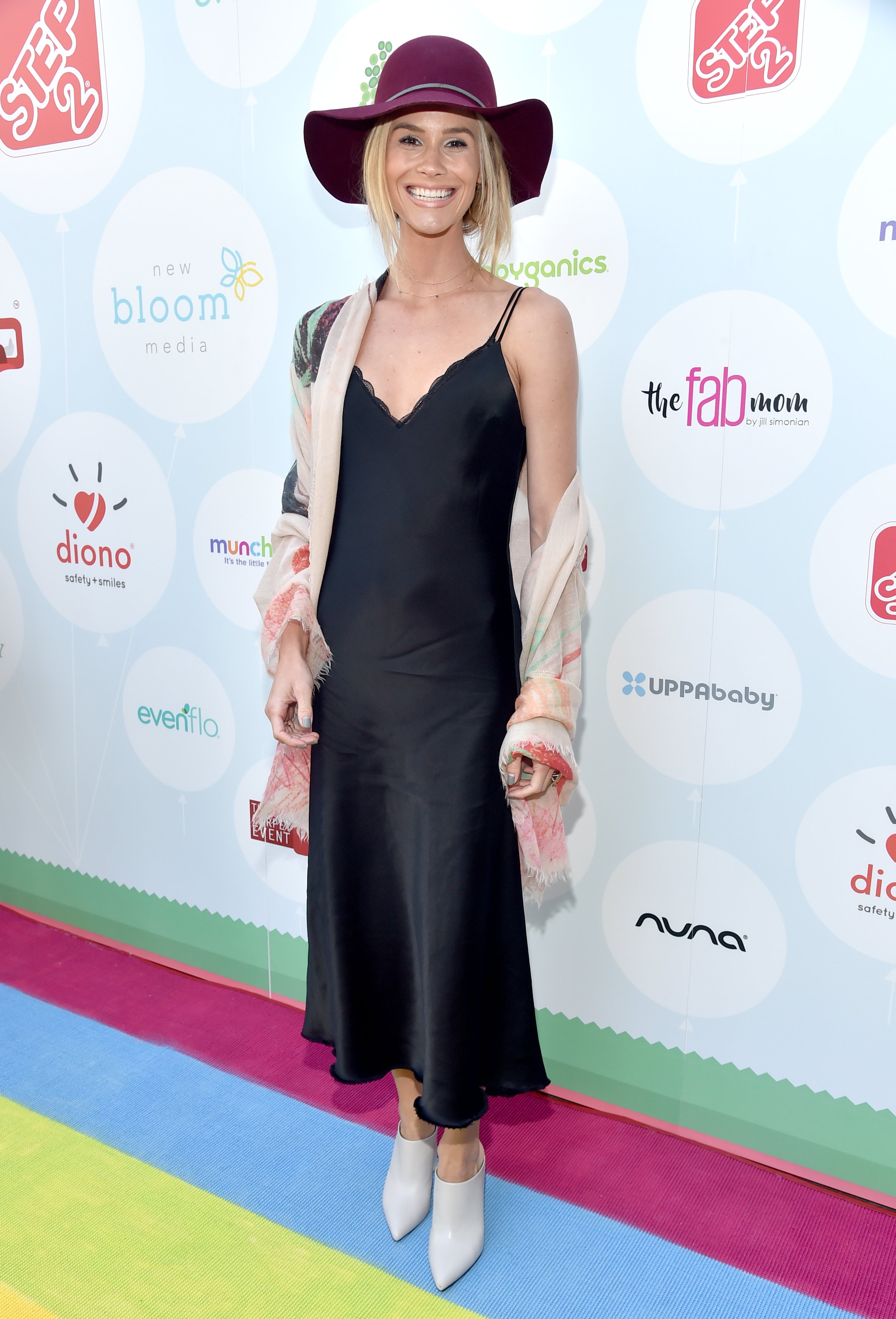 Meghan King Edmonds at Step 2 Presents 6th Annual Celebrity Red CARpet Safety Awareness Event on September 23, 2017, in Culver City, California. | Source: Getty Images.
King replied with a short statement to Us Weekly. "I wish him well," she had said. King and Edmonds allegedly had a threesome with O'Connor during their marriage.
Please fill in your e-mail so we can share with you our top stories!