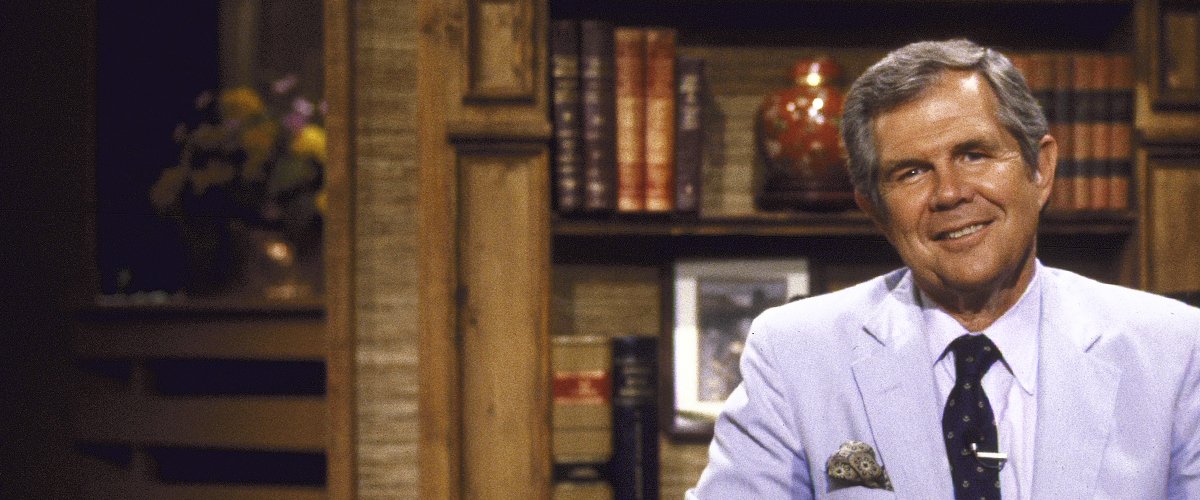 Getty Images
Pat Robertson and Wife Dede Share 4 Kids — Glimpse into the Televangelist's Personal Life
Famous televangelist Pat Robertson has been married to Dede Robertson for more than six decades. The long-lasting couple shares four grown-up children and are grandparents to 14 grandkids, and great-grandparents to 10 more.
Pat Robertson is considered one of the most controversial Christian figures in the U.S., and at 90 years old, he continues making headlines for his conservative views of the world and his unapologetic attitude.
Pat has a career that spans almost 60 years, and throughout that time, he has earned a string of accolades both for his Christian leadership and humanitarian efforts.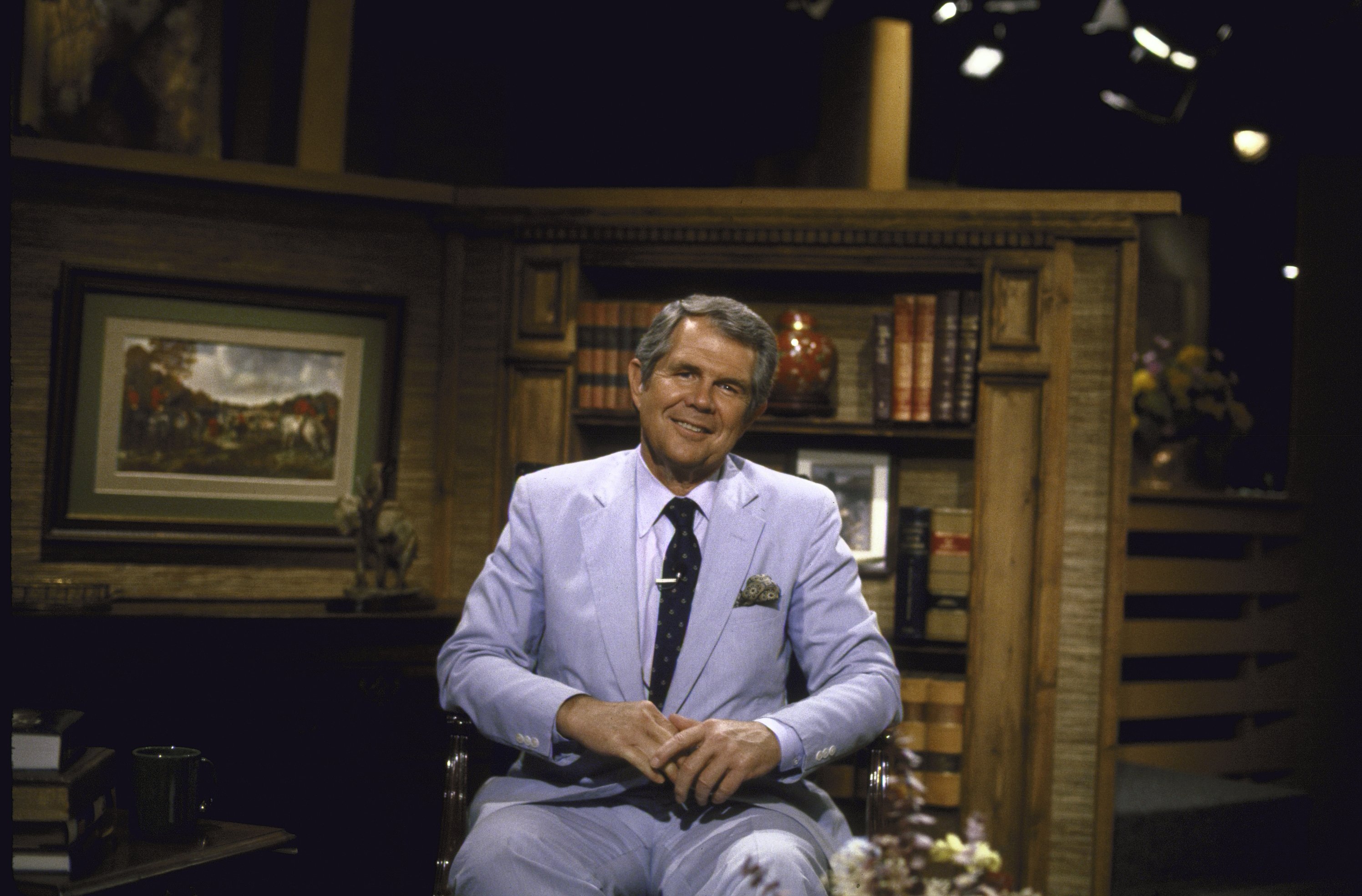 Rev. Pat Robertson on the set of the Christian Broadcasting Network. | Photo by Marty Katz/The LIFE Images Collection via Getty Images
Still, Pat is more than just a "televangelist." He's also an author, businessman, media mogul, and former presidential candidate. But most importantly, Pat is a family man.
PAT ROBERTSON'S LIFE BEFORE TV
Born in Lexington, Virginia, as Marion Gordon "Pat" Robertson in 1930, he grew up in a prominent political family, since his father was a senator who served 34 years in the House of representatives.
Pat graduated with a B.A. from Washington and Lee University in 1950 and afterward joined the U.S Marines. He served in Korea and Japan before returning to the U.S in 1952 when he was promoted to 1st lieutenant.
Pat's character was questioned... but he and Dede made sure to let the world know that they weren't embarrassed about their past.
In 1955, Pat graduated from Yale University Law School but failed to pass the New York bar exam, which brought great anguish to his life and led him to experience a religious awakening.
He then joined the Biblical Seminary in New York City and received a Master of Divinity in 1959. That same year, Pat left New York and moved back to Virginia with a mission in mind. But he wasn't alone in the journey.
PAT ROBERTSON'S WIFE DEDE
During his time at Yale, Pat met a beautiful young lady named Adelia Elmer, better known as Dede, and they clicked right away.
Dede, a former model and beauty queen, had studied nursing at Ohio State University and was pursuing her masters at Yale University School of Nursing when her path crossed with Pat's.
The young couple married on August 27, 1954, in Elkton, Maryland, and at the time, Dede was pregnant with their first child, Tim, who was born ten weeks later.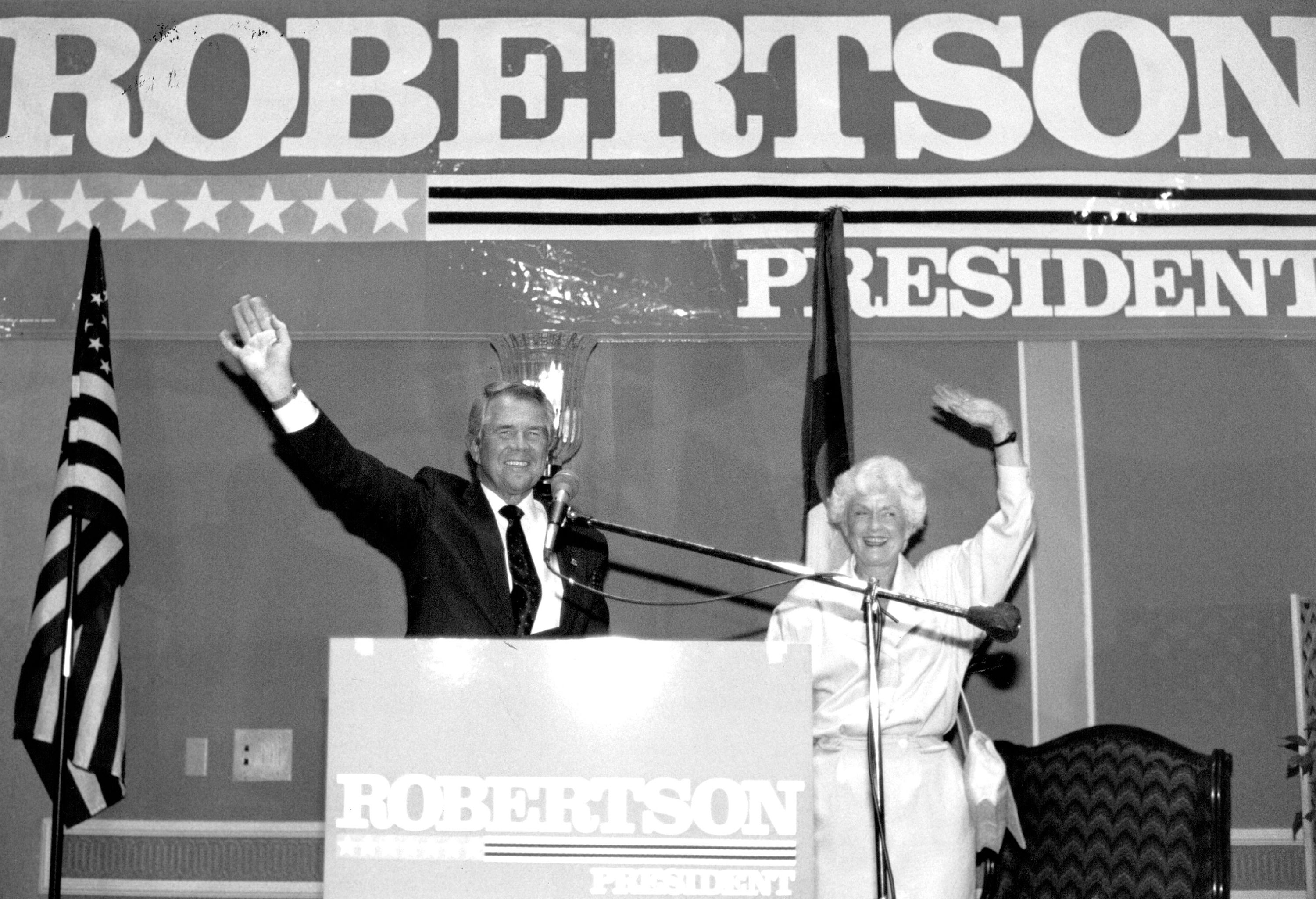 Pat Robertson and wife Dede greet fans at a rally at the Sheraton Denver Tech Center on April 3, 1988 | Photo By Brian Brainerd/The Denver Post via Getty Images
Tim was soon followed by three more children: Elizabeth Faith, born in 1956; Gordon Perry, born in 1958; and Ann Willis, born in 1963, three years after Pat and Dede had established what could be considered their fourth baby: the Christian Broadcasting Network.
Dede also applied her nursing knowledge by working part-time at Portsmouth General Hospital in Virginia. She also served as an Assistant Professor of Nursing at Tidewater Community College and hosted "Lifeline," a missionary TV show.
In 1982, Dede was appointed as the principal U.S delegate at the Inter-American Commission of Women (IACW), a position she held until 1990.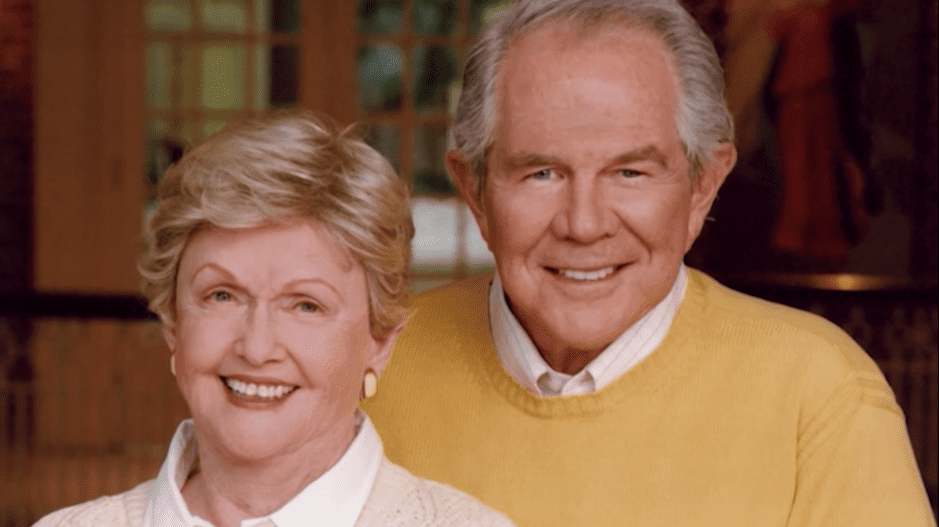 Pat Robertson and wife, Dede Robertson, pose together for a portrait | Source: YouTube.com/The 700 Club
Dede is also an accomplished author with two books under her name: "My God Will Supply" and "The New You." On top of that, she spent years writing a monthly column titled "All in A Woman's Day," for Christian Life Magazine — all while raising her four kids.
CBN & "THE 700 CLUB"
When Pat and his wife moved to Virginia, they were struggling financially and barely managed to make ends meet. Still, they had a dream and set their minds—and all their recourses—to make it a reality.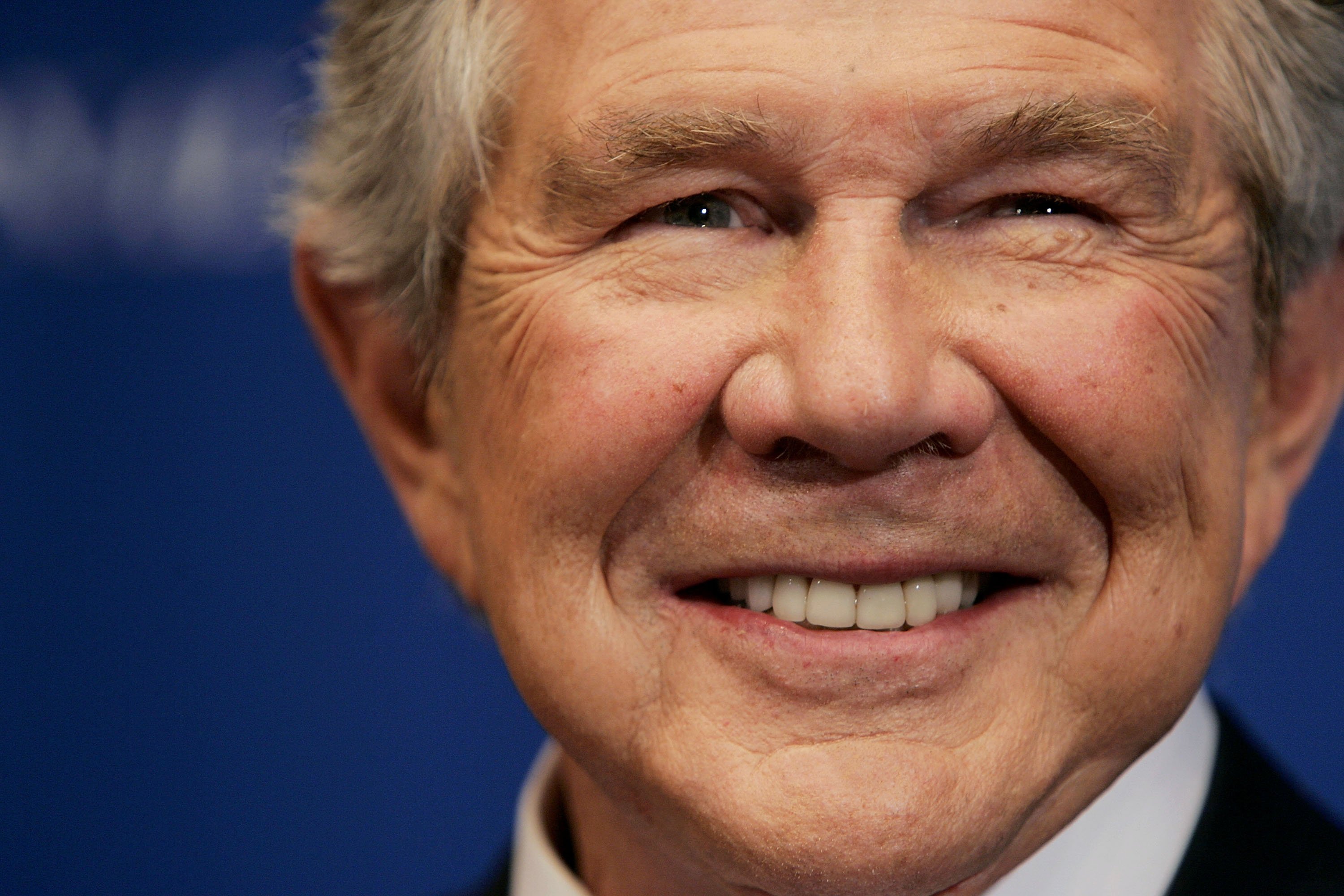 Pat Robertson, founder of CBN, smiles as he is introduced before speaking at the National Press Club on February 15, 2005 in Washington, DC. | Photo: Getty Images
The husband and wife duo created the Christian Broadcasting Network after buying a broken UHF station. Initially, they had only one camera and a simple set where Pat would preach and ask viewers for funds, but it didn't take long for the project to take off properly.
In 1977, they launched the CBN Satellite Service, which became the first cable channel to be transmitted via satellite. Four years later, it was renamed as the CBN Cable Network, and then as The Family Channel in 1990, when Pat sold it to his son's company, International Family Entertainment Inc.
The network went through one more name change and owner before Disney bought it in 2001 and changed its name to Freeform. One of the conditions for the sale stipulates that the channel must keep airing "The 700 Club," CBN's flagship variety show where Robertson is still one of the hosts.
These days, CBN continues operating mainly as a production company. Aside from "The 700 Club," they also produce four more syndicated shows, including "CBN NewsWatch" and "Christian World News."
PAT ROBERTSON'S CHILDREN
Like their dad, Pat Robertson's sons and daughters live their lives following the Bible's principles and spreading the word about the power of prayer.
Tim Robertson, the eldest of the bunch, took over the reins of CBN in the late '80s when his father decided to run a presidential campaign. At the time, Tim was also thrust into the spotlight after some controversy surrounding his parents' wedding date and his birth.
For years, Pat and Dede had celebrated their wedding anniversary on March 22. Still, the press unearthed documents that revealed the actual marriage took place on August 27, which meant Tim was conceived out of wedlock.
As a Christian and conservative figure, Pat's character was questioned because of this. But he and Dede made sure to let the world know that they weren't embarrassed about their past and had nothing to hide.
"I've had nothing but love from my parents, nothing but love from my mother and father," Tim said at the time about the scandal. "I was raised in a loving and caring home. I never felt deprived in any way."
Tim is married to author and motivational speaker Lisa N. Robertson, and they have five children and ten grandchildren.
Gordon Robertson is the current CEO of CBN and appears as a host on "The 700 Club" from time to time. He's also at the forefront of Operation Blessing, CBN's humanitarian organization.
He founded CBN Asia in the early '90s, which has its base in the Philippines, and is also an executive producer of CBN films. Gordon and his wife, Katharyn Robertson, have three grown-up children and live in Virginia.
There's little known about Elizabeth and Ann Robertson, as they prefer to keep their private lives away from the spotlight while focusing on their respective families.
Still, Elizabeth appeared once on her father's show alongside brother Tim as they recalled how it was growing up within a religious household in the early days of CBN.
Elizabeth shared that one of her favorite childhood memories was how her parents managed to put on a smile even in the trying times just to assure the children everything would be okay.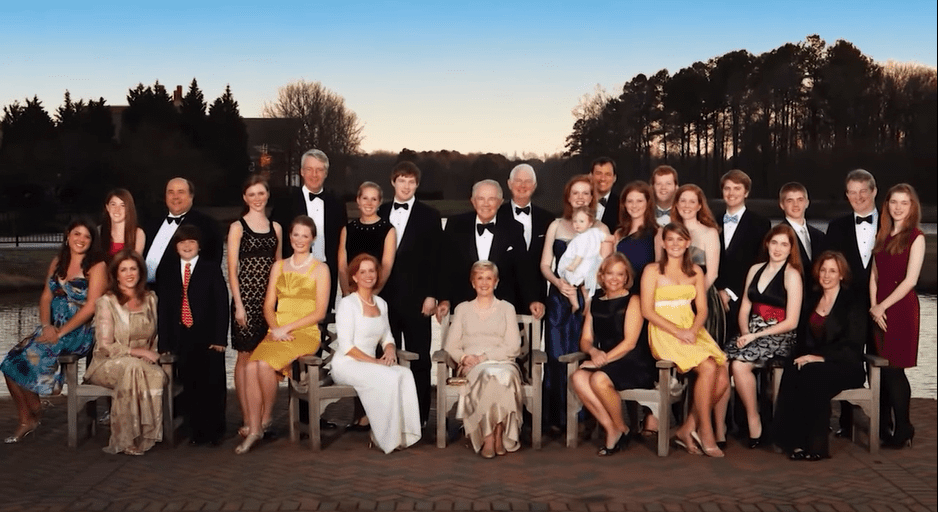 Pat Robertson and wife Dede pose with their children, grandchildren and great-grandchildren for a family photo | Source: YouTube.com/The 700 Club
THE ROBERTSON GRANDKIDS
The second generation of the family paid tribute to their patriarch in a CBN 2015 special where each of them reflected on the role that Pat Robertson—or "granddaddy" as they call him—played in their lives.
Abby, Lauren, Christy, Elizabeth, Laura, Megan, Ray, Patrick, Catherine, Emily, Charlie, Willis, Evelyn and Cally, all took turns talking about their grandad.
In the past years, Pat has gone through some health scares, including an embolic stroke he suffered in 2018. With so many people in the family continuing to spread his work, there's no doubt that Pat's legacy will outlive him, and it will be in good hands.
Please fill in your e-mail so we can share with you our top stories!