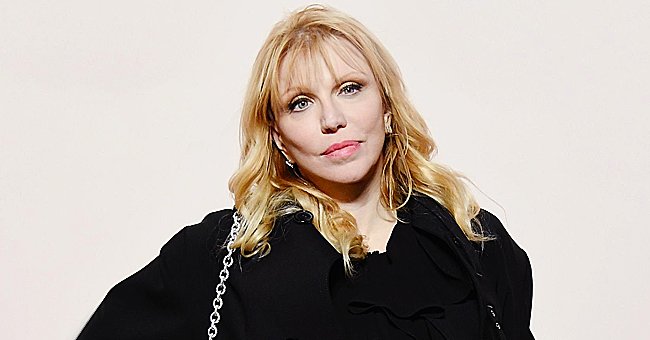 Getty Images
Courtney Love Pens Tribute to Her 'Secret Husband' Larry Flynt after His Death at 78
Onscreen star Courtney Love grieves the loss of Hustler founder Larry Flynt shortly after his death at age 78. She penned down a heartfelt tribute referring to him as her "secret husband."
Larry Flynt will be greatly missed following his death after suffering from heart failure in his Los Angeles home. During his lifetime, his famous legal case was portrayed in the 1996 film "The People vs. Larry Flint."
Courtney Love played Flynt's fourth wife, Althea Leasure. Her first contact with the publisher and business mogul was at age 17, when she worked as a go-go dancer at his Hustler Club in Columbus.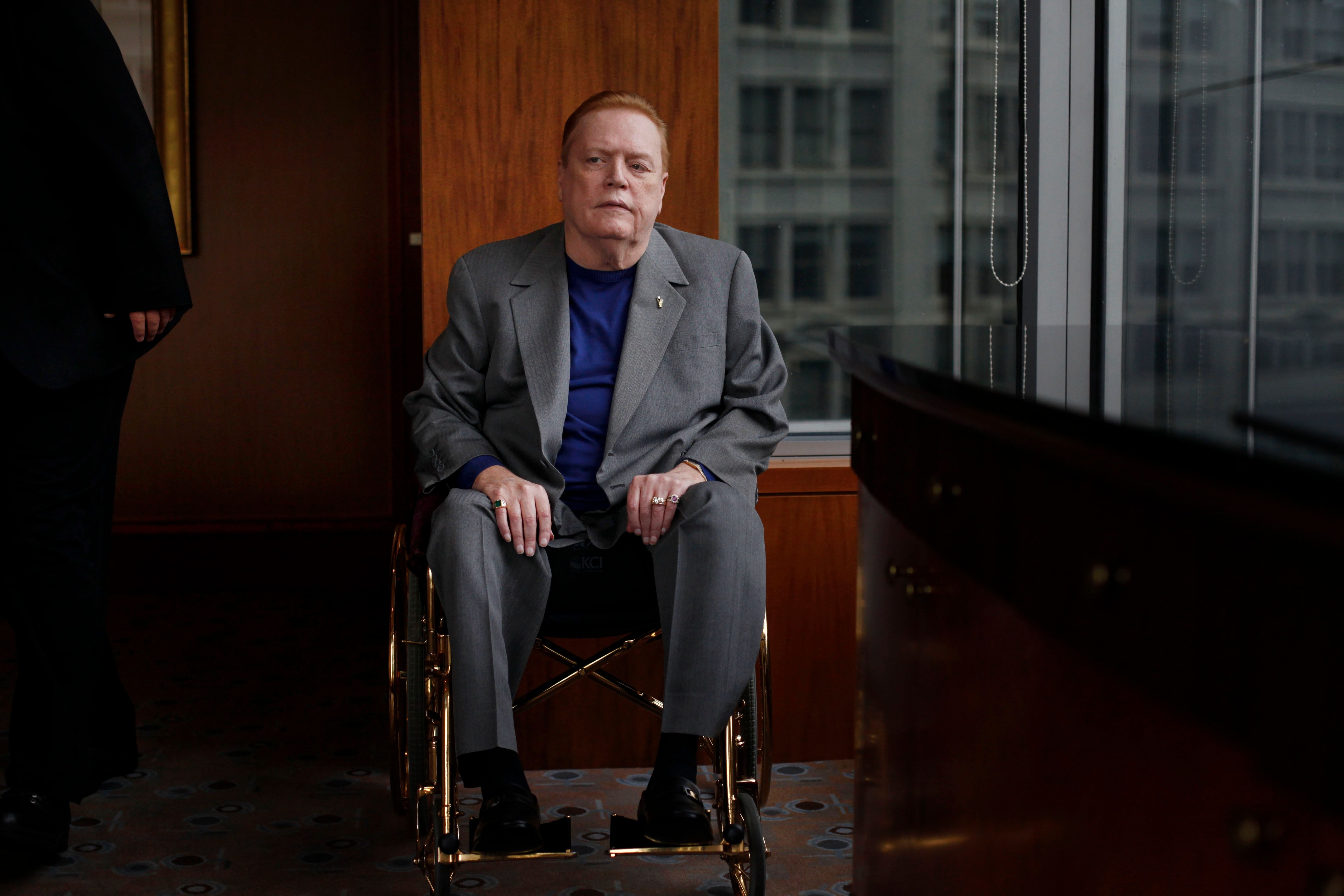 Larry Flynt sits for a portrait at the Four Seasons Hotel on Friday May 13, 2011. | Photo: Getty Images
The actress's role earned her a spot on the nomination list for best actress in a drama at the 54th Golden Globe Awards. She ended up losing to Brenda Blethyn, the "Secrets and Lies" alum.
It has been years since Love played Flynt's onscreen wife, but the actress seems to connect with the real-life character still. Following the news of his tragic end, she took to her online platform to share a soul-stirring tribute. She wrote:
"Rip. My favorite smut peddler. Social justice warrior, secret husband . Light in the dark cave. Legend."
Love, 56, added a series of photos that bore details of the film and her time with the deceased. The first photo showed a picture of her and Woody Harrelson, who played the deceased.
The Hollywood celebrities could be seen wrapping their arms around Flynt, who was in a two-piece suit and seated on a wheelchair while rocking a heartwarming smile on his face.
Sources confirmed that there was an attempt on his life during his appearance at a Georgian courthouse in 1978.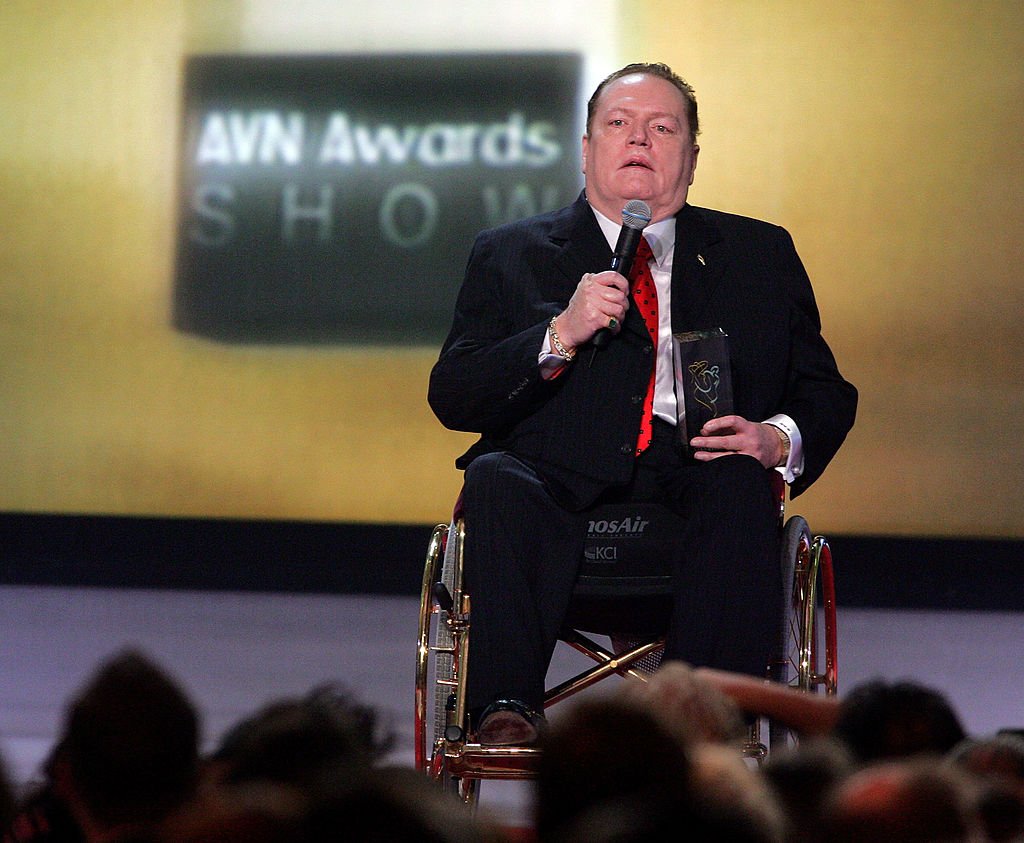 Hustler magazine publisher Larry Flynt at the Hall of Fame Founders award at the Adult Video News Awards Show at the Venetian Resort Hotel and Casino January 7, 2006. | Photo: Getty Images
More than two million fans of the 56-year-old actress were further treated to a detailed glimpse of the film, as she shared a short clip and two other photos from the movie scenes.
Many fans joined in the mourning process. Some reached out to Love and consoled her over the loss. A few others went on to applaud the actress for her stunning performance in "The People vs. Larry Flynt."
The industry and movie fanatics would not be quick to erase Flynt's real-life occurrences that made him the talk of the town, and ultimately, made his life a body of work for Hollywood.
After establishing his adult magazine, Hustler Magazine, in 1974, he challenged the system over the First Amendment Rights to publish the magazine full of bawdy contents.
He went head-on against the system for years and was even served several jail terms. Sources confirmed an attempt on his life during his appearance at a Georgian courthouse in 1978.
This led him to suffer unbearable pains following a series of surgeries and a stroke. Flynt was active on the political scenes. He took a shot at the seat of the President in 1984, and in 2003 campaigned for the governorship in California.
The 78-year-old was determined to recognize and uphold his ideals, but his personal life did not enjoy such luxury. He got married five times. At the time of his death, he was still married to his fifth wife, Elizabeth Berrios.
Please fill in your e-mail so we can share with you our top stories!