Ashley Cain's Girlfriend Safiyaa Vorajee Pens Heartbreaking Tributes to Their Late Baby Azaylia
Ashley Cain and Safiyaa Vorajee's daughter, Azaylia Diamond Cain, passed away over the weekend after a month-long battle with leukemia. She was only eight months old. 
Safiyaa Vorajee took to her Instagram stories to post a moving and heartbreaking tribute to Azaylia Diamond Cain, her late daughter. Vorajee shared Azaylia with reality star Ashley Cain. 
The eight-month-old baby girl died on Saturday. Azaylia was diagnosed with leukemia a month prior to her death, and her heartbroken parents are now left to navigate life without their daughter.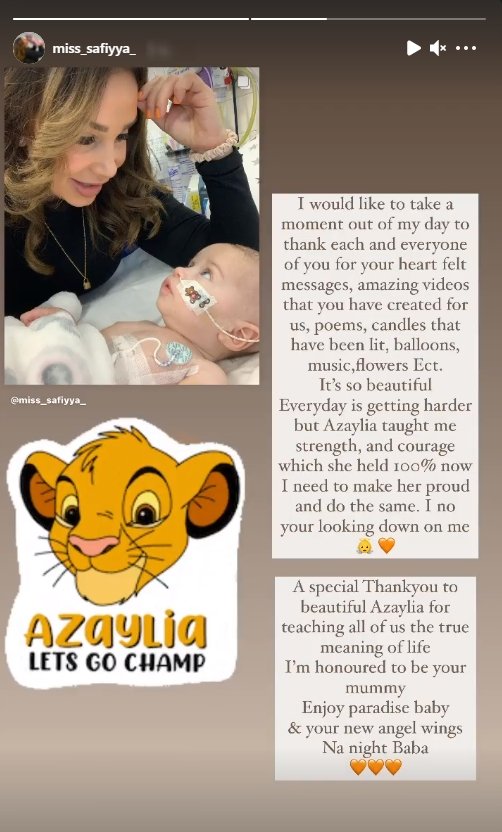 LEFT IN GRIEF
Vorajee's Instagram feed has been filled with snaps of her daughter throughout the last month as she moved through the various steps of her cancer treatment. Following Azaylia's death, the mother is now posting tributes. 
Cain's girlfriend shared a string of stories on her social media page, all in honor of her late daughter. Vorajee's photos and words showcase her grief in this difficult time as she shared a quote that reads: 
"she's proof that you can walk through hell and still be an angel"
MESSAGE OF THANKS
The grieving mother was also sure to thank all of her followers who reached out to her in some form and provided an immense amount of support as they traversed through this difficult terrain. 
The desperate parents raised more than £1.5 million for their sick daughter's treatment.
Vorajee revealed that the mourning period has become more challenging as the days have gone by but that she remains thankful to have had Azaylia as her daughter for the short amount of time given to them. 
DAD'S HEARTBREAK
Azaylia's mother is not the only one who has struggled to deal with her death as "The Challenge" star, Cain also revealed his heartbreak over the death of his daughter. 
Cain took to social media to share a tribute to his late daughter. In the heartbreaking caption, the reality star noted that Azaylia gave his life purpose. Cain wrote: 
"I can't put into words my sadness and pain, there aren't words to describe it. I love you with every ounce of my body."
THE WARNING
Both Vorajee and Cain said that the nurses had warned them last week to make the best of the weekend with their daughter as she had become increasingly fragile. 
The reality star and his girlfriend kept their followers up to date with Azalyia's condition throughout her treatment, sharing that the doctors had discovered numerous cancerous tumors through her body earlier this month. 
The desperate parents raised more than £1.5 million for their sick daughter's treatment. Still, unfortunately, cancer that spread throughout Azaylia's body was too rare and aggressive for the treatment to be effective. 
Cain and Vorajee are not the only celebrities to have faced the realities of ill health, as actress Emilia Clarke has had to undergo two brain surgeries but fully recovered from the invasive treatments.