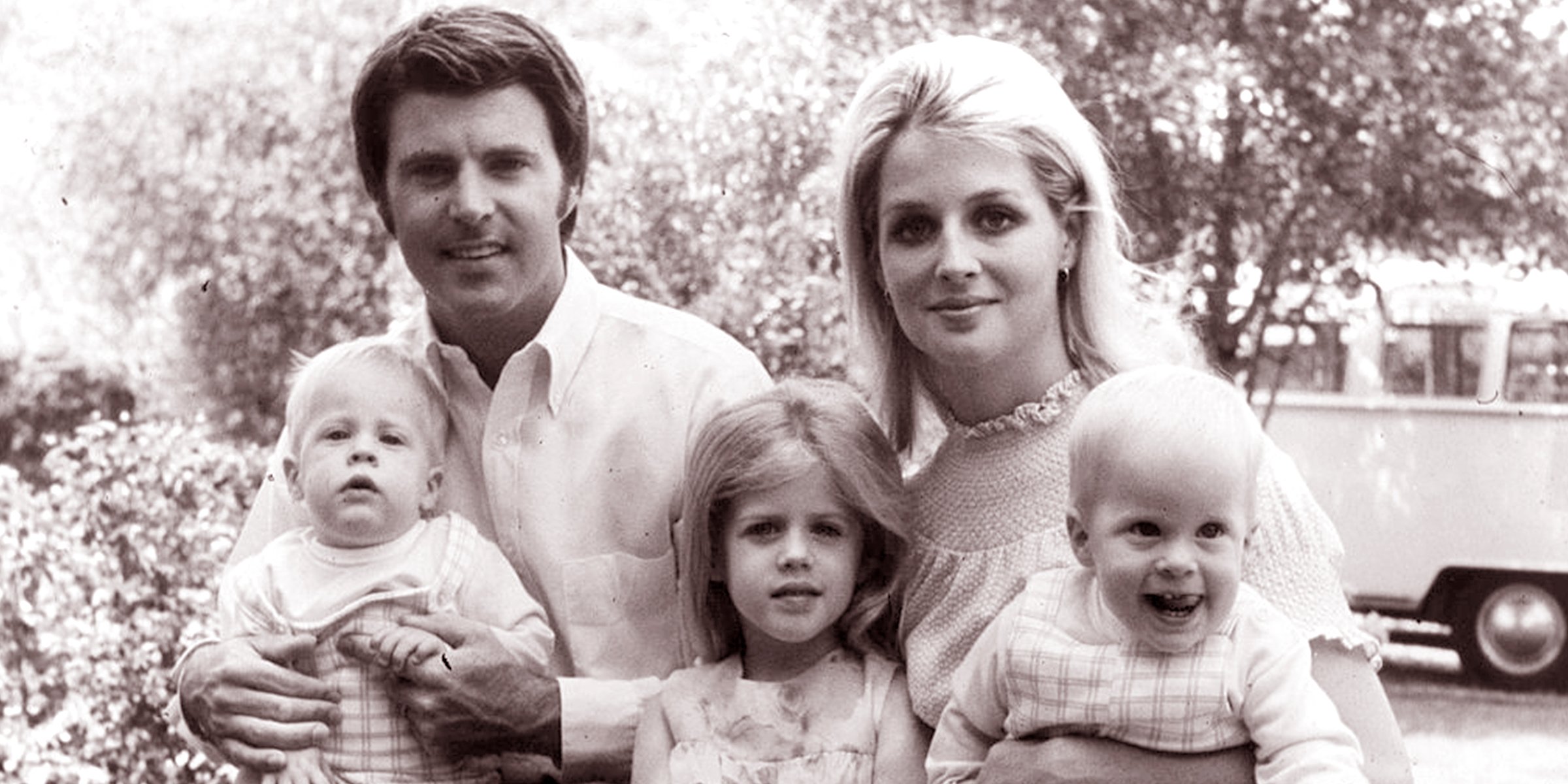 Getty Images
Ricky Nelson's Will Left 4 Kids Almost Nothing & They Became Successful Following in His Footsteps
Iconic musician Ricky Nelson was aged 45 when he sadly died in a plane crash on his way to a show. After his death, it was revealed the father of four was hugely in debt and had left only insurance money for his kids.
Ricky Nelson and his wife, Kristin Harmon, fell in love as youngsters, and after their marriage, the pair became parents to four adorable kids.
Even though it looked like they had a perfect marriage behind the scenes, the couple struggled with alcohol and drugs, which eventually led to their divorce.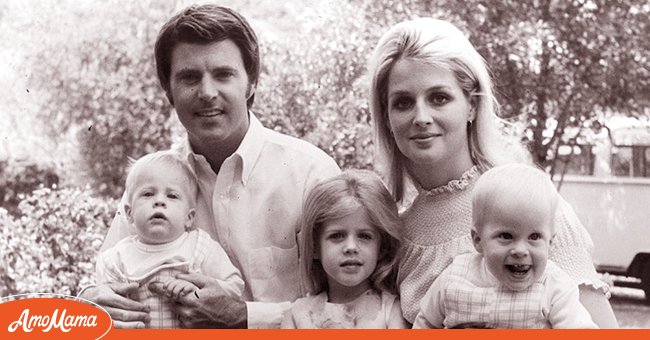 Ricky Nelson and his wife Kristin Harmon, with his family | Source: Getty Images
Not long after they called it quits, Ricky died in a plane accident, and it was revealed the iconic musician was hugely in debt before the accident happened.
After his death, Ricky's children took up the mantle of their father's iconic music legacy to build their careers and restore the family's fame.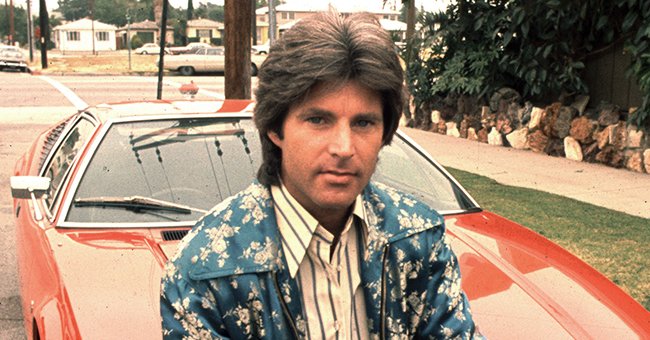 Ricky Nelson poses in front of a red car in 1974. | Source: Getty Images
HIS MARRIAGE TO KRISTIN HARMON
Kristin was 12 years old when she and Ricky met for the first time while starring alongside the family in their sitcom and radio show, "The Adventures of Ozzie and Harriet."
The actress fell in love with the family while appearing on the show, while she and Ricky also developed deep feelings for one another.
In 1963, Ricky tied the knot with 18-year-old Kristin, and she continued appearing on the family's sitcom as Ozzie and Harriet's real-life and T.V. daughter-in-law.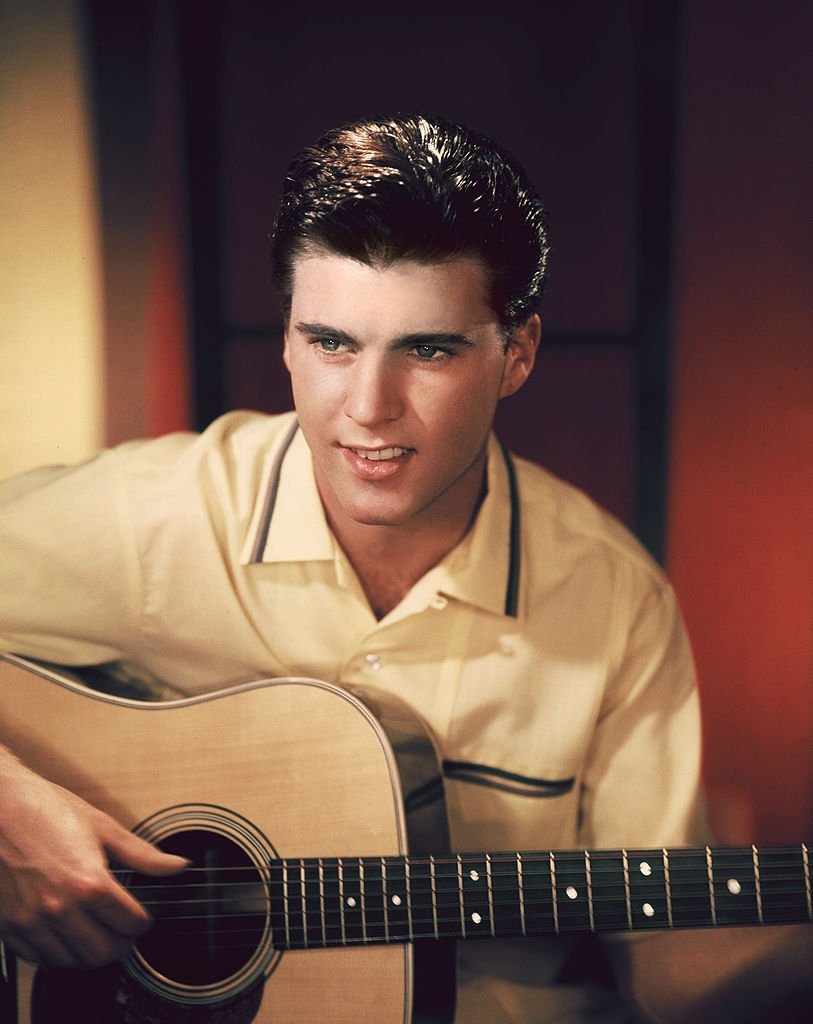 A snapshot of Ricky Nelson posing with a guitar. | Source: Getty Images
Six months into their marriage, the couple welcomed their first child, Tracy. The family expanded in 1967 as Ricky and Kristin welcomed twin boys Gunnar and Matthew. Finally, in 1974, their fourth child, Sam, was born.
Kristin and Ricky's marriage started very well, but soon, the couple gravitated towards the hippie lifestyle and would party regularly while indulging in vices like alcohol and drugs.
After a while, they both got addicted and, when it got worse, had to undergo therapy. Although Ricky was committed to getting treatment initially, he gradually stopped attending therapy.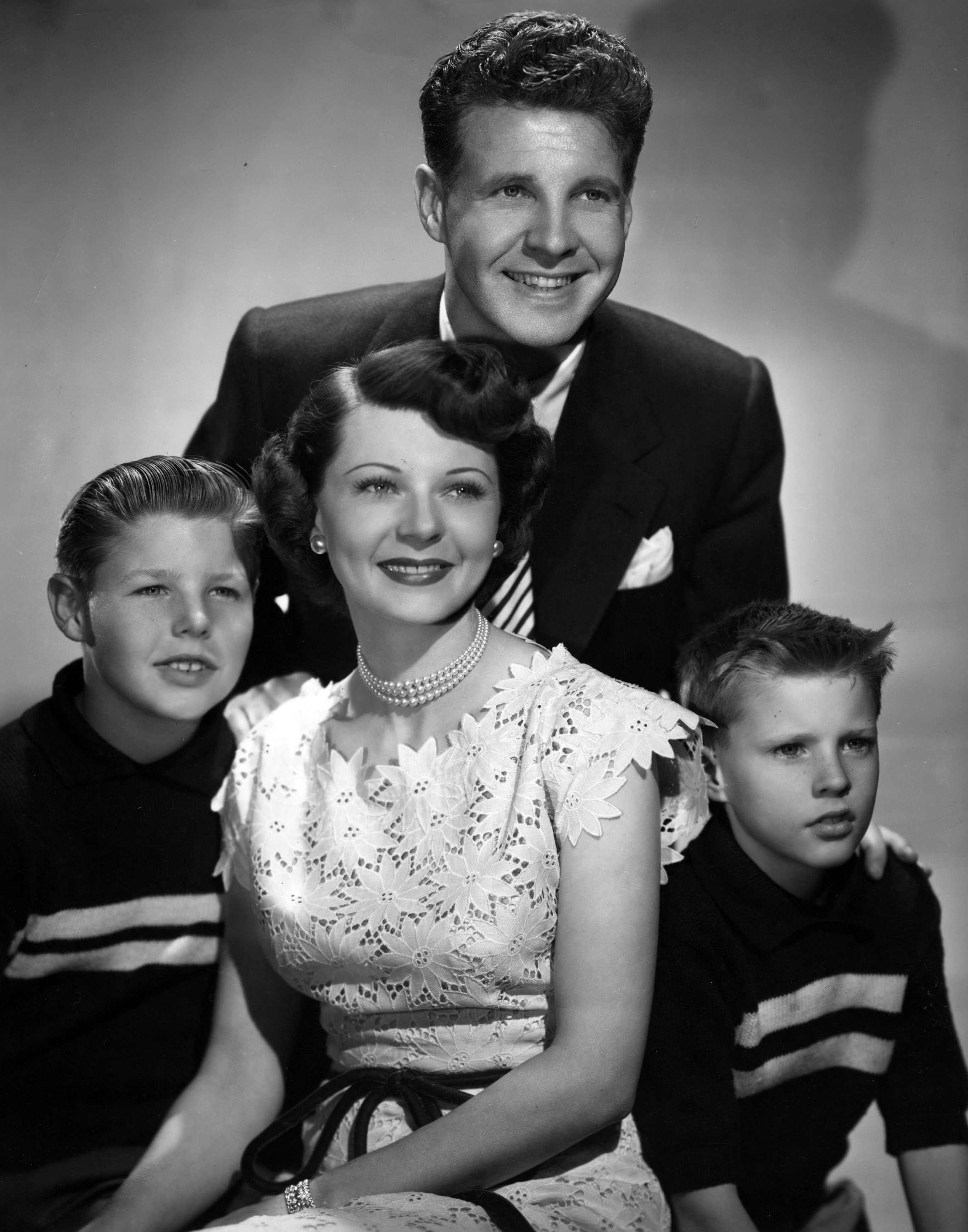 Ozzie and Harriet Nelson with their sons David (left) and Ricky (right) pose for a family portrait in 1946. | Source: Getty Images
In 1980, Kristin filed for divorce and was given temporary custody of their kids. The divorce hearing created a tense atmosphere as they accused one another of drug and alcohol use, and poor parenting.
The union was annulled in 1982 after more than a decade together. From the divorce settlement, Kristin was awarded $4,000 a month in child support and provision for joint custody of their four children.
HIS UNEXPECTED AND TRAGIC DEATH
While the divorce proceedings continued, Kristin continued her drinking bouts, and her reliance on hard drugs made it impossible for her to take care of her kids properly. As a result, her younger sister Kelly took up caring for the actress's youngest son Sam.
Kristin also struggled with her finances and had to work as an assistant casting director, where she was paid $200 a week. Her world continued to spiral down when her ex-husband and father of her four kids, Ricky, died along with his fiancée Helen Blair and five crew members in a tragic plane crash in 1985.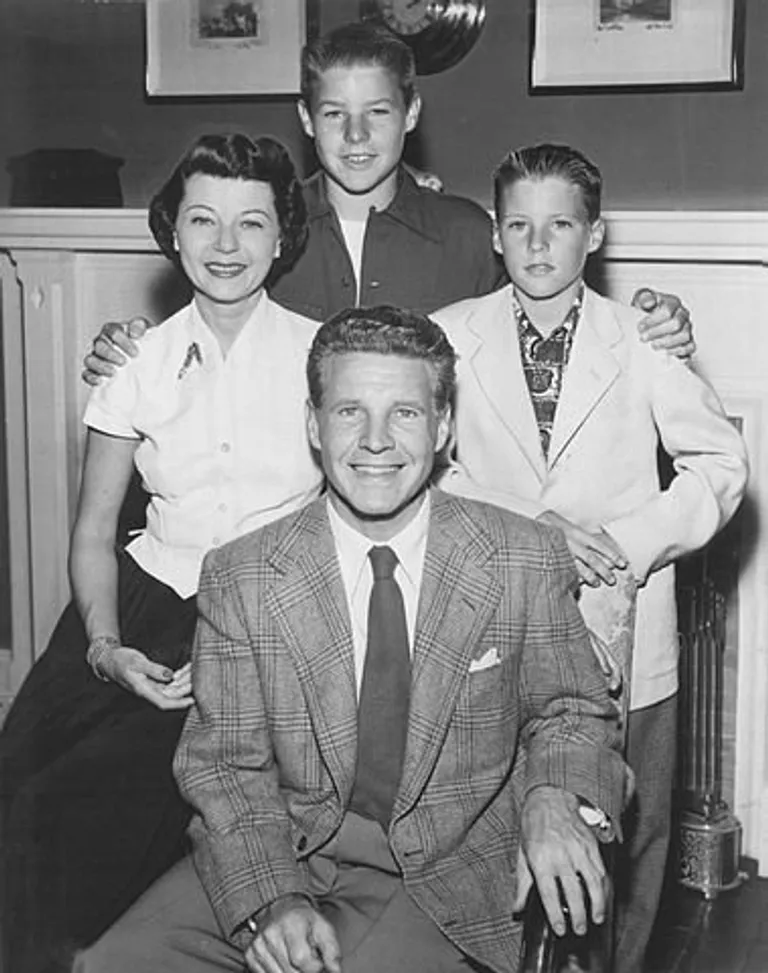 Ozzie Nelson, Harriet Nelson, David Nelson and Ricky Nelson circa 1952. | Source: Wikimedia Commons
Ricky, aged 45, was flying to Dallas for a New Year's Eve concert when the plane crashed in an area near De Kalb, 35 miles west of Texarkana. For all music hits and popularity, the iconic musician died in debt, and his four kids only inherited $25 000 each in insurance money.
TRACY'S LIFE AFTER HER FATHER'S DEATH
After her father's death, Tracy's grief turned to anger when rumors started flying around that the plane crashed because her father was taking cocaine while on board, although the FAA found that the plane's faulty healing system was the cause.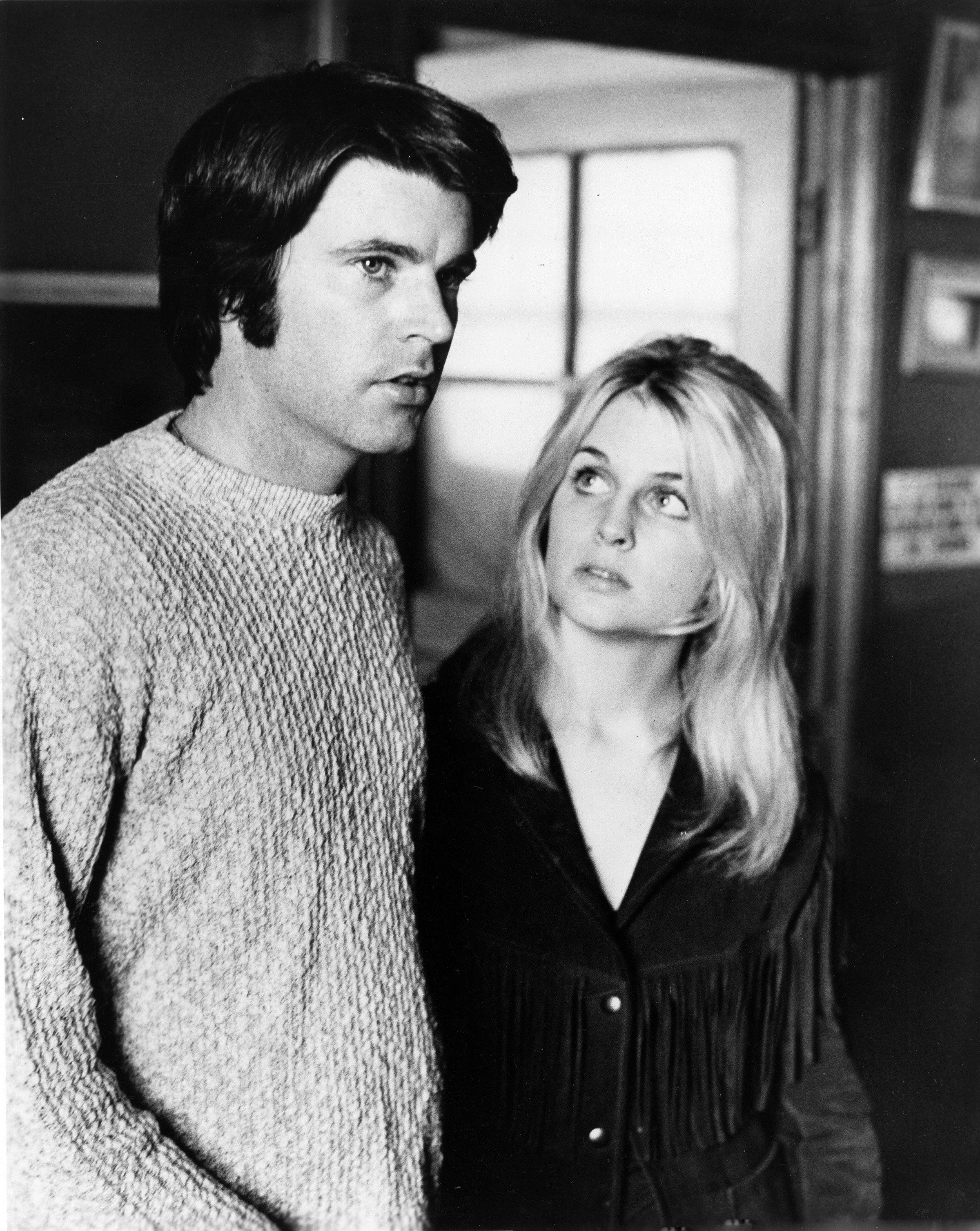 Rick Nelson poses for a portrait with his wife Kristin Harmon in 1967. | Source: Getty Images
Not long after that, the family was thrown into disarray when her mother's brother, actor Mark Harmon, and his wife, actress Pam Dawber, filed for the custody of her youngest brother Sam.
They claimed Tracy's mother, Kristin, was too emotionally distant to care for the boy adequately. Mark and Pam eventually dropped the case when it drew intense media attention.
Tracy followed in her mother's footsteps by becoming an actress and in 1987 married actor Billy Moses who she met while starring in CBS's "Square Pegs," and he appeared in "Falcon Crest."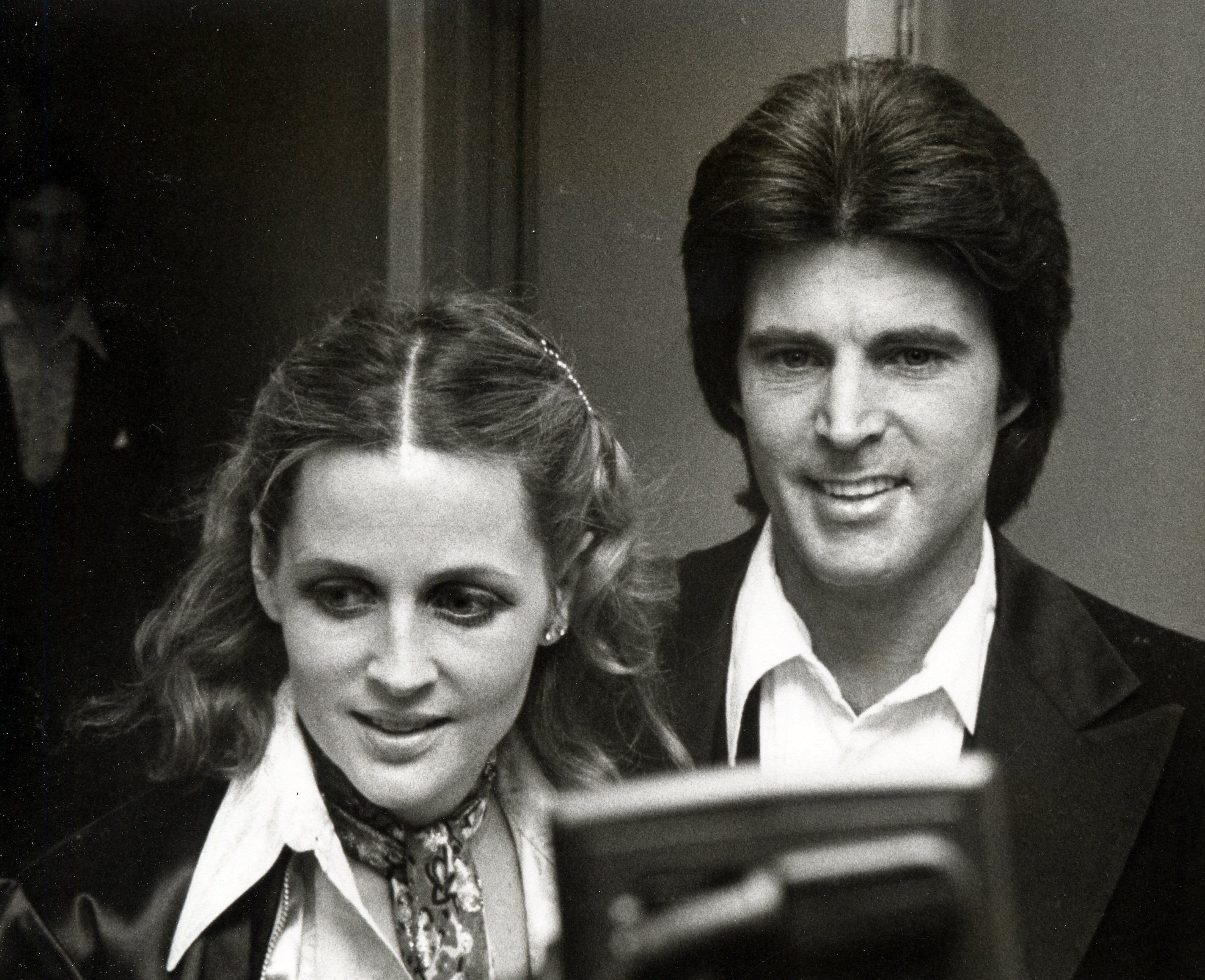 Ricky Nelson and wife Kristin Harmon attend the Fifth Annual American Music Awards on January 16, 1978 | Source: Getty Images
During her wedding, Tracy discovered something was wrong with her because she felt weak and tired. The glands in her neck became swollen, and she developed bags under her eyes.
She subsequently went to the hospital, where a tumor was found in her chest. The following week, Tracy underwent surgery at Cedars-Sinai Medical Center in L.A. to determine the spread of cancer.
For the preceding four months, she withstood chemotherapy and 25 radiation treatments, and by 1988, her cancer had receded.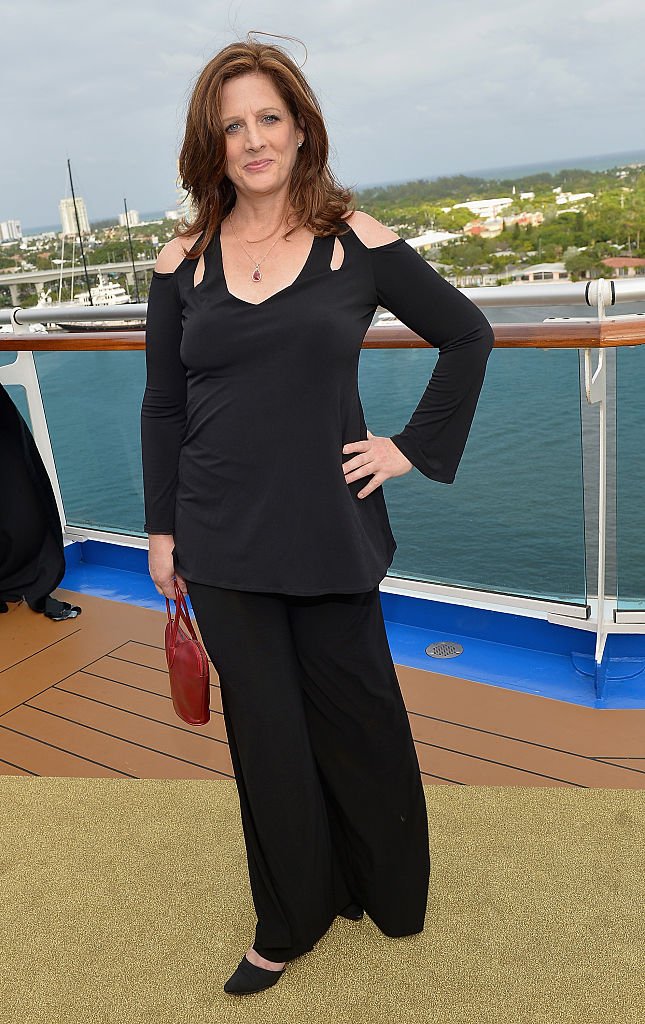 Tracy Nelson attends Love Boat Cast Christening Of Regal Princess Cruise Ship at Port Everglades on November 5, 2014 | Source: GettyImages
Two and a half years later, she became pregnant and gave birth to her daughter, Remington Elizabeth. Still, the family went through another scare when Tracy started bleeding from her uterus a week after returning from the hospital.
The bleeding was caused by the uterus not contracting after she gave birth. After four days in the hospital, Tracy was given drugs and went home to her family.
Sadly, Tracy and Billy divorced in 1997, but in 2001, she became a mother for the second time when she welcomed her son, Elijah Nelson Clark, with her boyfriend, Chris Clark.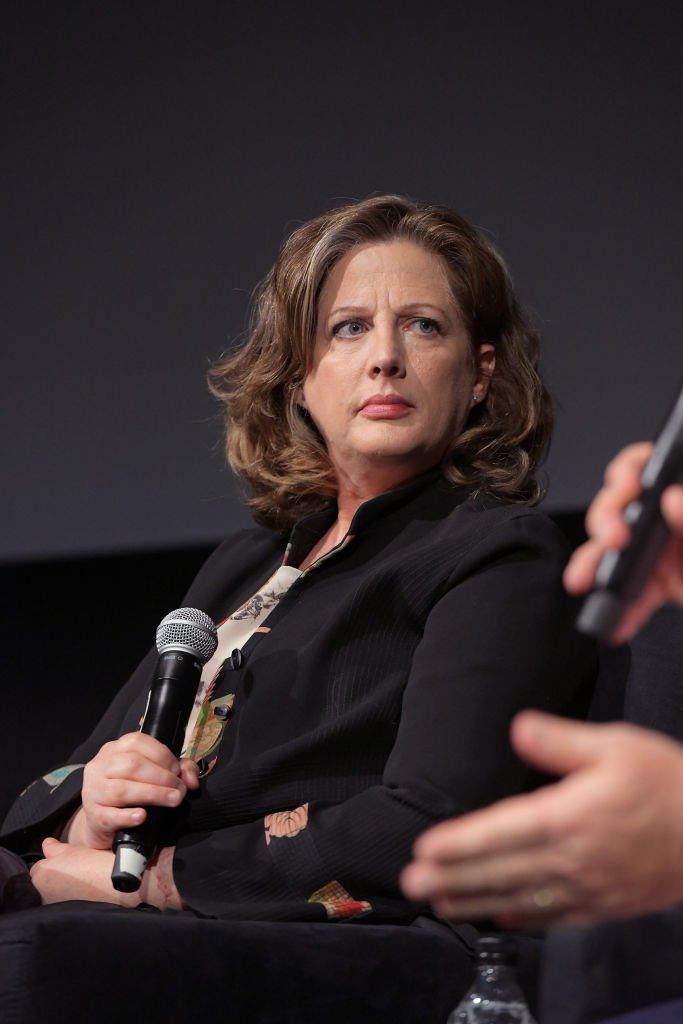 Tracy Nelson on April 14, 2019 in Hollywood, California | Source: Getty Images
RICKY'S TWIN SONS CONTINUE THEIR FATHER'S LEGACY
At the age of 6, twins Gunnar and Matthew started playing drum set and bass, respectively, and by the time they were 12 years old, the pair opened up shows a few times for their father.
After their father's tragic death in 1985, the twins, aged 18, were left emotionally shaken because they had just moved in with their father and were getting to know him.
After about a year of dealing with his death and supporting their mother in a custody battle, Gunnar studied guitar until he got very good at playing the instrument.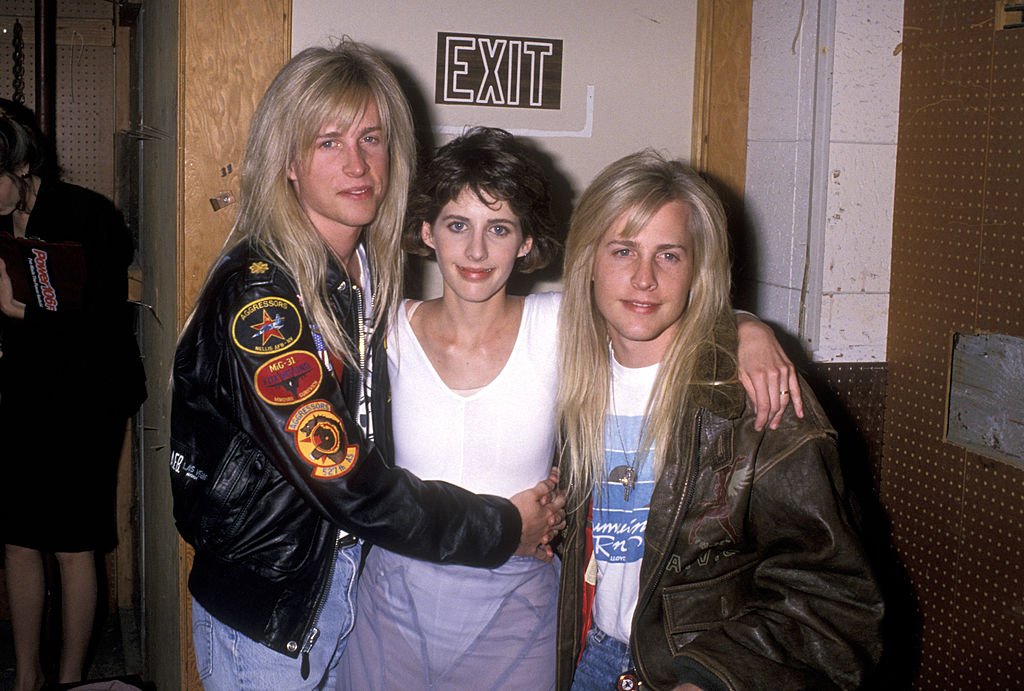 Matthew Nelson, Actress Tracy Nelson, and Musician Gunnar Nelson attend the 61st Annual Academy Awards Rehearsals on March 20, 1989. | Source: Getty Images
Afterward, he and Matthew started a musical group called the Nelson The Band, and their pop-rock debut album, "After the Rain," went double platinum with the number one hit song, "Love and Affection."
They were determined to keep their father's music alive, so the twins started a tribute show titled the "Ricky Nelson Tribute Show" in memory of their father.
The show has gone on for more than two decades, and in 2021 while preparing for another edition of the show, the twins explained that even though most people nowadays have no idea who their father was, they still do enjoy the music.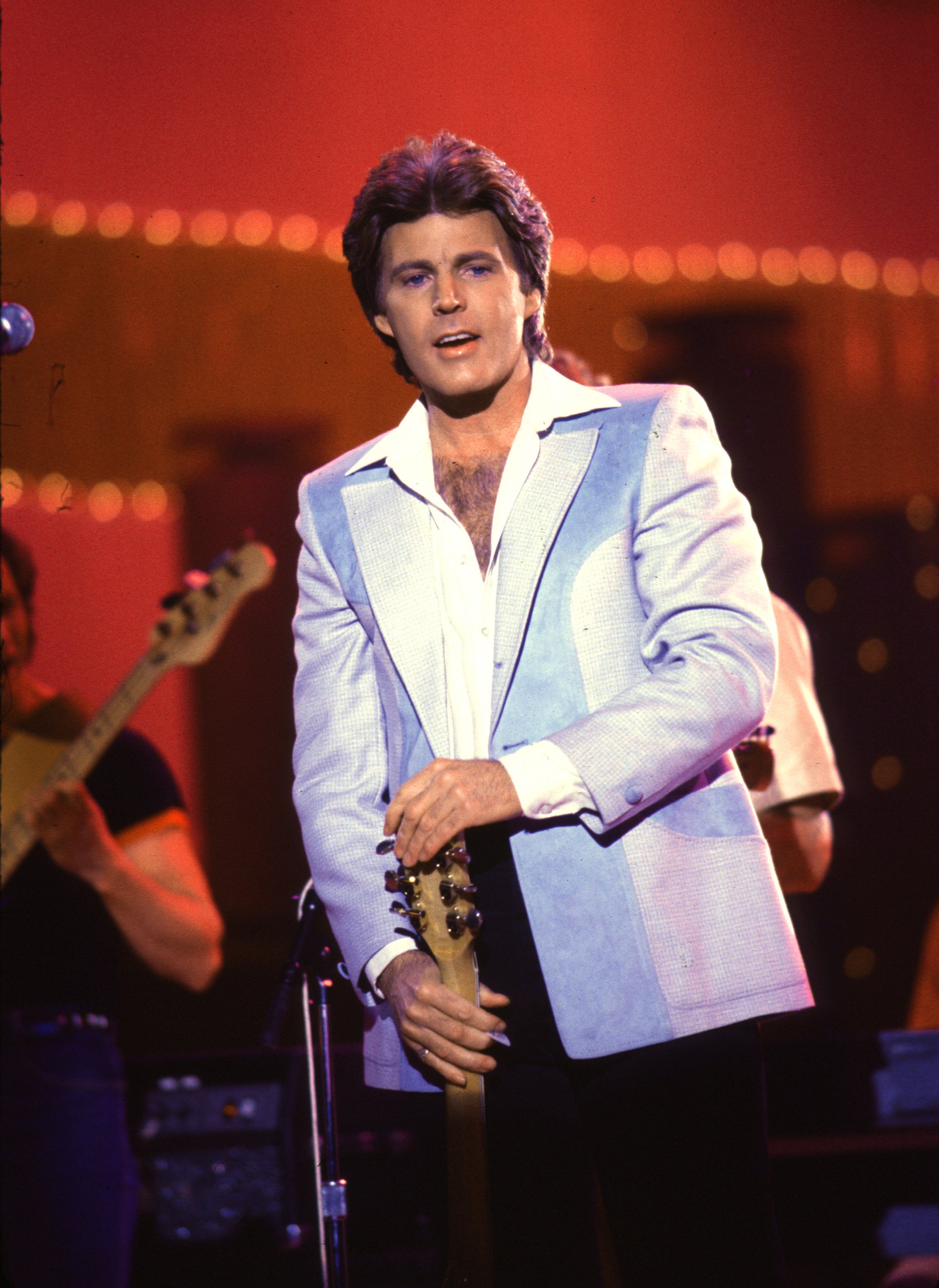 Ricky Nelson pictured in 1960 playing his guitar. | Source: Getty Images
Their goal had always been to keep his music alive and make people know that the late musician was a very kind and charming guy.
At every edition of the tribute show, the brothers would play their father's hit songs like "Hello Mary Lou," "I Will Follow You," "Teenage Idol," "Poor Little Fool," and "Traveling Man."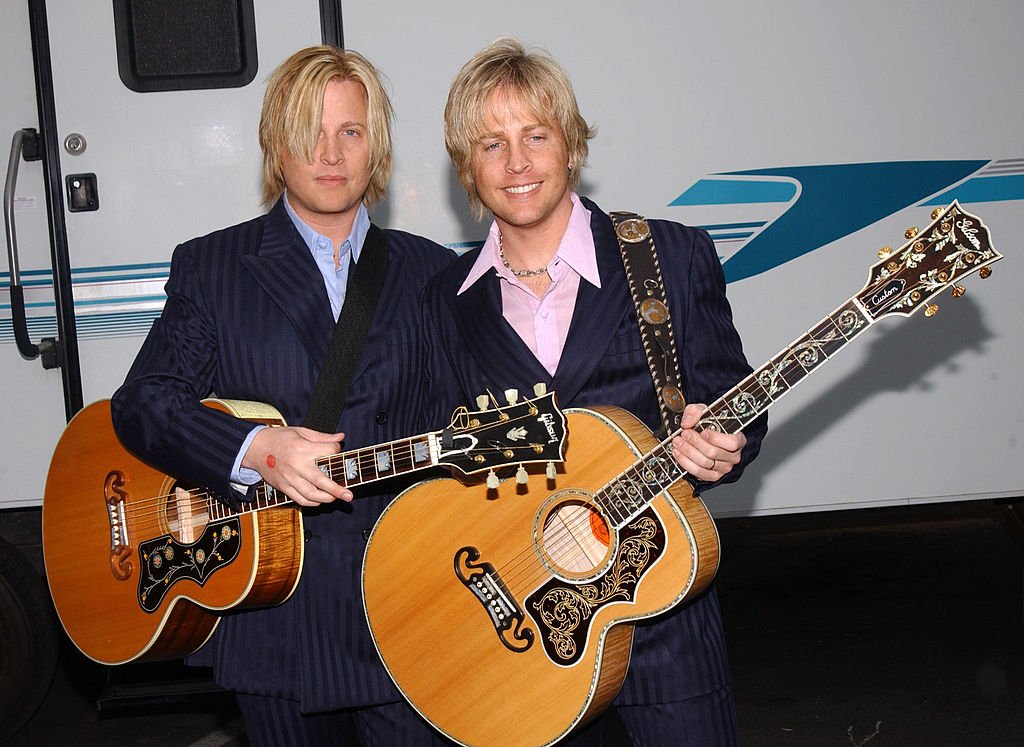 Gunnar and Matthew Nelson smiling and holding guitars. | Source: Getty Images
After his father's death, 12-year-old Sam became a bone of contention between his mother Kristin and his uncle after the latter filed for custody of the boy.
Kristin eventually retained custody while her brother was granted visiting rights to ensure his nephew was in a safe household.
Sam earned a Psychology degree from Boston College, where he also appeared in minor film roles as a student. His foray into the music business started when he interned at an administrative level for MCA Records, and he also worked in A&R for Capitol's legacy division.
After Sam graduated from college, he formed a band called H is Orange with a guy he played music with in high school. After recording their first three-song demo in a month, they got calls from major labels who invited them over to their studios.
But after they arrived in New York on September 10, 2001, to perform for a bunch of different labels, the band could not sign any deal due to the terrorist attack in New York the following day.
From that point on, it was hard for them to build any momentum, and Sam subsequently started working for Capitol Records, but the band continued recording music.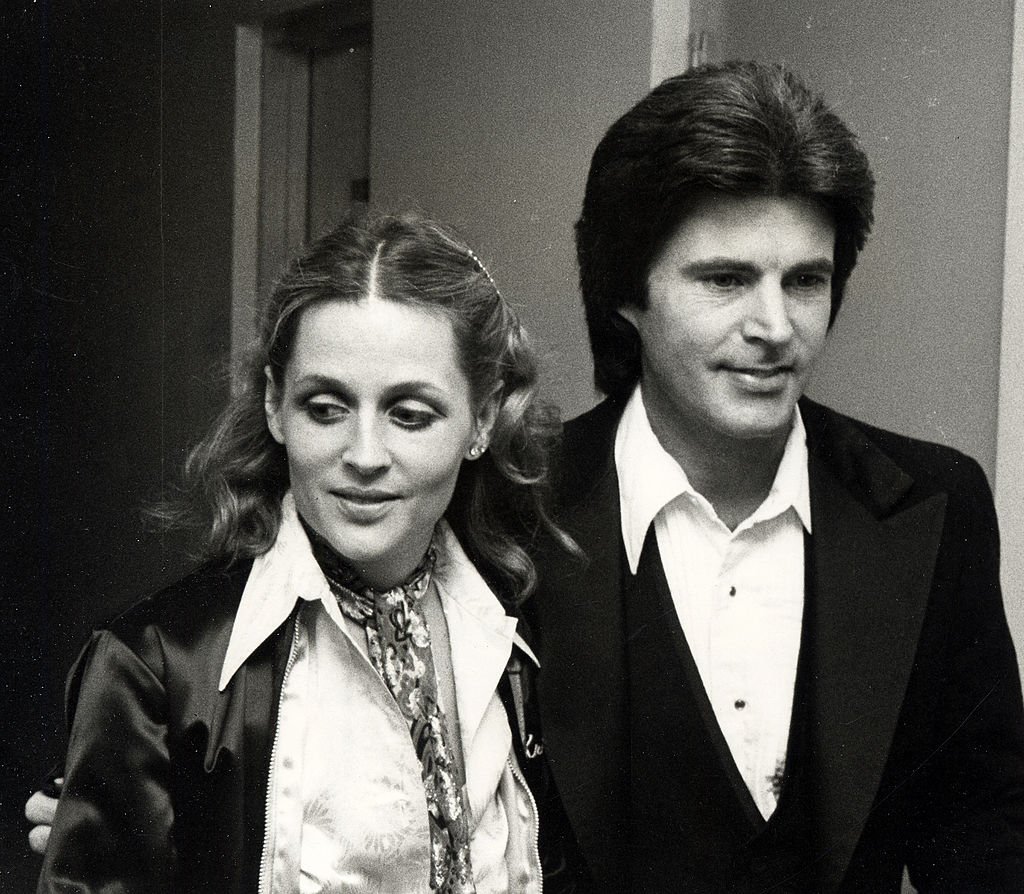 Ricky Nelson and wife Kristin Harmon at Fifth Annual American Music Awards on January 16, 1978 | Source: Getty Images
In 2007, Sam was appointed as the estate manager for "Ozzie and Harriet" by his uncle David Nelson when the former's tenure ended at Capitol Records.
Please fill in your e-mail so we can share with you our top stories!