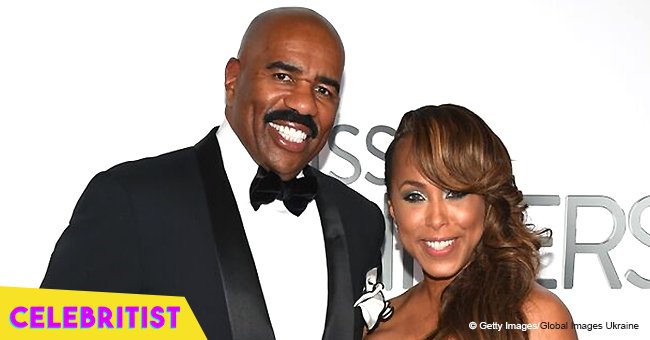 Marjorie Harvey stuns in black outfit and high heels in recent picture with her son
The wife of Steve Harvey reveals the bond she shares with her stepson in a photo she recently shared on Instagram.
It's "prom season" according to Steve Harvey's wife Marjorie who recently shared a photo with her stepson Wynton Harvey proving theirs is a blended family that works.
Stunning in a black ensemble, a pair of high heels and sunglasses, the mother-of-three and stepmother to her husband's four children from previous marriages gave fans a glimpse of her special bond with Steve's handsome 19-year-old son.
The youngest of the comedian's four biological children is tall, lean and good looking, and he held on to his stepmother as he stood behind her on a hotel balcony overlooking the city. He was dressed in a pair of jeans and a gray shirt with white stripes. One fan couldn't help but swoon over the talk show host's son describing him as "just too handsome" in the comments section.
The pair appeared to be close, proof that Steve and Marjorie's union thrives despite the fact that each already had their own children from previous relationships before tying the knot in 2007. In 2016, the couple opened up to People about how they managed to blend their families despite their children's initial resistance. The 61-year-old Miss Universe host revealed he didn't give his kids any choice.
"I said, 'Look, you don't like it? Deal with it. I don't need y'all's permission'"
Meanwhile, Marjorie, 53, was more considerate.
"When you're dealing with a blended family, everyone is coming from a place of broken. We knew this was right. But I just told them, 'Everyone is included. Everyone has access to their parents. Whatever you didn't have before, don't let that interfere with what you can have now.'"
It seems both approaches may have worked on their children seeing the all seven children now refer to Steve and Marjorie as mom and dad.
Steve and Marjorie had a long history of dating then drifting apart. When they reconnected and finally married, Steve admitted "it was like being reborn." He added,
"I messed up so many times in my life. She made all the difference. When you're happy at home, you can make a lot of things happen."
Steve currently hosts several shows including 'The Steve Harvey Morning Show,' 'Family Feud,' 'Little Big Shots,' its spinoff 'Little Big Shots: Forever Young,' 'Steve Harvey's Thunderdome,' 'Showtime at the Apollo' and the 'Miss Universe' pageant since 2015.
Please fill in your e-mail so we can share with you our top stories!