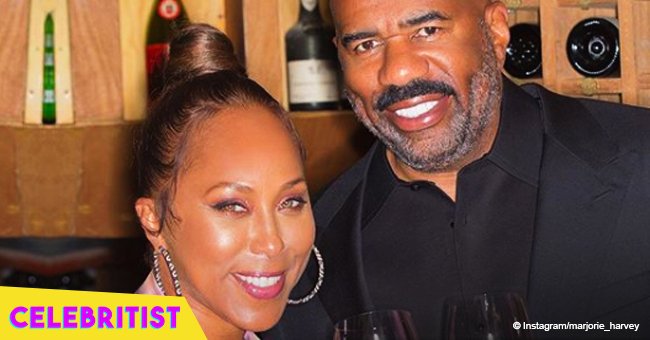 Steve Harvey's wife shares family photo with husband and their grown-up kids enjoying vacation
The Harveys are known for showing off their luxury life and fashion style whenever they go, and after spending a few days alone on the South of France, Steve and Marjorie welcomed some of their kids into their summer vacation. They all look amazing.
After facing rumors about an upcoming multimillionaire divorce, Steve and Marjorie Harvey shut down the haters with actions when they took off for a nice European summer vacation, weeks after celebrating their 11th anniversary.
The couple has one of the biggest blended families in the entertainment industry, as they collectively have a total of seven children and four grandchildren, with another one on the way.
Steve has four children, twins Brandi and Karli, and sons Broderick Jr. and Wynton, while Marjorie's offspring are daughters Lori and Morgan and son Jason.
Is not a secret that the power couple loves to travel around the world, and that's why, taking advantage of Steve's well-deserved vacations from all his shows, he and Marjorie took off to enjoy a few days by themselves.
They have been sharing beautiful shots from their trip on social media, posing on the lounge of their private yacht while watching the sunset over the ocean, drinking wine, eating delicious food, and even attending Beyoncé's and Jay-Z's "On The Run II" tour in Nice, France.
They have also met with superstar friends like Kris Jenner and her boyfriend, Chris Tucker and Tina Lawson, Beyoncé's mom.
However, the Harveys love to travel as much as they love to have family reunions, so it was only natural when some of the kids joined the couple on their trip. The whole crew has been enjoying their time on a private yacht that took them to several islands on the Tyrrhenian Sea near Italy, like Capri, Positano, and Ponza.
Marjorie, always the proud mom, shared a family portrait on Instagram where she and Steve are posing next to Lori, Broderick, Wynton and his girlfriend Taylor Gordon, and Morgan and her husband Kareem on the deck of the luxurious private boat.
"Family Time in Capri," Marjorie captioned the picture, that portrays the whole family dressed according to the occasion in short and light dresses, sneakers, and t-shirts without losing the fashion touch they're all known for.
We're glad to know the Harveys are having such an incredible vacation while giving us a front row seat to see their adventures.
Please fill in your e-mail so we can share with you our top stories!