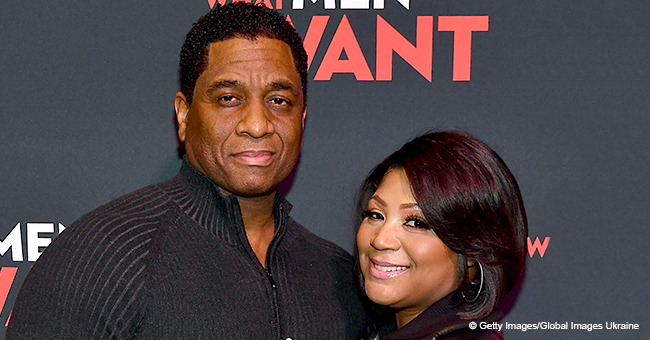 Trina Braxton Opens up about Finding Love Again after Ex-Husband's Death
Trina Braxton recently announced that she's engaged, and now, the reality star explains how exciting and complicated it felt to find love again following her ex-husband's death last year.
Trina knows what it's like to lose in love and so do many "Braxton Family Values" fans who got to watch on TV as her marriage to the late Gabe Solis unraveled.
Now, the singer/TV personality is set to walk down the aisle for the third time and couldn't help gushing about how it felt to fall in love again. She was first married to an unidentified man with whom she shares two sons.
In an exclusive interview with ESSENCE, Trina, 44, described the exact moment she realized she was in love with her fiancé, Von Scales.
THE BIG MOMENT
"He lived in St. Louis, and we talked on the phone all the time. Whenever we didn't, I kind of missed him, you know what I mean?" Trina said. "He's just such a great conversationalist, and I just enjoyed talking to him, and enjoyed his company when he came to visit. I was like, 'Wait, Trina…you like this dude!'"
The "Sister Circle" host also confessed that being friends with her late ex initially complicated her relationship with Von, a former football player.
ECHOES FROM A PAST RELATIONSHIP
Gabe and Trina were married for 12 years before getting a divorce in 2015, and to put it mildly, theirs was a tumultuous relationship. After their divorce, however, the exes became good friends, and when Gabe died of cancer in December 2018, Trina mourned him publicly.
"It was a really difficult time, especially being in another relationship. Sometimes when you are close with your ex, [your current partner] doesn't understand how you can still have a friendship…especially when they've seen the tough times via television. Von had his moments of support. For him, it was difficult to watch his significant other grieve over their ex, but it was more than that because he was my friend and raised my children when their biological dad didn't. At the end of the day, he couldn't help but respect [Gabe] for that."
POPPING THE QUESTION
Von, who reportedly owns a pain management center in St. Louis, met Trina through a mutual friend and the two began dating last year.
When Trina and her family took a trip to Napa Valley, California last month to celebrate her sister, Tamar Braxton's birthday, Von knew it was the right time to pop the question.
"I did this on purpose because your whole family is here and I know how important your family is," Von can be heard saying in a livestream shared by Tamar.
"I did not think at this stage in my life I'd be expanding my life circle. But I was wrong," he continued. "I didn't think I would feel this way about another person at this stage in my life. I was wrong about that too. I love you with all that I have."
TAMAR'S "JUVENILE" REACTION
Trina shared the good news a few days later with an Instagram photo where she leaned against her man's chest and showed off the sparkling diamond engagement ring.
Tamar, meanwhile, initially took offense with Von and Trina stealing her thunder during a getaway that was intended as her birthday celebration. The "Love and War" singer later apologized for her "ungrateful and juvenile" behavior while congratulating the latest engaged couple on their love.
Addressing the incident in her interview, Trina said: "I think it was gracious of her to apologize and look at the bigger picture and the whole scope of things."
Please fill in your e-mail so we can share with you our top stories!