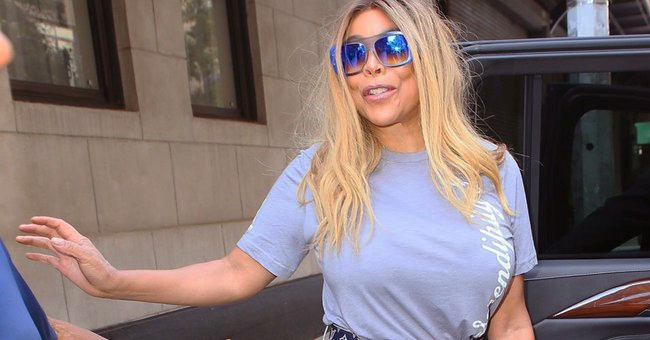 Twitter/JustJared
Wendy Williams, 55, Called 'Too Old' after She Was Spotted in Short Denim Shorts
Wendy Williams is embracing life as a single woman with newfound confidence on her figure, as she recently put her long legs on display wearing a set of tiny denim shorts. However, some people criticized the TV host for the look, as they believe it's not age-appropriate.
Wendy Williams fought the heatwave by wearing a light outfit to go to work on Wednesday.
DAISY DUKE LOOK
According to the Daily Mail, paparazzi caught Williams leaving her apartment in New York City and hopping into an SUV on her way to the " Wendy Williams Show" studios.
The 55-year-old rocked a grey t-shirt that read "Serendipity 8" with a pair of minuscule cuffed denim shorts, fishnets, and a pair of white ruffled sneakers.
She completed the look with a black Louis Vuitton belt that cinched her waist, sunglasses, bracelets, a crocodile Birkin bag, and two other tote bags.
Wendy looked confident and in high spirits, even taking her time to smile and wave for the cameras.
NOT EVERYONE'S CUP OF TEA
Most fans praised the TV host for her summer look, but others slammed her for wearing such tiny shorts, as they deemed the piece unfit for a woman of her age.
"I would have thought that by the age of 55, she would have learned what clothing suits her, and what most definitely does not! I imagine she's dressing for the body she WANTS, and not the body she actually HAS," wrote one user on the Daily Mail article.
And another added, "Don't these people have mirrors??? Stockings, and that short.......seriously. Money really does not give you class."
AN EMOTIONAL TIME FOR WENDY
Wendy's leggy display came just a day after she broke down while talking about her divorce from Kevin Hunter in an interview with "The Karen Hunter Show" on SiriusXM.
Williams filed for divorce last April after it was reported that her husband of almost 22 years had fathered a child with his longtime mistress, Sharina Hudson.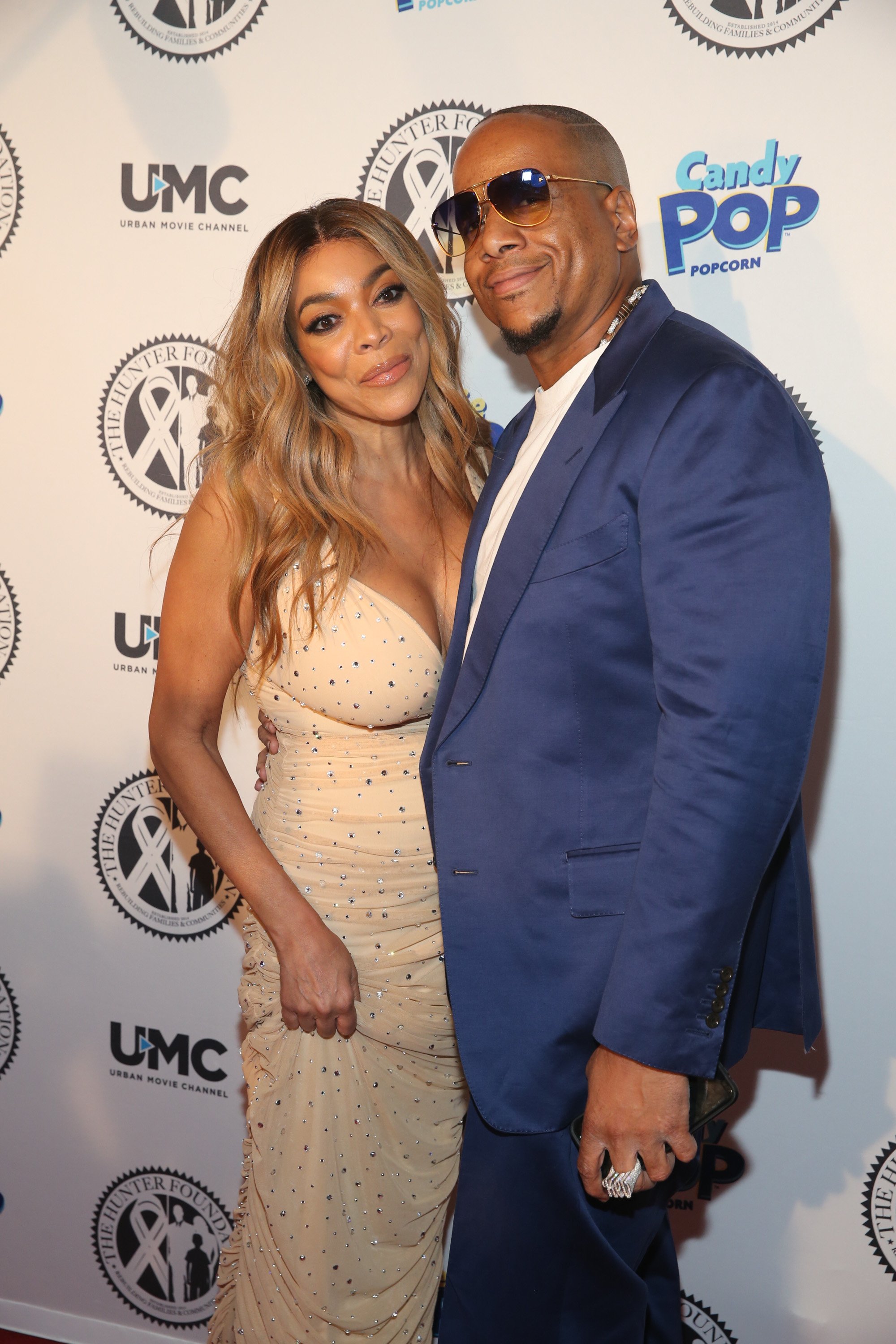 Wendy Williams & Kevin Hunter at The Wendy Williams and The Hunter Foundation Gala on July 18, 2018 in New York. | Photo: Getty Images
And although Wendy claims to be "happy, healthy and at peace with the world," the divorce and her family is still a delicate subject for her.
Williams recently revealed that she's out of the market and dating a black doctor in his 50s that "she's crazy about."
So, when Karen Hunter asked her if she would change her name after the divorce, Williams could barely manage to say, "No. My name is Wendy Hunter - that's my son's name, and you can't take away twenty…" before she got overwhelmed with emotion.
"Don't make me cry," she whispered. Wendy took a moment to pull herself together before saying, "Next," making it clear she didn't want to talk about the situation.
However, Hunter wanted to know if there is a chance for reconciliation between Wendy and Kevin, but the TV host cut her off even before she finished the question, saying:
"No! Don't ask! No! Girl! Don't ask. I know what you're saying. But my family's good, and we'll always be family."
A LOT OF LIFE CHANGES
After filing for divorce, Wendy's life has taken several turns as she gets used to her new reality.
She broke not only the emotional ties with her ex but also the professional ones. Wendy fired him as her manager, as the executive producer of her show, and even dissolved the non-profit organization they had created together years ago.
On top of that, their son Kevin Jr. was arrested after a confrontation with Kevin Sr that allegedly stemmed from a discussion over the divorce. Luckily for the family, Kevin Sr didn't press charges.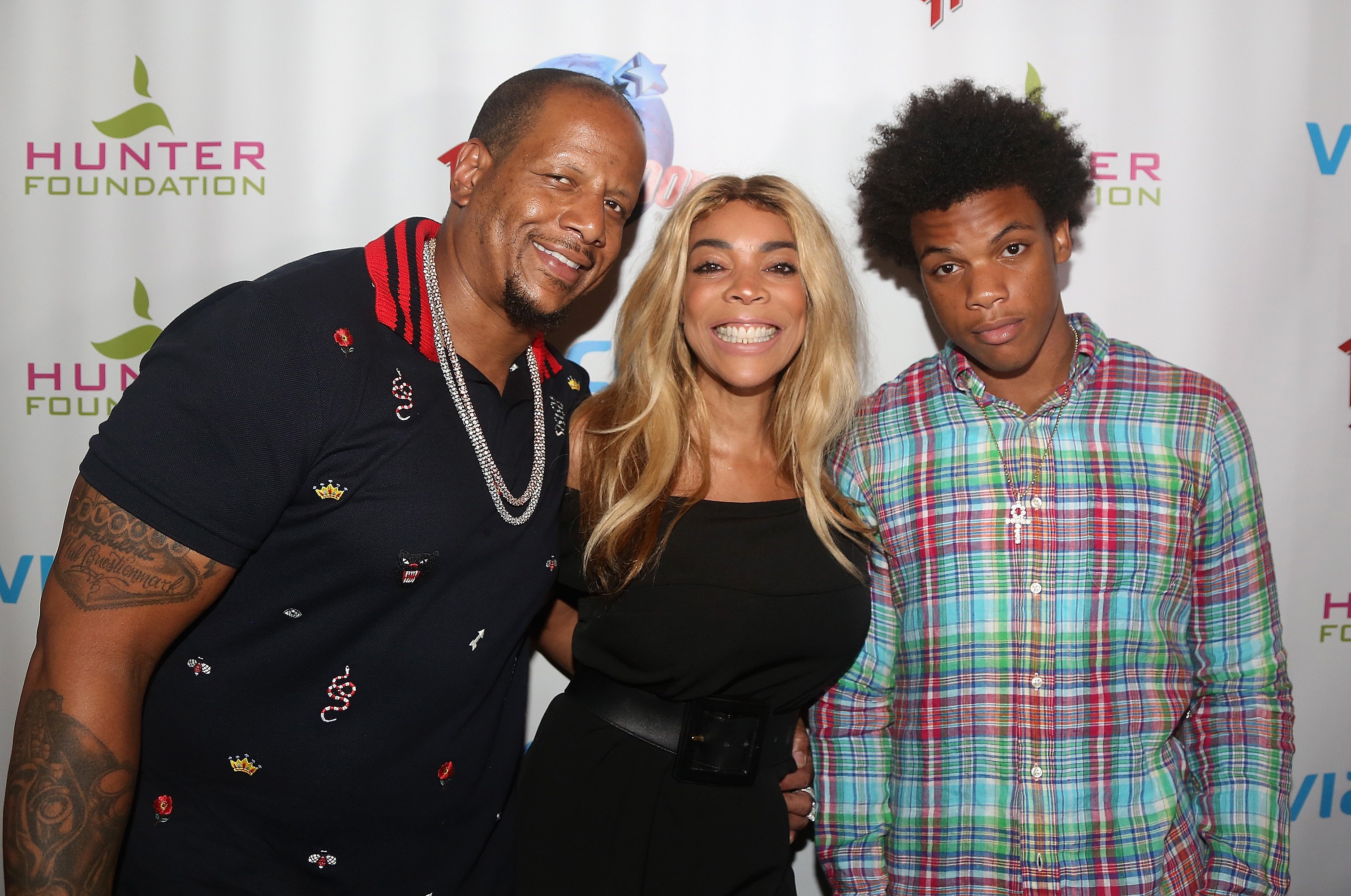 Kevin Hunter, Wendy Williams & Kevin Hunter Jr. in New York City on July 11, 2017 | Photo: Getty Images
But not everything has been negative for Williams.
She recently revealed that she's out of the market and dating a black doctor in his 50s that "she's crazy about." And this week, Lifetime announced they will be developing a biopic on Wendy's life that will show the "highs and lows [Williams] has experienced throughout her show."
Wendy signed on as executive producer for the film, which is set to go into production this fall and air in 2020.
Way to go, Wendy!
Please fill in your e-mail so we can share with you our top stories!