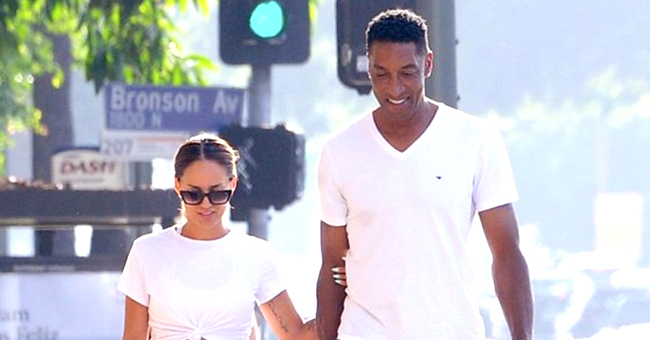 Twitter/thedolcify
Scottie Pippen Spotted with Unidentified Woman after Rumored Mistress Chyvette Valentine Sues Him over Affair Expenses

Scottie Pippen steps out with a mystery woman and appears to be in good spirits following a lawsuit filed by his alleged mistress and with an ongoing divorce with Larsa Pippen.
In the midst of his divorce from his second wife, Larsa Pippen and a lawsuit filed by an alleged mistress from his distant past, Scottie Pippen appears to be dating again.
Photos of him with a mystery woman greeted followers of The Shade Room over the weekend.
HAUNTED BY A WOMAN IN HIS DISTANT PAST
Pippen's post-Larsa life seems to be picking up with a new woman appearing in his midst. This also comes in the heels of a strange lawsuit slapped on him by a woman who claims was his mistress over thirty years ago.
Last month, Chyvette Valentine sued the former basketball star for expenses she incurred throughout their alleged six-year-affair that began in 1987.
Pippen was married to his first wife, Karen McCollum from 1988 to 1990. They share a son named Anton.
According to Valentine who said she wasn't aware of Pippen's marriage until 1988 when he finally admitted it to her in bed on Valentine's Day, she would fly to see the athlete wherever his games were.
This entailed travel and lodging expenses which she alleged Pippen promised to pay back. However, she now reveals it was never repaid.
In her court documents, she's suing for almost $10,000 to cover the unpaid expenses. It's unclear if Pippen already responded to the lawsuit but what's clear is he's dipping his feet into dating again.
Have we mentioned he also has an ongoing lawsuit against a comedian who he accused of trashing his home?
SPOTTED WITH A MYSTERY WOMAN IN HIS PRESENT
Last week, a smiling Pippen was spotted leaving The Oaks Gourmet Market in LA with a woman who matched him in a white T-shirt.
While the NBA star's shirt hung loosely over him, the woman tied the hem of hers to reveal her midsection skin.
Pippen held two bottles of liquor in both hands prompting his date to hold on to his arm instead. They appeared to be sharing a relaxed walk on the way back to the brunette's apartment after their liquor run.
BATTLING WITH HIS EX-WIFE REGARDING THEIR FUTURE
It's been months since Pippen's estrangement from Larsa who filed for divorce late last year. Despite rumors that she cheated on Pippen with rapper Future, Larsa insisted it wasn't like that at all.
It's been a rough divorce for the couple who can't see eye to eye with regard to the date of their separation and whether Larsa should be receiving spousal support.
They do agree though in wanting joint custody of three of their four children. Their eldest is already 18.
Pippen's latest sighting is proof that despite his legal troubles he can still afford to smile. Have we mentioned he also has an ongoing lawsuit against a comedian who he accused of trashing his home?
Read here to find out more. In the meantime, we'll try to find out more about his mystery woman who still remains unnamed.
Please fill in your e-mail so we can share with you our top stories!