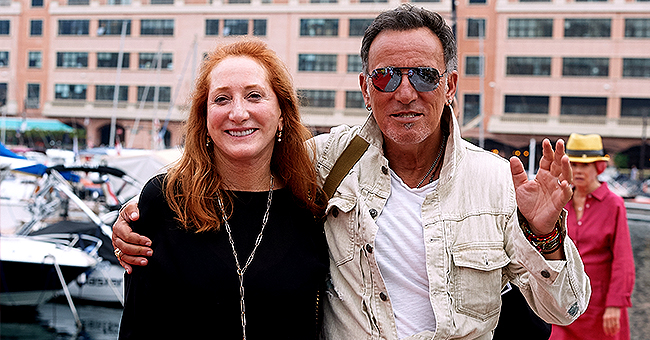 Getty images
Bruce Springsteen & Patti Scialfa Are Proud of Son Sam Who Was Hired as a New Jersey Firefighter

Sam Springsteen, the youngest child of singer-songwriter Bruce Springsteen and Patti Scialfa is now a Firefighter, and his world-famous parents couldn't be more proud!
Scialfa, who is a widely-acclaimed singer-songwriter, took to Instagram to share the news with excitement. That was about three days ago, and the post is a black and white photo of Sam looking a lot like his entertainer father.
SCIALFA DISPLAYS ADMIRATION FOR SON SAM'S "BRAVE HEART"
Although colorless, the picture still looks like a treasured one. Sam, who clocked 25 early January, posed for the shot looking sideways so that his gorgeous side profile is captured.
He looked every bit like the ideal hunky American man with his well-sculpted facial features which are enhanced by his small sprinkling of facial hair. Sam's handsome features do very much to augment the manly air about him.
Although Sam is not walking the same path as his parents, there is no reason for them not to be proud of him.
Aside from being so dashingly handsome, his rockstar mother shared that he has a courageous heart to match. The 66-year-old penned down a short but heartwarming message to accompany Sam's picture.
She disclosed that his brave heart made him strive to earn himself a place among the New Jersey Firefighters. Scialfa wrote in her caption:
"CONGRATULATIONS...You followed your dreams...JC firefighter .. Stay safe .. love your brave heart."
In response, Scialfa's fans took to the comments section to send words of support for Sam as well as voice their admiration.
One fan, @gabbi_e_phillips commented:
"I have high regards for Bruce and Patti for raising such smart, caring kids who are contributing to society in a positive way!"
While another, @angelagunstone wrote:
"Congratulations, Sam. You have such a grounded family Patti, all credit to you and Bruce."
A "HEALTHY DISINTEREST" IN THEIR PARENT'S WORK
The Springsteens are no ordinary family considering that it is that of legendary entertainers like Bruce Springsteen and Scialfa. It is why many may find it surprising to hear that their youngest child has chosen to become a Firefighter.
It is, however, just like the Springsteen couple to proudly support him. While their eldest child, Evan James, 29, is a singer-songwriter like them, their only daughter, Jessica Rae is a fast-rising equestrian champion.
While speaking about his three children during a 2017 interview with the New York Times, Bruce shared that they have never been fans of his work — and that's just fine with him.
The 69-year-old musician quipped:
"I kind of like that, I always looked upon that as that we did a good job."
If nothing else, Bruce and Patti's parenting skills, as well as the ability to keep their union strong and longstanding, will always be admirable.
Please fill in your e-mail so we can share with you our top stories!