Miley Cyrus Gets Hospital Visit from Cody Simpson Who Came with Roses and Sang to Her
Miley Cyrus and Cody Simpson have been inseparable since her hospitalization and surgery she underwent for server pain she was experiencing with her tonsils.
Since being hospitalized for tonsillitis, Miley Cyrus has documented almost every moment that her new boyfriend, Cody Simpson has spent attending to her care.
The couple have been inseparable since Cyrus broke up with her girlfriend, Kaitlynn Carter, over two weeks ago. 
Cody Simpson calls Miley Cyrus 'baby' in flirty selfie https://t.co/YpTubhF6ll pic.twitter.com/RWqjXWJaYY

— Page Six (@PageSix) October 5, 2019
Amid all the speculation surrounding the status of their relationship, Cyrus appears to have confirmed their relationship status. Waiting for Simpson's arrival at the hospital she writes:
"BF coming to visit me @ the hospy."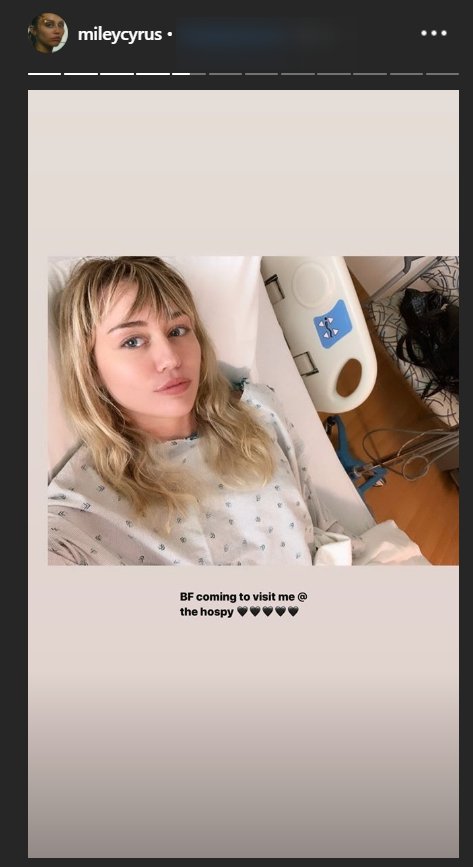 Laying in her hospital bed, Cyrus shared several snaps on her Instagram story of the couple spending time together. With Miley laying on his lap, the Australian singer serenaded her with songs her wrote just for her, he sings:
"I shouted the words in the first daylight and a chorus of words burst into sight. Now I know that I'm hers, for whatever it's worth, by the rule that's in the sky."
Gushing about the song, she teases fans with the possibility of Simpson recording a single for the public to hear, she reveals:
"It's too special to be only heard in full by my ears so I am currently pressuring him to DROP IT next week…& it's working #GoldenThing."
They say music has power to heal anyone and it is definitely having an effect on the ailing singer. While being serenaded she gives a positive update on her health, saying:
"Suddenly I feel much better."
Music is not the only thing Cyrus enjoyed from her hospital bed, the pop star was also greeted her with a bouquet of roses, gushing over her gifts she writes:
"Arrived with roses and his guitar in hand ?#ImNotCrying #YoureCrying."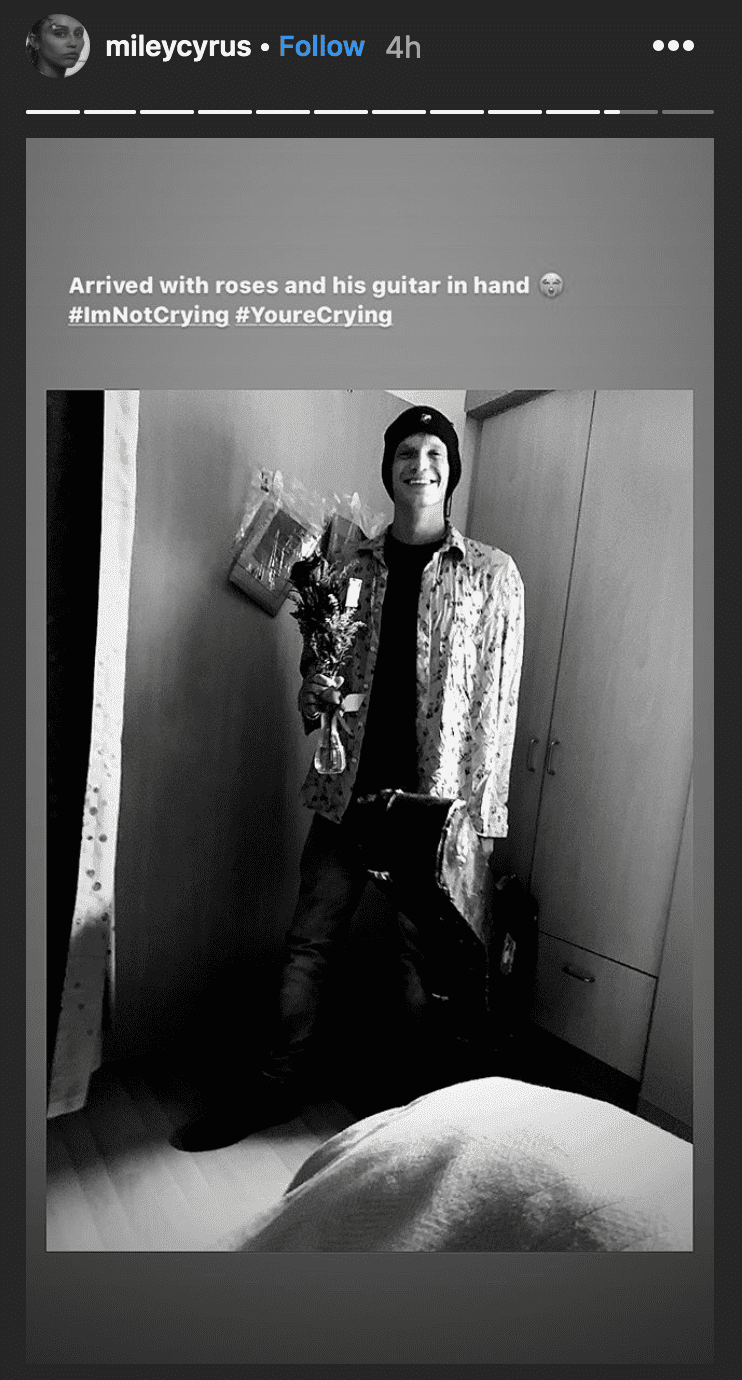 Cyrus celebrated her return home with a mirror selfie of her holding onto a shirtless Simpson, she captions the snap:
"She made it home. Recovering from surgery send all the vibes."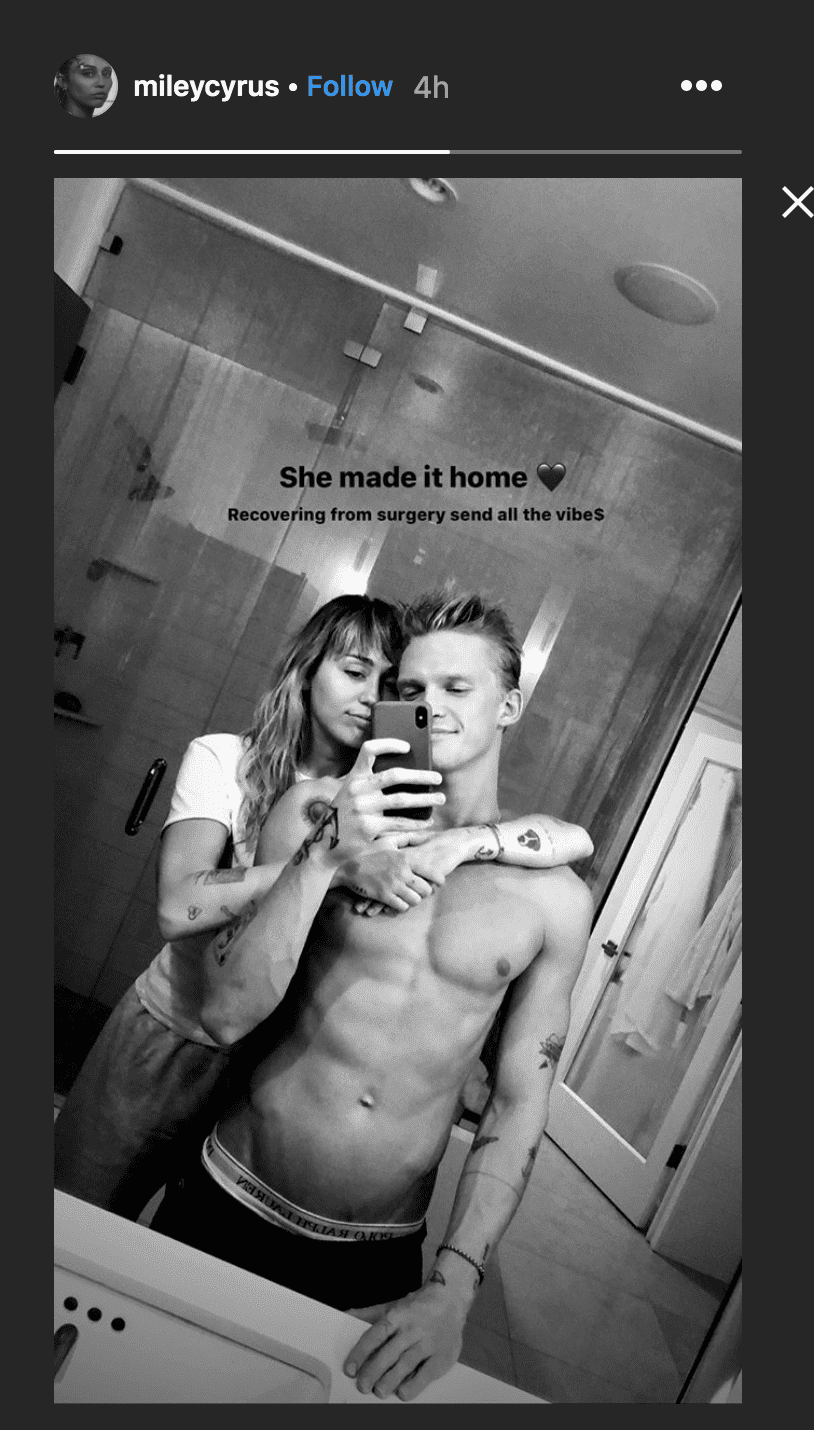 According to E! News, the couple have only been together a few weeks and are having fun. A source reveals that just like her relationship with Carter, she is not looking for anything serious at the moment.
Cyrus, who divorced Liam Hemsworth after being together for 10 years, recently spoke about her relationship with Simpson. She spoke out against people for slut-shaming her. She reveals that dating is new to her and despite people's opinions, she plans on enjoying dating different people.