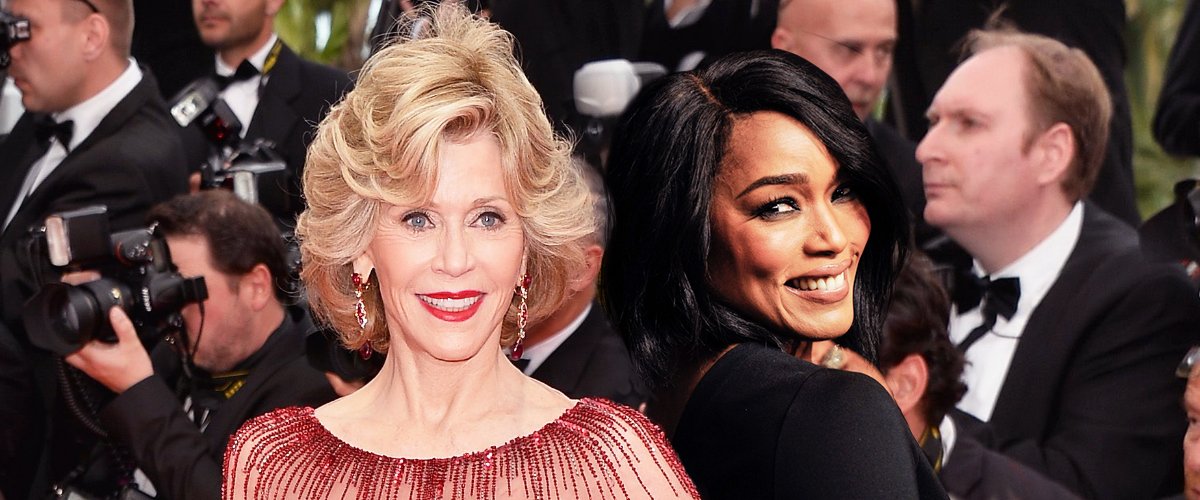 Getty Images
From Angela Bassett to Jane Fonda — Celebrities over 60 Who Are Still Fashion Icons
While some people believe that women over 60 are not supposed to look stylish, famous stars like Helen Mirren, Jane Fonda, and Angela Bassett are here to prove them wrong.
In order to make clear that every woman can look stunningly gorgeous regardless of their age, we exclusively interviewed fashion blogger Tulchinska Mayya, who broke down some of the outfits and fashion styles of six of our favorite celebrities over 60 years old. This is what she said.
If the mirror says everything is ok, then age doesn't matter.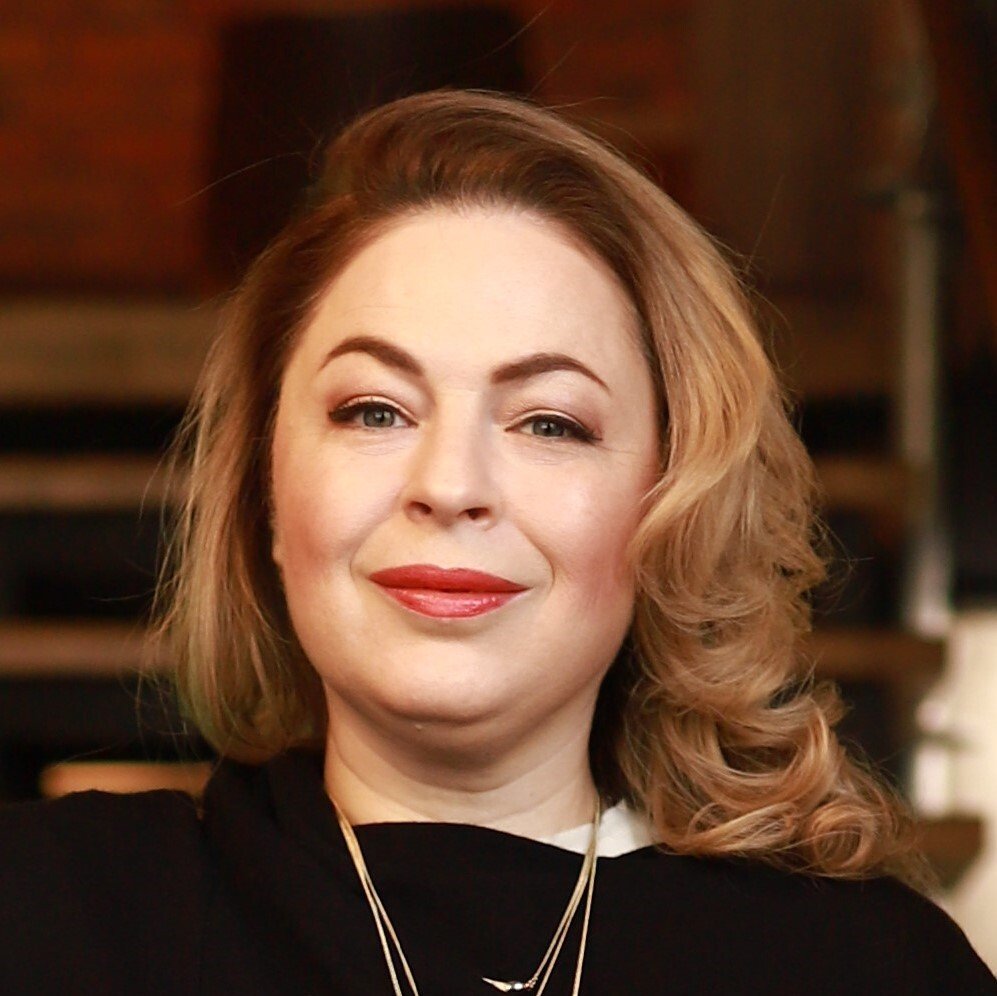 Fashion Blogger Tulchinska Mayya | Photo: Courtesy of Tulchinska Mayya
Some women over 40 believe that it is too late for them to dress fashionably, but those who are really into fashion know that age means nothing. They remain style icons even if they are way over 60!
Many women follow fashion trends and, at the same time, maintain their own unique style cherished over decades. And this ability to choose from a variety of fashionable clothes only the ones that fit perfectly is a sign of really mature fashionistas.
The fact that they do not refuse to experiment with, sometimes, bold or even extravagant and unexpected pieces only emphasizes their stable, balanced style. Also, the scale of their personality is such that anything they wear adjusts to them — not vice versa.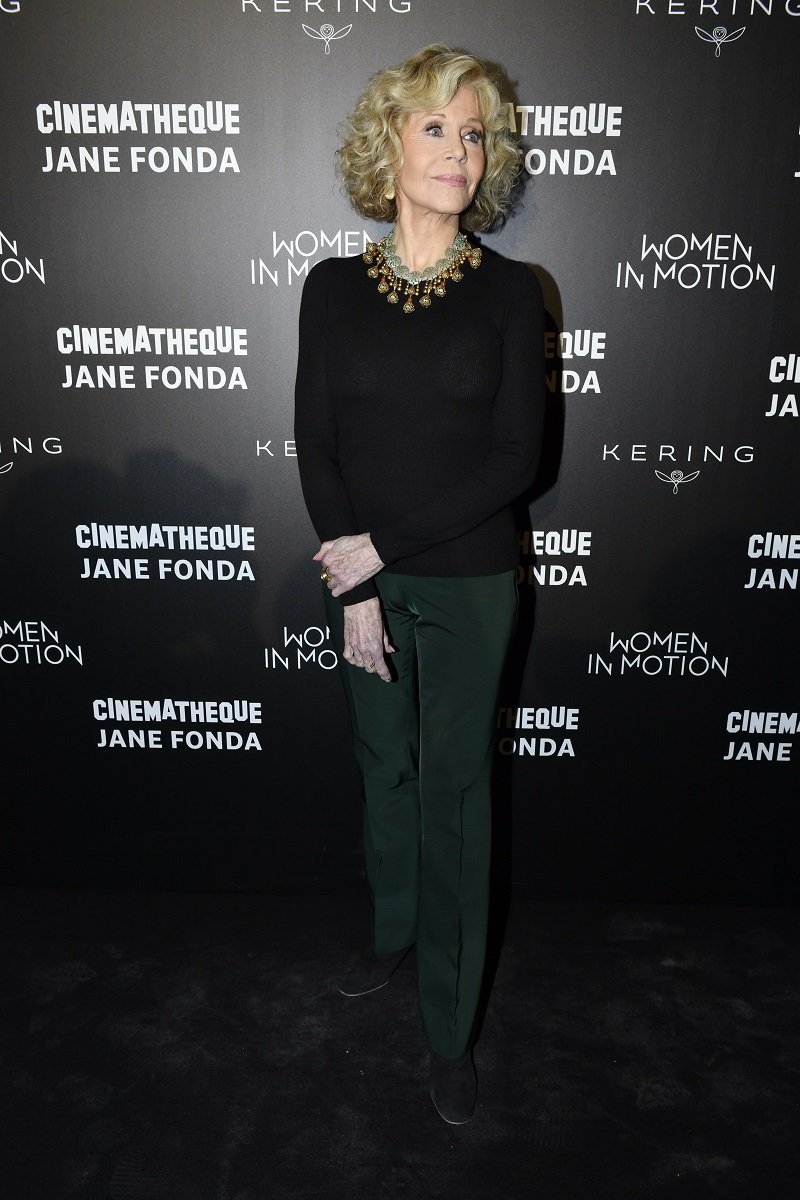 Jane Fonda on October 22, 2018 in Paris, France | Photo: Getty Images
JANE FONDA
Although it is difficult to believe just by looking at her impressive posture and slender figure, Jane Fonda is 82 years old.
She managed to wear everything that the capricious fashion of the second half of the 20th century had to offer: mini-skirts of the 60s and flared trousers from the 70s; neon colors and wide shoulders from the 80s; and the glamor of the 90s. But, if you look closely at her style in recent years, she mostly prefers trousers suits.
Jane does not hide that she had hip and knee surgeries. Perhaps that is why she hides her legs and wears mostly trousers. For evening outings, though, she opts for floor-length dresses.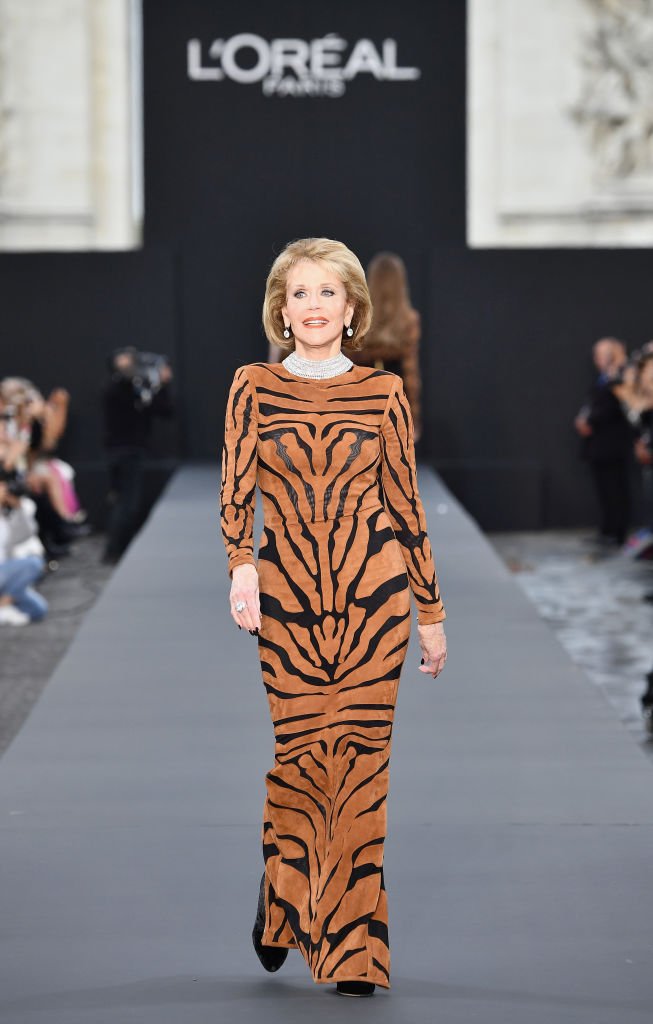 Jane Fondal on October 1, 2017 in Paris, France | Photo: Getty Images
But the fact that she has to cover her legs does not interfere with the style. Instead, it does the opposite! Jane fits any pants — tight, straight, or wide.
She can wear them with fitted jackets to show off her perfect fit, or with long, oversized cardigans and capes that create a more relaxed silhouette. Soft colors and textures add a luxurious gloss, and despite the pants, her photos remain incredibly feminine.
Jane Fonda is one of those gorgeous women over 60 who convincingly proves that there is no age in fashion. This year, Jane Fonda posed for a fashion magazine wearing an Alexander McQueen suit. It looks equally exquisite, stylish, and appropriate both on the model — in her blossoming 20s — and on Fonda — in her experienced 80s.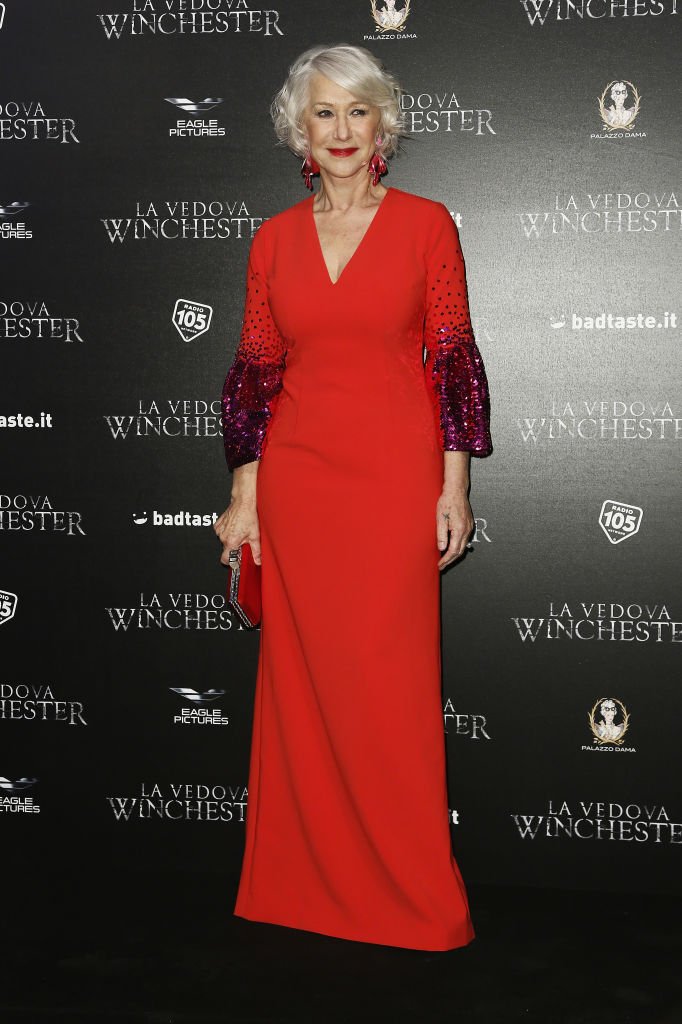 Helen Mirren on February 13, 2018 in Rome, Italy | Photo: Getty Images
HELEN MIRREN
Another example of a woman for whom fashion has nothing to do with her age is British actress Helen Mirren. Even in her 70s, she attends Fashion Week shows as a guest and participates in fashion shows and photoshoots as a model.
She often prefers dresses with a deep neckline and silhouette, gently hugging her figure for evening outings. Helen is not afraid of bright colors, trendy prints, trendy details, and jewelry.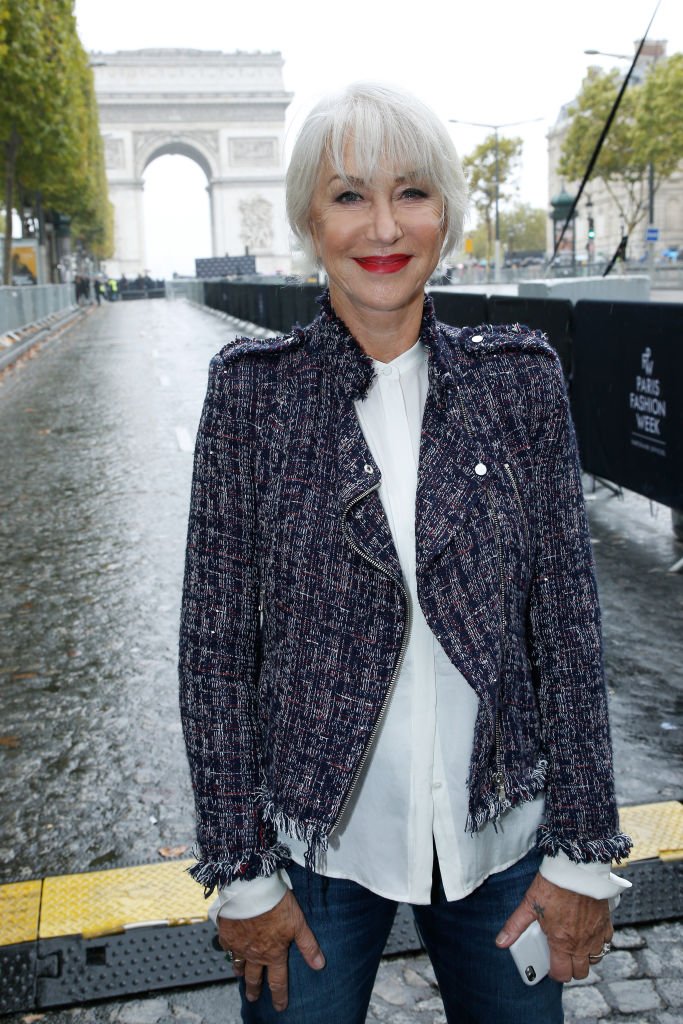 Helen Mirren during Paris Fashion Week on October 1, 2017 in Paris, France | Photo: Getty Images
In general, she wears everything that modern 30-year-old women would wear. At the same time, Helen Mirren does not hide her age at all. She takes care of her gray hair but does not dye it with any "younger" colors.
Helen certainly cares about her face, too, but does not resort to aggressive changes. She does not strive to look 25, or even 45, at 75. She looks like a beautiful, ageless, well-groomed woman whose age does not matter.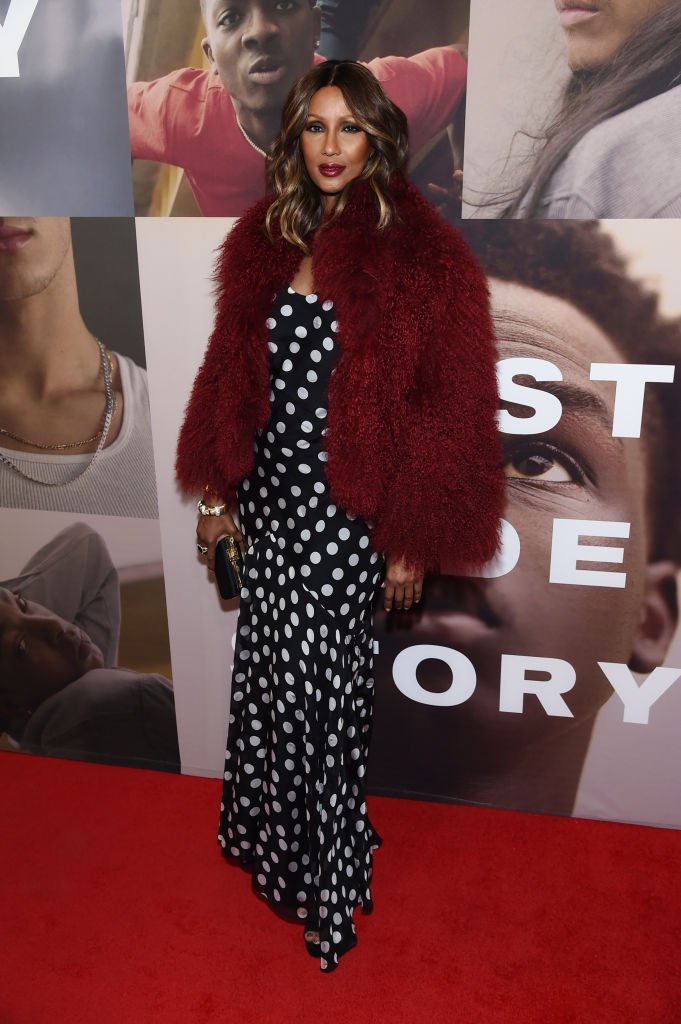 Iman on February 20, 2020 in New York City | Photo: Getty Images
IMAN
Iman is a beautiful, ageless woman, as well, and it is impossible to take your eyes off her. At 65, the famous supermodel looks absolutely stunning and, theoretically, can afford to wear any style and fashionable antics.
But apparently, over the decades in the fashion industry, she has managed to try on every possible trend and already got a little tired of them.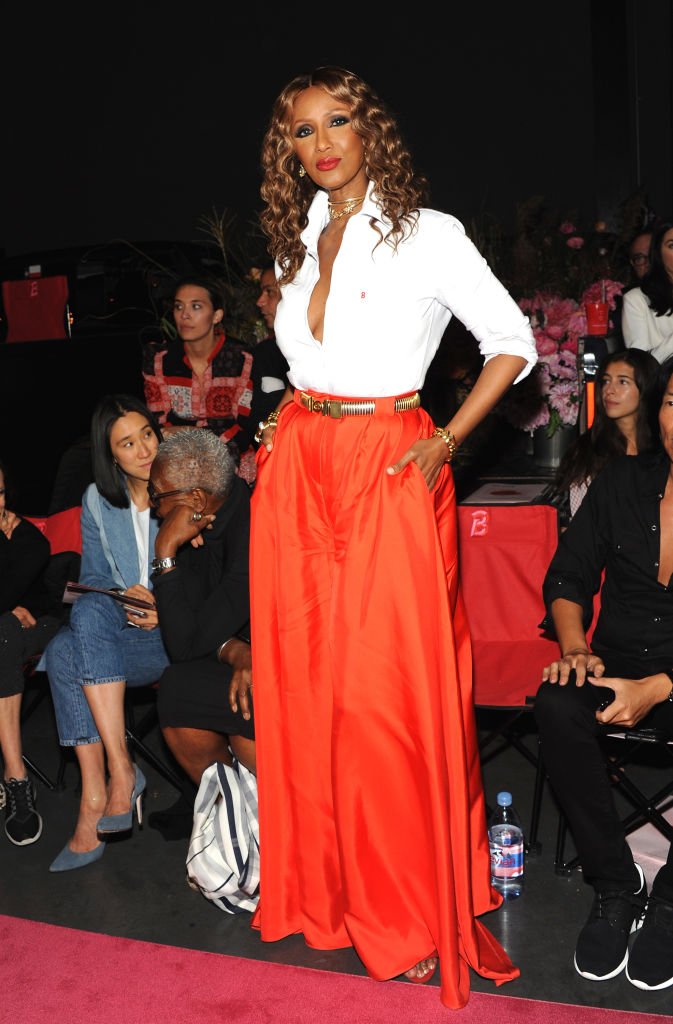 Iman on September 8, 2018 in New York City | Photo: Getty Images
Now, her personal image tends to be more like a laconic luxury. Simple at first glance, her silhouette is supported by perfect fits and noble fabrics.
Timeless, classic cuts convey unparalleled elegance. Delicate jewelry on her neck emphasizes exquisite restraint. The harmony in her photos is skillfully calculated to millimeters in the depth of her neckline and the length of her skirts.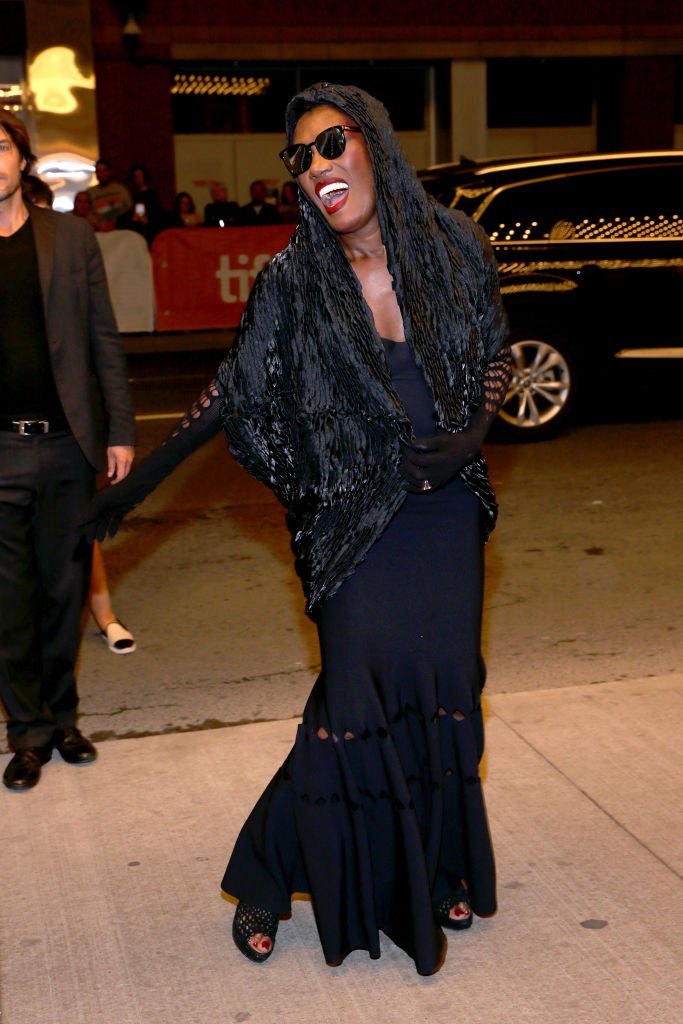 Grace Jones on September 7, 2017 in Toronto, Canada | Photo: Getty Images
GRACE JONES
Iman's complete opposite is Grace Jones. She also conquered the catwalks back in the 80s, but, unlike Iman, her style is not about refined elegance but provocative shock. And she doesn't change it even at 72!
Massive jewelry and glasses, her signature dark range, and her favorite caps and hats create unique, lively images in which she cannot be confused with anyone. Staying true to your style while keeping up with the times and not looking archaic is not easy.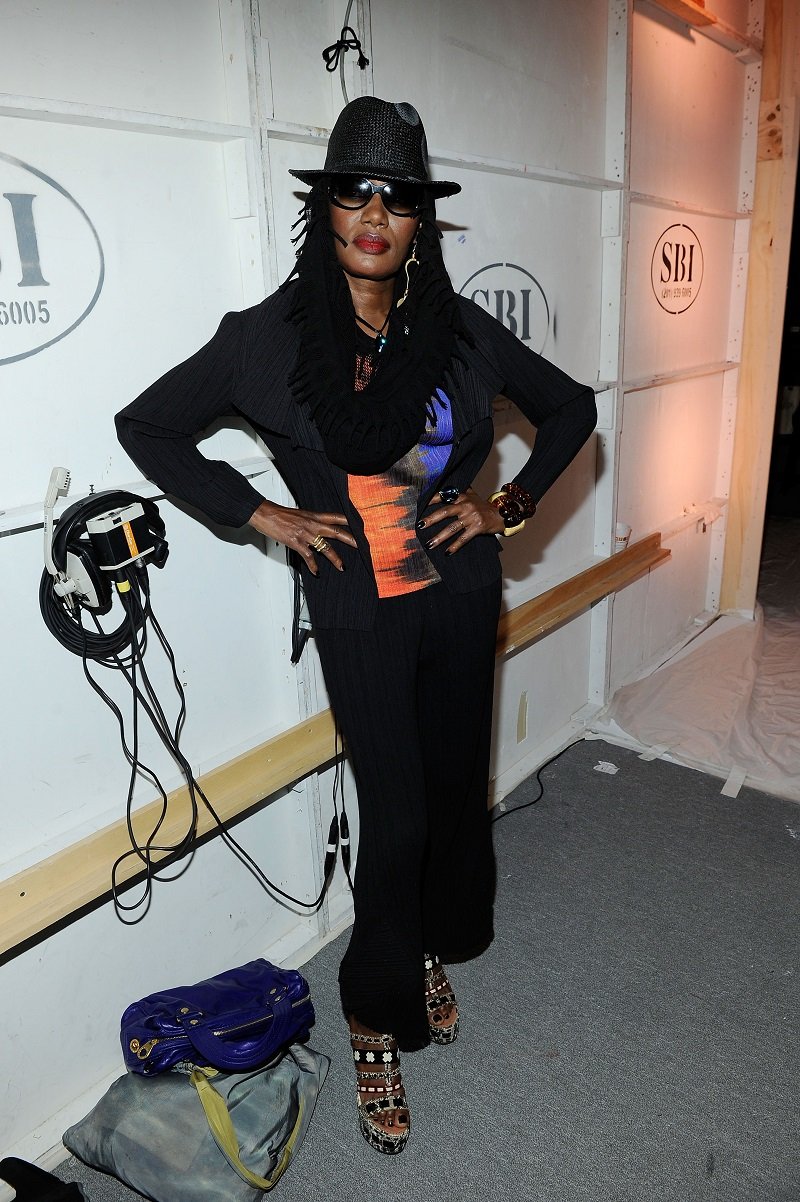 Grace Jones on September 10, 2010 in New York City | Photo: Getty Images
Many women stick with their souls to clothes and hairstyles that suited them and were relevant more than 30 years ago, so they end up wearing outdated styles of skirts and old-fashioned haircuts, making them look even older than they really are.
But Grace Jones is not like that. Her bold, sometimes ironic pieces of clothing look amazingly modern.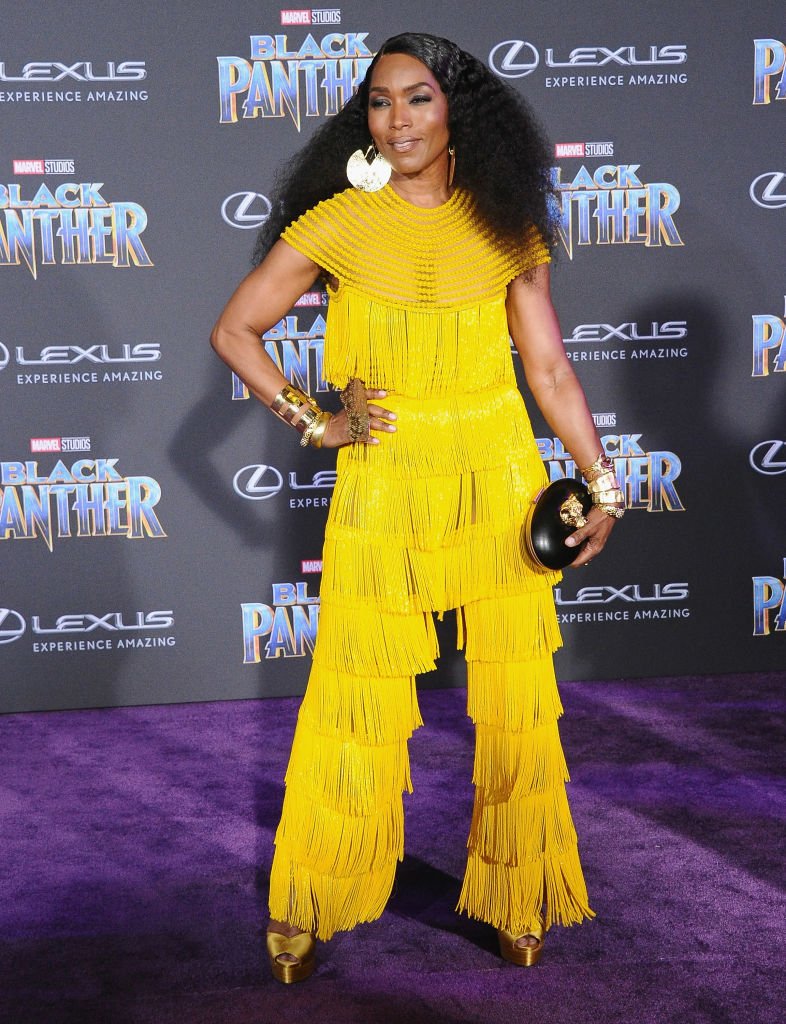 Angela Bassett on January 29, 2018 in Hollywood, California | Photo: Getty Images
ANGELA BASSETT
Angela Bassett is also well aware of this, and she is constantly experimenting with fashionable antics!
At 60, she wears a jumpsuit with bright yellow braids on a translucent cover and deliberately poses for photographers so that the braids fly in all directions. Who could have imagined such a bold behavior coming from a woman her age 20 years ago!
But, nowadays, women over 60 like Angela Bassett are convincingly proving that age is just a number on a paper. And when it comes to choosing a dress, you don't need to look at the numbers but the mirror. If the mirror says everything is ok, then age doesn't matter.
Angela Bassett on September 14, 2019 in Los Angeles, California | Photo: Getty Images
Sequins, bright prints, rich colors, bold necklines, and slits on skirts — all this looks incredible on Angela. Particularly because she skillfully compensates for her small stature with platform shoes and high heels.
Of course, these shoes are not supposed to be worn every day. But for Angela Bassett's stunning red carpet looks, it can come in handy.
Judy Dench on May 20, 2019 in London, England | Photo: Getty Images
JUDI DENCH
Lastly, let's take a look at Judi Dench. In the papers, the 85-year-old British actress is older than all of our other celebrities, and she also looks older than them.
Contrary to the rest, Judi Dench looks pretty much like most older women. But she has invented a personal style that suits her body shape perfectly.
Simple cuts, but precious fabrics; layered sets with luxurious jackets; blouses and capes that form an elegant silhouette; delicate colors; glossy textures; a sense of luxury; and celebration of life!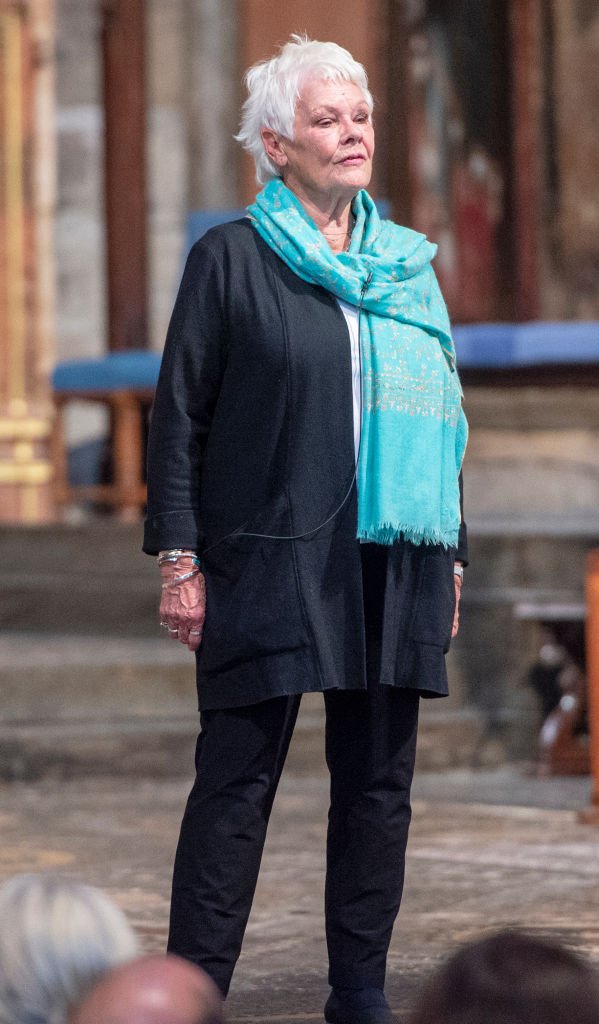 Judy Dench on September 11, 2018 in London, England | Photo: Getty Images
Another stylish idea from Judi Dench is a modest and laconic black suit and a bright, absorbent scarf slung over one shoulder. It's not just a colorful feature that brings the outfit to life; it is also a vertical line that is very useful for the actress' short silhouette. And this is a perfect sign of her personal style.
Six different women over 60, six different styles. They have one thing in common: they clearly agree with themselves and their age. They do not mourn their beauty from the past but create a new one. They do not think that all the best in them was already left behind but celebrate every day of their lives — and every new fashionable outfit!
Please fill in your e-mail so we can share with you our top stories!