AmoMama Exclusive: How Breast Cancer Warrior Started Inspiring Book 'Courage' as Comfort for Fellow Survivors
October is International Breast Cancer Awareness Month, so we exclusively interviewed Dr. Mariam Seedat Khan to learn more about her personal battle and gain insight into her new book collaboration. 'Courage' is penned by and for cancer survivors and their close families who describe their physical struggles with the big C and the journies of introspection they were forced to undertake during this dark period in their lives. 
Dr. Mariam Seedat Khan is a highly trained Clinical Sociologist, one of only 40 internationally certified Clinical Sociologists in the world who is accredited and certified by the Association for Applied and Clinical Sociology (AACS). 
"I want to tell other people's stories. I want to use my skills as an academic and as a writer to bring their stories to life."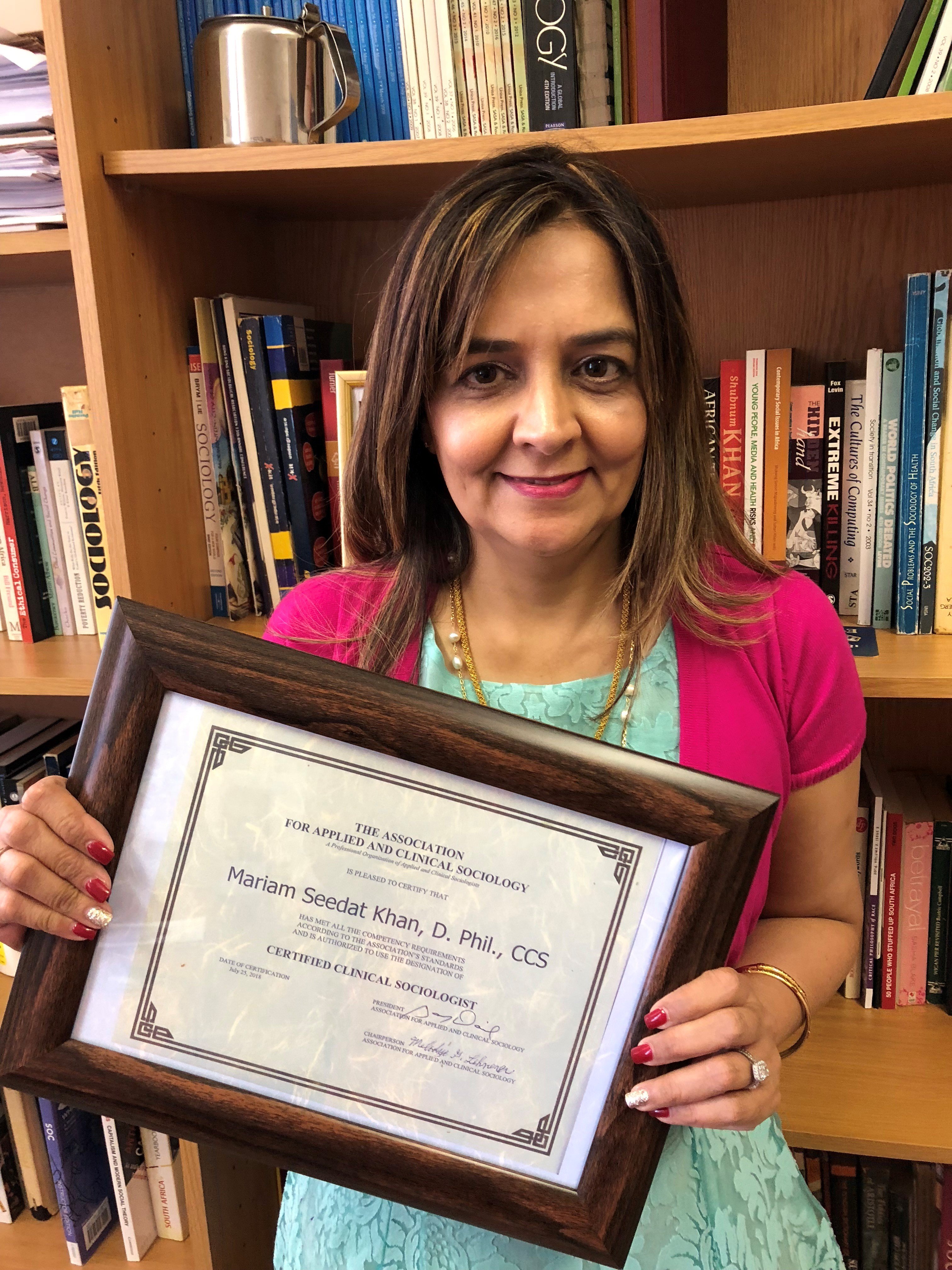 Seedat Khan is no stranger to throwing her hat in battle. Born in South Africa during the apartheid-era, she emigrated to Canada in the 1980s where she successfully graduated with a degree in Sociology and Political Science at the prestigious York University.
Returning to South Africa after the release of Nelson Mandela, Mariam worked as a volunteer for one of South Africa's most prominent female sociologists and activists, Professor Fatima Meer, at the Institute for Black Research (IBR) while completing her postgraduate degree, earning her Ph.D. in 2006. Here is her story.
Why did you decide to go to the doctor?
I am pedantic about my and my family's annual health check-ups. So my routine annual mammogram was never a cause for concern. I had no symptoms at all, there was no visible sign of a lump. 
In fact, I was feeling great, my sons had, with great difficulty, successfully coaxed me into a gym routine, I was on sabbatical and everything in my life was smooth sailing. My youngest was in matric [senior year], and I was excited about the prospect of the end of school runs.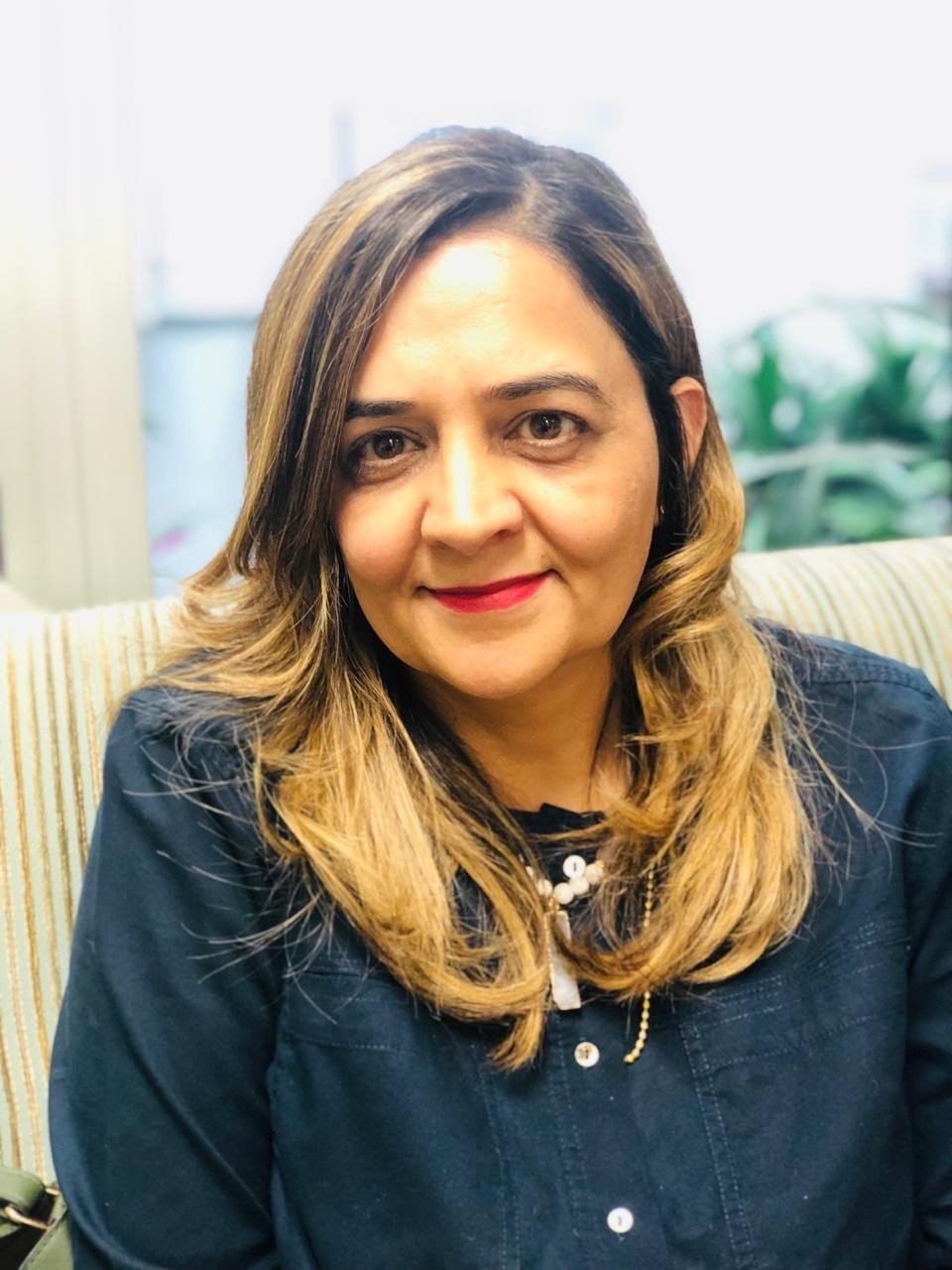 "You see, I am the mum that never missed a single school event unless, of course, I was out of the country for work." 
My gynecologist had conducted a physical exam post mammogram and pre-biopsy. She could not find anything suspicious.
Has any member of your family been diagnosed with breast cancer before?
My maternal side of the family has had many cancer diagnoses. My maternal grandmother's sister was diagnosed with breast cancer in her late 70's.  
When were you diagnosed with breast cancer? 
Tuesday, 14 May 2019. 
What was the diagnosis, and how did your doctor explain it to you?
My gynecologist explained ductal carcinoma in situ (DCIS), but it was like listening to a story about someone else. This was not meant to happen to me. I had followed all the rules: regular check-ups, monthly examinations, exercise, and diet.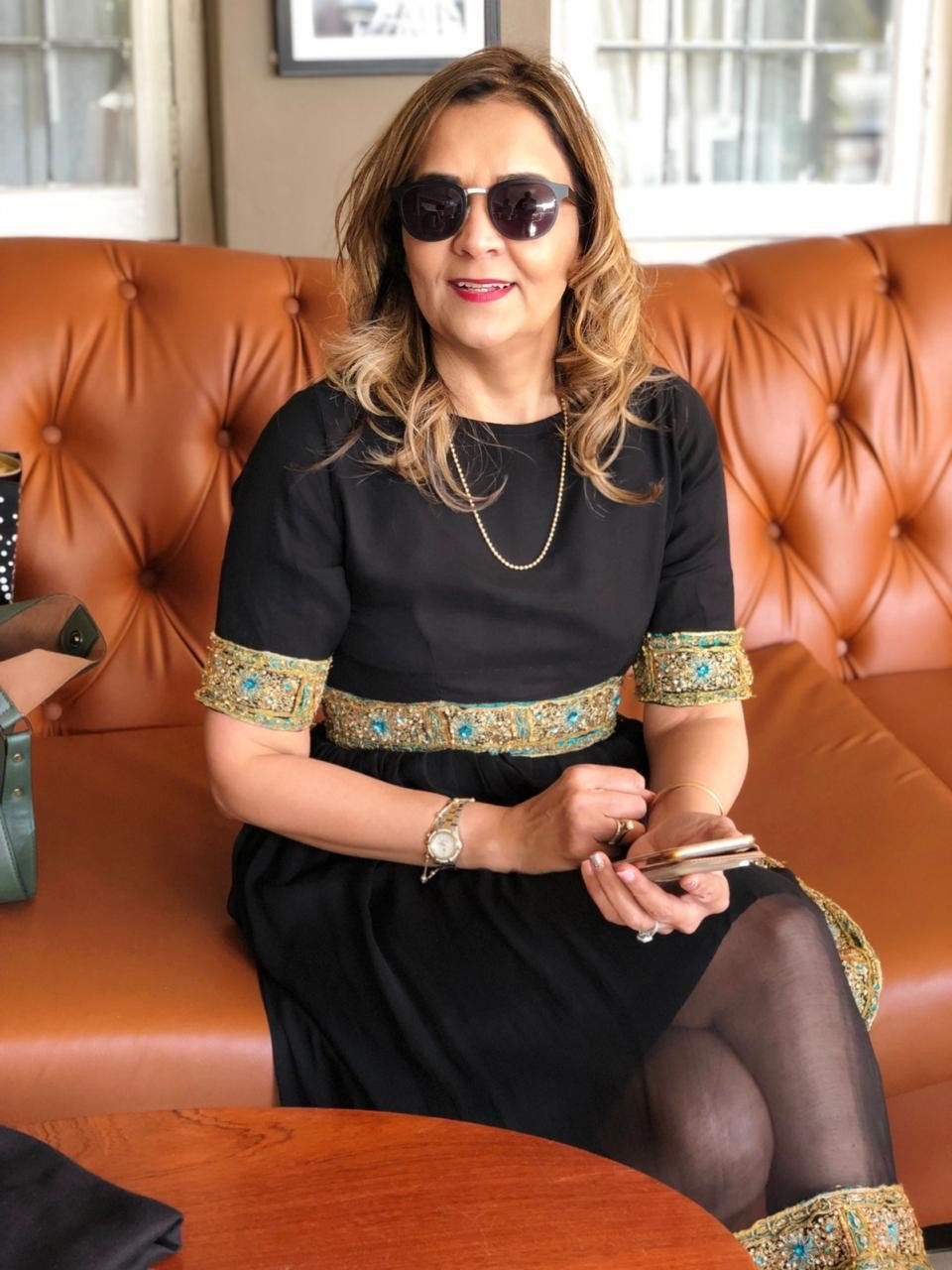 What had gone wrong? I tried to remember if there was family history – none came to mind. I went into warrior mode within minutes of hearing my diagnosis with my husband and best friend at my side.
I received feedback after my annual mammogram which had resulted in a biopsy. Unfortunately, the subsequent lab results confirmed a diagnosis of ductal carcinoma in situ.
Thankfully, it is operable, and I wanted to act swiftly, so I visited a Specialist Surgeon the same afternoon and he performed an operation the next day to remove the affected cells. 
What did you feel at that moment?
When I was in my gynecologist's rooms and she gave me the diagnosis...I was not phased; I thought she was going to, I don't know, give me some news about menopause or something like that. So when I went in, she said to me,
"Sometimes the universe gives us signals to slow down...[T]hey found something, it's not's cancer, it's pre-cancer."
I disagree with that! There is no such thing as "pre-cancer." You either have cancer or you don't. She said we have options and we can wait and watch.
The first thought that went through my mind was, "I cannot be sick, my baby [Ameer] is in matric and he needs me! I've got to get this sorted out."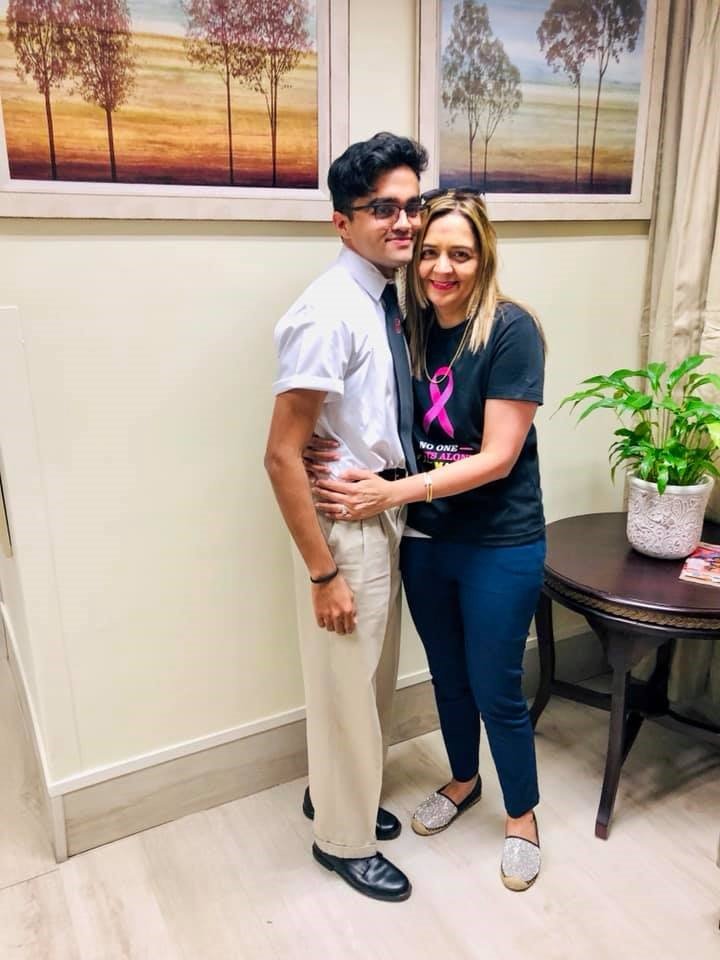 I did not allow myself to get all teary-eyed and emotional; I come from a long line of strong women and I gathered the courage of the women that came before me and decided that I was going to go forth and conquer. 
Instead of waiting the suggested two weeks, an impatient Mariam insisted on getting an appointment immediately and having a lumpectomy the next day. A choice that might have saved her life.
As luck would have it, the lumpectomy showed that it wasn't DCIS as suspected - it was Stage 1A Invasive Cancer and she required a sentinel node biopsy to determine if the cancer had spread into and beyond the lymph nodes.
Please tell us about the different stages of treatment you went through.
Mammogram
Vacuum Biopsy
Lumpectomy
Sentinel Node Biopsy
Radiation
Hormone suppressant therapy
Three-monthly blood tests, CT scans, ultrasounds, X rays, bone density, and an annual PET scan
Regular visits to the oncologist
What was the most difficult thing to experience during the treatment?
Admitting that I could not operate at lightning speed. The fear and distance that people create because of their fear of cancer.
"I decided that I want to do the book but I thought it was a bit selfish - about me, myself, and I - so I thought of a way in which I could make the stories more inclusive and diverse."
Who supported you during your treatment?
My husband [Alan] did not miss a single appointment; he was there for every blood test, every scan. He was my greatest supporter. He kept my spirits up. He'd always make it exciting, like, "Let's go have a cup of coffee before radiation," or "Let's go to your favorite restaurant." He was always trying to put a positive spin on things.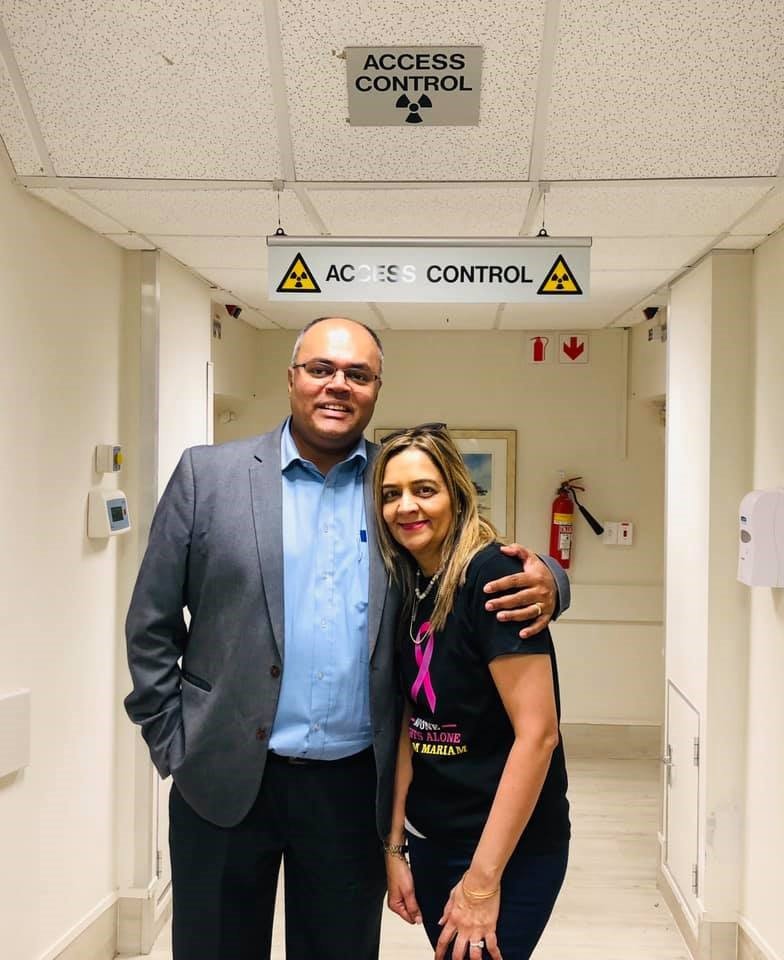 My two amazing boys [Nasser and Ameer]. My boys designed a logo, along with their dad, for a campaign/awareness: "#TeamMariam - NoOne Fights Alone" and everyone in the family had one of these T-shirts; I wore it to radiation.
[M]y housekeeper Toby, my mum, Reyhana, my friends, my siblings, my nephew Mikhail...I just had so much love, I mean, family near and far, messages every day. 
I remember that when we decided to go public with the diagnosis and the awareness campaign, every day, I would either put up an update or Alan would put up an update; I would receive messages from lots of people, family, cousins, local, abroad, friends, colleagues.
One of my daily messages always came from [the now] late Farouk Khan, journalist extraordinaire, and [he] would send me the kindest messages[...]asking me about how many words I'd written for the book. Little did I know that a couple of months later, he too would be diagnosed with end-stage cancer.
How did your life change after that? 
I suppose I always knew life could change in an instant. Now, I work harder; I love more, I live more. I try to be kinder every day. I try to be better every day. I speak my mind more freely, kindly, but more freely. I do things that I want to do. I don't make excuses for not doing things.  
I have created support groups for women diagnosed with cancer. I take calls from people [recently] diagnosed because they need somebody who lived through it.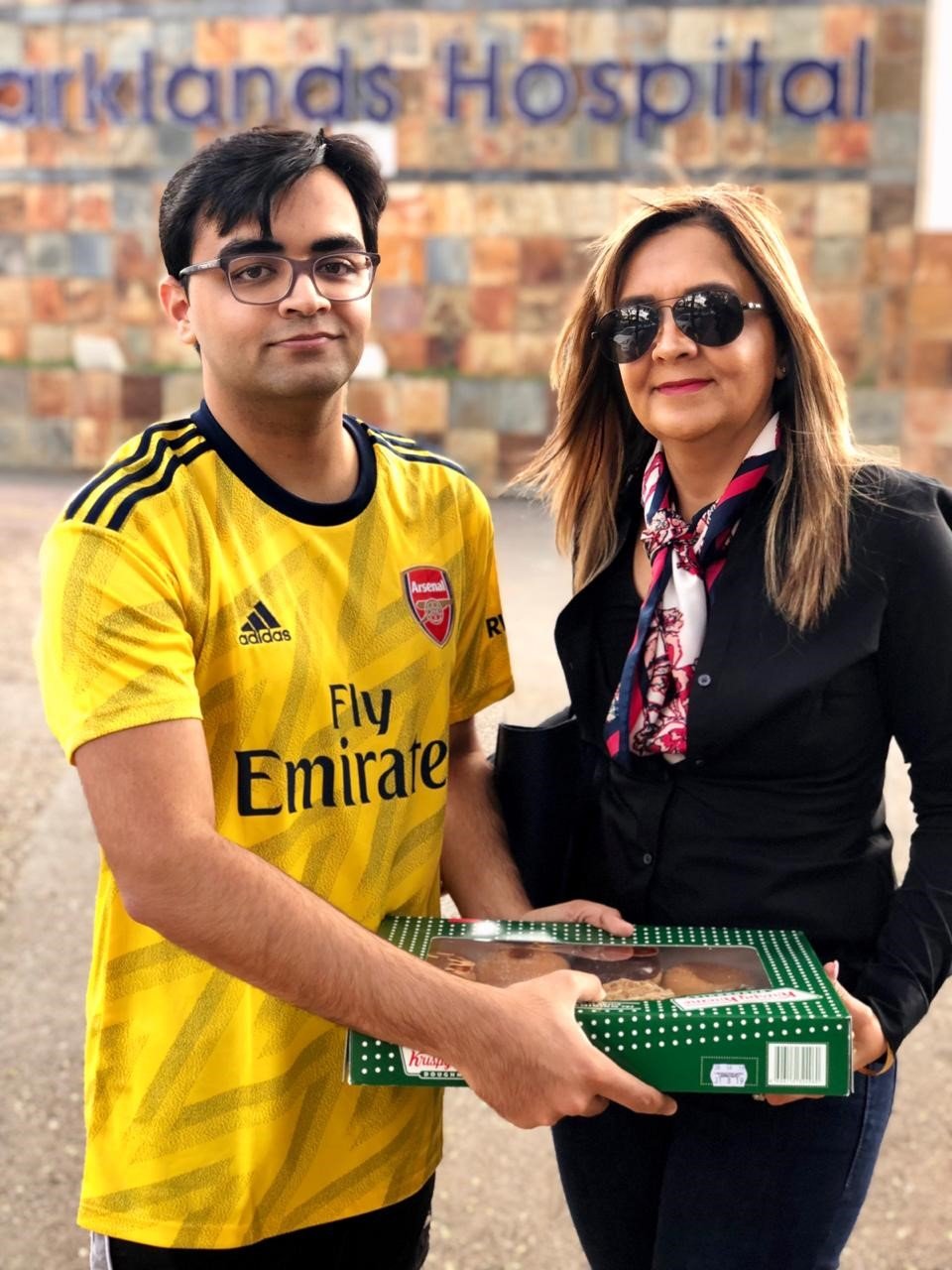 If you could know then what you know now, how would that have changed your reaction, perspective, or treatment plan?
I would not change a single thing. I spoke to three oncologists before I decided on Riaz Mall. I wanted an oncologist who would be invested in my recovery. And boy, did I make the right choice! Amazing bedside manner and everyone at the Hopelands Cancer Centre is awesome, amazing, supportive.
Your personal battle motivated you to write a book. What is the primary objective you want to achieve with your book? 
The book "Courage" is a long time in the making. I've written bits and pieces but it never came together 'cos I was so hyper-focused on publishing academic articles for work, and I almost felt like I had to catch up after taking 4 months to take care of my health.
I decided that I want to do the book but I thought it was a bit selfish - about me, myself, and I - so I thought of a way in which I could make the stories more inclusive and diverse, and together with Shabnum [Moosa], I put out a call.
I want to tell other people's stories. I want to use my skills as an academic and as a writer to bring their stories to life. There are stories from partners, from children. Our first submission was from an awesome young lady – 10 years old - and her story is about her experience as a 7/8-year-old whose mother experienced cancer.
"And sharing my story and the stories of other women – I hope it's a source of comfort." 
I'm very excited about it, and we've just extended our deadline to the end of October because there's so much interest. We're hoping to have the book published by April next year.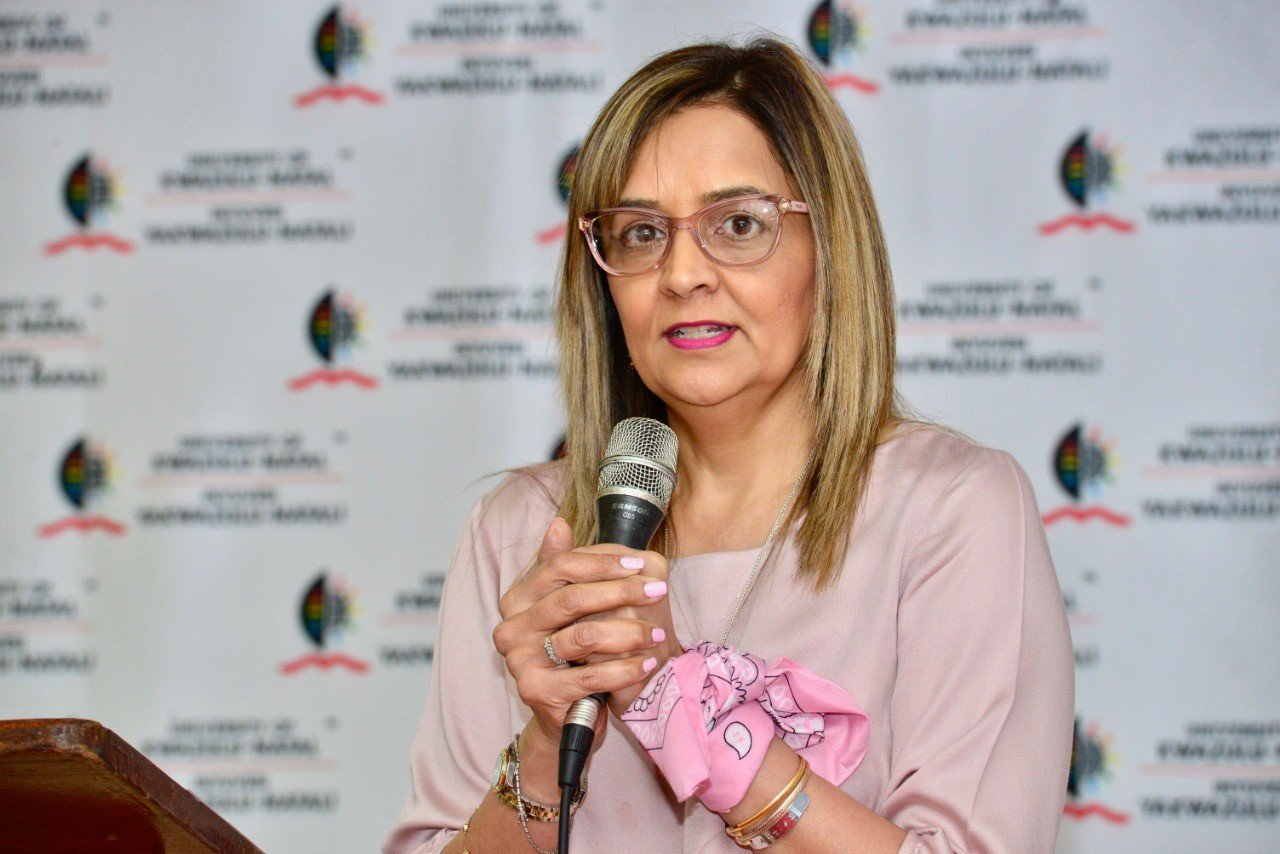 What would you say is the best way people can support breast cancer patients going through treatment?
Reach out to people. Because often we stay away because we don't know what to say and we're afraid. Pick up the phone and say, "I really don't know what to say. How can I help you? What can I do to make it better?"
There are benefits to the time that I was having my treatment: I did not cook for 4 months. Friends, family, family-friends would deliver food to my home. It was awesome as I am not a fan of cooking!
I received religious support from friends of all religions: from the Greek Orthodox church to the Catholic church, to Buddhists, to Taoists, to Muslims - I received water and oils and everything you can possibly think of, and I embraced it all, and respected it all, and valued it all. And it meant so much to me.
Strangers reached out to me. Friends became family, and the family was amazing. Friends in the mental health field made sure I was talking all the time. 
The hard part about treatment is that it's hard on your kids and it's hard on your partner, but I think it's hardest on your parents. I saw my mum age dramatically. She did her very best, and she prayed like she'd never prayed before. She supported me by talking to me and calling me and being there for me.
I got lucky.
Seedat is a daughter, sister, wife, mother-of-two, academic, practitioner, researcher, teacher, and facilitator, and now, she is also a cancer-free warrior after conquering the disease in 2019. But ringing the bell doesn't mean she has stopped fighting. She implores readers to:
"Please go for your mammograms. Early detection saves lives... It saved mine."
ⓘ The information in this article is not intended or implied to be a substitute for professional medical advice, diagnosis or treatment. All content, including text, and images contained on, or available through this NEWS.AMOMAMA.COM is for general information purposes only. NEWS.AMOMAMA.COM does not take responsibility for any action taken as a result of reading this article. Before undertaking any course of treatment please consult with your healthcare provider.