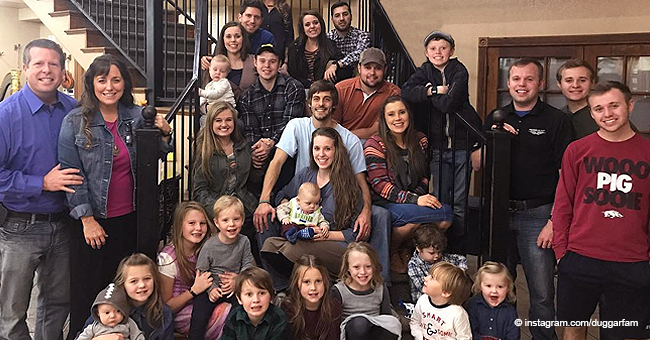 Duggar Family Tree: Jim Bob and Michelle's Children and Grandchildren
Jim Bob, Michelle, and the rest of the Duggar family have garnered hundreds of thousands of followers over the last decade thanks to the TLC shows they have appeared: "19 Kids and Counting" and "Counting On."
However, the family has so many members that almost nobody can identify all of the 19 children. Worse, some of them have already gotten married and welcomed children, which makes the task even harder.
Thankfully, here's a detailed Duggar family tree to help fans to stay tuned with Jim Bob and Michelle's children and grandchildren.
JIM BOB AND MICHELLE DUGGAR
Jim Bob, the patriarch of one of the most famous families in the US, was born July 18, 1965. Michelle, whose maiden name is Ruark, was born on September 13, 1966.
The couple tied the knot on July 21, 1984, and started having children four years later. Due to their religion, which states that children are a gift from God, they decided to leave that aspect of their lives to Him and not to take birth control pills.
At the moment, they have 19 children. One of the most striking aspects of their youngest daughter, Josie, is that she is two months younger than Mackynzie Renee Duggar, Jim Bob and Michelle's first grandchild.
THE COUPLE'S 19 CHILDREN: JOSHUA JAMES DUGGAR
Joshua Duggar, born on March 3, 1988, is Jim Bob and Michelle's eldest child. Out of all the Duggars, he is the one who has received more backlash due to the sexual molestation and cheating and pornography scandals he was involved.
Despite all the negativity surrounding Joshua, he and Anna Duggar have been married since September 26, 2008, and have had five children together so far: Mackynzie, born on October 8, 2009, Michael, born on June 15, 2011, Marcus, born on June 2, 2013, Meredith, born on July 16, 2015, and Mason, born on September 12, 2017.
At the moment, they are expecting their sixth child who is due in November this year.
JANA MARIE DUGGAR
The eldest daughter of the Duggar family, Jana, was born on January 12, 1990, just as her twin brother John David. Even though she is 29 years old at the moment, she has not getting married nor has children so far.
Her followers linked her to NFL star Tim Tebow in 2014, which seemed logical as Tim's family is very religious. However, their alleged relationship was nothing but rumors. Due to Jana's romantic life, people have questioned her sexuality even asking if she and Laura DeMasie, who has appeared on TV with her plenty of times, were dating.
"No. And I would like to stop that rumor. I have no interest in girls that way whatsoever. I have 'courted' or 'dated' a few guys, but so far nothing has gone into a serious relationship," pointed out Jana
JOHN-DAVID DUGGAR
John David, the man who is often referred to as the role model in the Duggar family. He was born on January 12, 1990, and has been married to Abbie Duggar since November 3, 2018.
Unlike most of his siblings, John David and Abbie have been taking their time to welcome their first child to the world.
JILL MICHELLE (DUGGAR) DILLARD
Jill Duggar, born on May 17, 1991, has been married to Derrick Dillard since June 21, 2014. Together, they have welcomed two children to the world: Israel, born on April 6, 2015, and Samuel, born on July 8, 2017.
Back in 2016, the couple received backlash after it was revealed that they were asking their fans to support alleged missionary trips they never attended. Later, the Dillards' followers learned that they were not licensed missionaries, and their church did not sponsor them to do God's work.
JESSA LAUREN (DUGGAR) SEEWALD
Jessa Duggar, born on November 4, 1992, married Ben Seewald on November 1, 2014. The couple, who court for 11 months, have three children so far: Spurgeon, born on November 5, 2015, Henry, born on February 6, 2017, and Ivy born on May 26, 2019.
One of the topics of their relationship that has confused her followers is their source of income as Ben is supposedly unemployed. However, Jessa is thought to have been making money through her Instagram posts, although she has denied it.
JINGER NICOLE (DUGGAR) VUOLO
As for Jinger Duggar, she was born on December 21, 1993, and married Jeremy Vuolo, a former professional soccer player, on November 5, 2016. Similar to John David, Jinger didn't rush into having children right after tying the knot.
Instead, her daughter Felicity was born on July 19, 2018, almost two years after the wedding. Jinger has been in the eye of the storm several times due to the clothes that she wears (shorts and pants) as people consider it is a violation of her father's rules.
The truth is that, once Jinger married Jeremy and left her parents' home, Jeremy became the only person in charge of the rules, including the ones involving her clothes.
JOSEPH GARRETT DUGGAR
Joseph Duggar's date of birth is January 20, 1995. He and his wife, Kendra, have been married since September 8, 2017. At the moment, they have one son named Garrett, born on June 8, 2018, and are expecting a second one due in November this year.
Even though Joseph and Kendra look like the perfect match, rumors suggest that she was involved with another member of the Duggars, Jedidiah, before her now-husband intervened.
JOSIAH MATTHEW DUGGAR
Josiah Duggar, born on August 28, 1996, is married to Lauren since June 30, 2018. Unfortunately, the couple experienced the miscarriage of their first child in October 2018.
Thankfully, the announced in May this year that they were expecting a baby due in November. "It's hard to fully express just how grateful we are for God blessing us again with another precious gift!" the couple wrote in the caption of the Instagram post they shared with the baby news.
JOY-ANNA (DUGGAR) FORSYTH
Joy-Anna, born on October 28, 1997, and Austin Forsyth tied the knot on May 26, 2017. Their ceremony was shown as a special episode of "Counting On," and about 1,000 guests were present.
So far, they have had only one child, Gideon, born on February 23, 2018. Sadly, their second child, Annabelle, passed away approximately at the 20th week of gestation.
JEDIDIAH ROBERT DUGGAR
Jedidiah Duggar and his twin brother, Jeremiah, were born on December 30, 1998. So far, he is single but allegedly was courting Kendra Duggar soon before his older brother, Joshua, married her.
After the supposed failed relationship with Kendra, Jedidiah reportedly started dating her sister, Lauren Caldwell. However, any member of the family has confirmed the rumors and, apart from that, Lauren reportedly has more than one Duggar candidate.
JEREMIAH ROBERT DUGGAR
Just like his twin brother, Jeremiah Duggar was born on December 30, 1998. He has not married anyone and has not officially started courting either. Some fans believe that he and one of Abbie Duggar's sisters might be getting ready to do so.
In a photo that his brother John David uploaded to Instagram, he appeared next to the now-married couple and some of her sisters.
Since he probably was not the chaperone during that date because Abbie's siblings were there, fans theorized that Jeremiah was there because he was courting one of the ladies, too. The family has not confirmed that relationship, though.
JASON MICHAEL DUGGAR
Jason Duggar, born on April 21, 2000, has not tied the knot or started courting yet. However, he was the second member of the Duggar family with whom Lauren Caldwell, Kendra's sister, was reportedly romantically involved.
JAMES ANDREW DUGGAR
James Duggar, the 13th child of Jim Bob and Michelle, was born on July 7, 2001. His plans include becoming a pilot, as per ET Online.
JUSTIN SAMUEL DUGGAR
Justin, the second-youngest Duggar son, was born on November 15, 2002. He has been working on cars for a while and plans to become a mechanic.
JACKSON LEVI DUGGAR
Jackson Duggar, born on May 23, 2004, is the youngest Duggar son. He would like to become a translator and a missionary pilot.
JOHANNAH FAITH DUGGAR
Johannah Duggar, born on October 11, 2005, is Jim Bob and Michelle's 16th children. Her plans include becoming a doctor.
JENNIFER DANIELLE DUGGAR
Jennifer Duggar, born on August 2, 2007, was the member of the family who gave the title to the first TLC show. She is planning to become a veterinarian.
JORDYN-GRACE MAKIYA DUGGAR
Jordyn-Grace Duggar, born on December 18, 2008, was the first member of the family whose birth was documented on the show. She wants to be an artist.
JOSIE BROOKLYN DUGGAR
Josie Duggar, born on December 10, 2009, is Michelle and Jim Bob's youngest child. She was a micro preemie as Michelle had to undergo a C-section to deliver her at only 25 weeks.
After spending several months in the NICU, and experiencing some health scares, she was healthy enough to go home with the rest of her family. As a negative consequence of being a micro preemie, Josie tends to suffer from febrile seizures.
One of the episodes of the show portrayed the frightening incident, but thankfully Josie got better soon later.
So far, Michelle and Jim Bob have 13 grandchildren and three more on the way. However, the rest of their children are very likely to make the Duggar family even larger in the future!
Please fill in your e-mail so we can share with you our top stories!