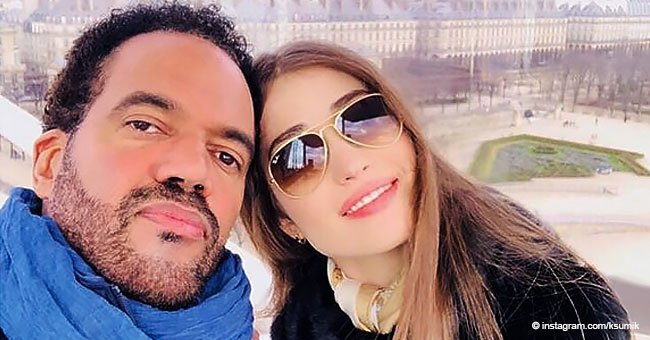 It's Scary, Painful,' Kristoff St. John's Fiancée Can't Attend Memorial Service over Unissued Visa

Kristoff St. John's fiancée was unable to say her final goodbye to the actor because she was denied an emergency visa.
Kseniya Mikhaleva, the Russian model who currently lives in Moscow, took to Instagram with a heartbreaking post explaining why she would not be present at Kristoff's Monday Memorial service.
"It is with deep regret and sorrow in my heart that I make this statement," she began. "For a year, I was the happiest women [sic] on Earth. That changed in a second. I still cannot believe that Kristoff is gone, so early, so unexpectedly, one month after our last meeting in Moscow."
The Russian native further reminisced on the two years she got to spend with Kristoff before his death. The pair got engaged last August, and according to Kseniya, she has no idea what to do now that he's gone.
She continued:
"My thoughts and prayers are, first of all, with his two wonderful daughters, whom he loved so much, with every member of his family, with his friends, and with the people that watched him every single day on television. People for whom he played, people who inspired him to work and live."
HEARTBREAKING NEWS
Kseniya added that she hadn't opened any account seeking for funds and warned well-wishers against donating to any such because they are "fake." She then addressed why she could not be present at Kristoff's memorial service.
"Right now, I want to be with him, his family, and his friends. I am getting thousands of support texts on my Facebook and Instagram, and people are asking why I am not with him and how they can help," she said.
"Several weeks ago I applied for an 'emergency' visa for the funeral to say goodbye my fiancé and beloved. Answer was 'No.' My heart is broken. I am going through this with a huge pain in my heart, and realize that I don't have opportunity to say goodbye to him and put flowers on his grave. It is not right, not fair."
"Fly, my love, and finally find peace. Any person in my place would be torn into pieces. It's scary, painful that I cannot be with my loved one and his family on his last journey to eternal peace. RIP @kristoffstjohn" Kseniya finished.
KRISTOFF'S DEATH
The "Young and the Restless" star was found dead at home in Woodland Hills on February 3 and is believed to have died of an alcohol overdose.
Kristoff was only 52 at the time of his death and just a month before, rang in the New Year with his fiancée, sharing photos from the occasion on Instagram and referring to her as his "love."
A LOVER'S PAIN
Kseniya's initial reaction to Kristoff's death was a series of heartbreaking tributes which she's since deleted on Instagram. The model continued to mourn with a poignant poem that betrayed a heavy heart:
"My hands they shake with sorrow, My heart it bleeds with pain, My soul forever lingers, Wishing you could have stayed."
Kristoff is survived by two daughters: Paris with his first ex-wife Mia St. John, and Lola with his other ex-wife Allana Nadal.
GRIEF OVER HIS SON
The actor's only son, Julian, was born in 1989 and committed suicide in 2014 after a long history of mental illness. Kristoff reportedly never got over his child's tragic death, attempting to kill himself in 2017 around the third anniversary of Julian's suicide.
Also, two weeks before his death, Kristoff shared a tweet about death and parents grieving for their child; a disturbing prediction of what was to come.
REUNITED WITH JULIAN
The actor's ex-wife Mia further revealed after his death that Kristoff claimed to see their son, Julian, during her last conversation with him.
The Emmy award-winning actor was laid to rest next to his son's grave at the Valley Oaks Memorial Park in Westlake Village, California, on Monday, March 4.
The National Suicide Prevention Lifeline is 1-800-273-8255. Other international suicide helplines can be found at befrienders.org.
Please fill in your e-mail so we can share with you our top stories!